Service with a system
Tuesday morning, 7:45 AM: The phone rings at the MWM Service Center in Berlin. A customer near Magdeburg has a problem with the cogen power plant of his biogas system. Now time is of the essence, as the biogas system should ideally produce electricity around the clock and feed it into the grid, otherwise this will mean a financial loss for the customer. The service scheduler immediately checks to see which technician is available. The MWM Service Center in Berlin, with its affiliated service point in Hamburg, boasts over 30 highly qualified CHP plant specialists, who handle more than 500 CHP plants in Northern and Central Germany as field technicians from both locations and with their partner companies. This can be quite a tough task for the scheduler, who coordinates and prepares some 250 service calls per month.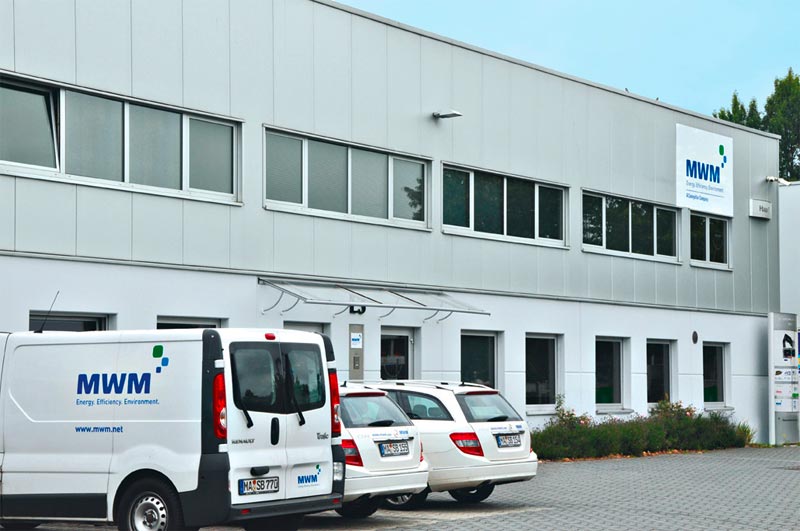 Some 50 employees of the MWM Service Center in Berlin and the affiliated service point in Hamburg handle over 500 CHP plants in Northern and Central Germany.
The Berlin Service Center and the service point in Hamburg have specialized in this market segment, due to the high density of biogas plants located in Northern and Eastern Germany. More than 50 employees in Berlin and Hamburg support the plant operators around the clock, and assist in the organization and handling of the range of services. In addition, there is also a modern, spacious repair workshop in Berlin offering flexible assembly workstations and a spare parts warehouse. In order to react quickly to the demanding availability requirements of the CHP plants, there is a designated workstation in Berlin and Hamburg for teleservice and remote diagnostics. Thus a staff member is available to customers all day long for performing remote diagnostics and troubleshooting together with operator personnel. This saves time and travel costs. The prerequisite for remote diagnostics is the installation of a dial-up modem in the CHP plant and operating training sessions. During the night, the company's own emergency staff handles this task.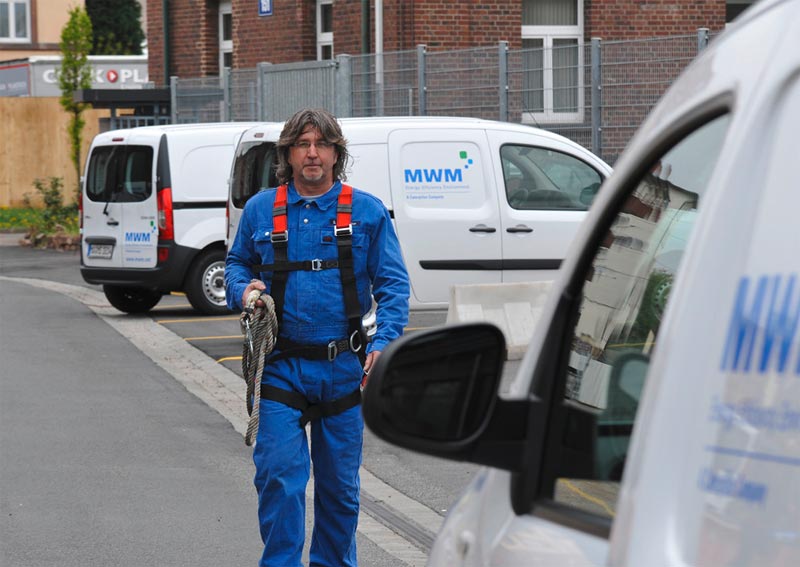 Highly-qualified field technicians provide for smooth operations of over 3,500 MWM systems throughout Germany.
Service = Quality + Efficiency
Teleservice, 24-hour emergency service and maintenance performance according to manufacturers' procedures are integral parts of the customized MWM service agreements also offered to biogas plant operators by the Berlin Service Center. The Service Center head Torsten Werda and his team thus ensure that nearly all systems under contract in their territory will reach an operating time of more than 8,000 hours. This means system availability of 96-98%.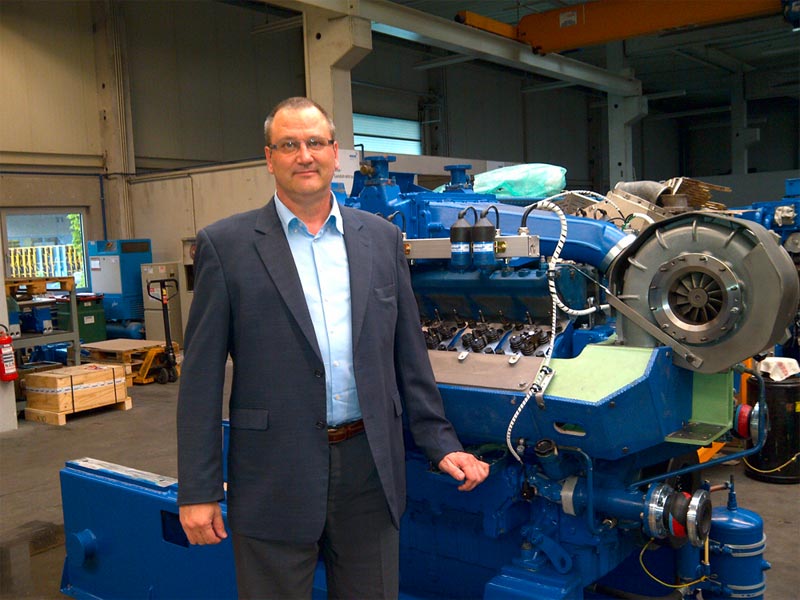 Torsten Werda heads up the MWM Service Center in Berlin.
The high number of operating hours and system availability are also achieved through the use of completely overhauled replacement gensets during major overhaul. As a result, system down-times are reduced from three weeks to a maximum of 3-5 working days. For this purpose, the Berlin Service Center maintains a pool of biogas modules of the TCG 2016 series in the 8, 12 and 16 cylinder version. The replacement intervals are planned right down to the day 3-6 months prior to the scheduled date of E70 major overhaul and carried out by a well-coordinated team of forwarders, crane contractors, electricians and the MWM service team. This major planning effort reduces down-times of the biogas systems to a minimum. With a completely overhauled engine and generator, the new operating interval can then begin. For interim overhauls (E50/E60), it was also possible to reduce lead times by nearly one-half, thanks to flexible advance planning. The advance overhaul and pre-assembly of modules in the Berlin workshop, for example, also contribute to this effort.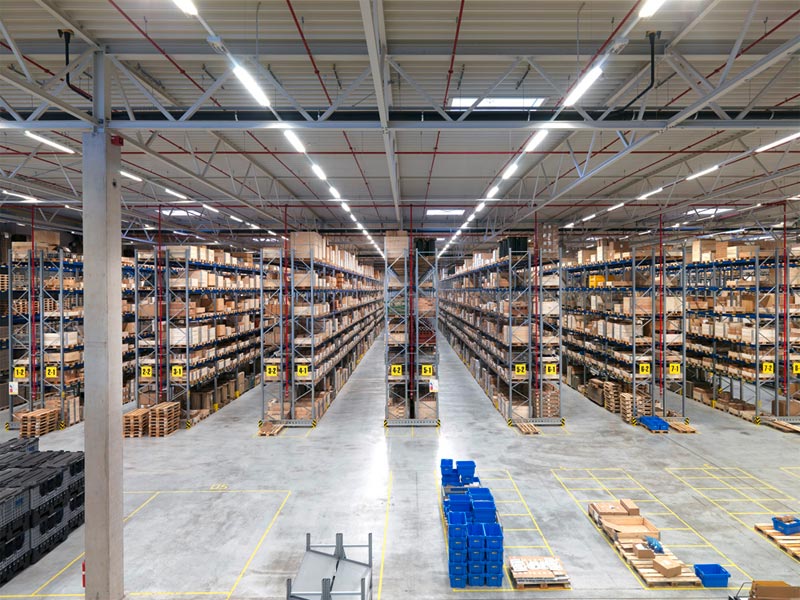 The MWM Logistics Center in Lorsch supplies original spare parts to customers around the globe.
Worldwide network availability
The Berlin Service Center is one of three MWM service centers. Further locations are Munich and Mannheim. In addition to Hamburg, there is another service point in Erfurt. These five locations in total organize the entire service for all 3,500 stationary MWM systems and gensets in Germany. They are supported by the central Service Logistics Center in Lorsch, which manages national and international spare parts logistics.
The "Service Field International" based in Duisburg is responsible for handling international customers and systems. In more than 150 countries, MWM Service, working closely with select partners, guarantees customer-oriented service and reliable spare parts supply.
In doing so, MWM's service covers considerably more than just repairs or the replacement of parts. In addition to repairs, e.g. covered by service agreements, the concept also provides for worldwide and around-the clock customer service support. In the MWM training center, the service staff is constantly trained and brought up to the latest technical level. Through the use of state-of-the-art software, the service team on site can quickly and accurately identify the original MWM parts required in case of repair. Thanks to optimized processes, these are delivered with extremely short lead times out of the logistics center in Lorsch. What's more, the Xchange Center, offering a vast pool of refurbished parts and basic engines in "like new" quality, play an integral part in reducing the down-times of the systems to an inevitable minimum.
For operators of MWM systems, the high efficiency and economy of the range of services offered guarantees planning reliability and cost certainty throughout the entire life cycle.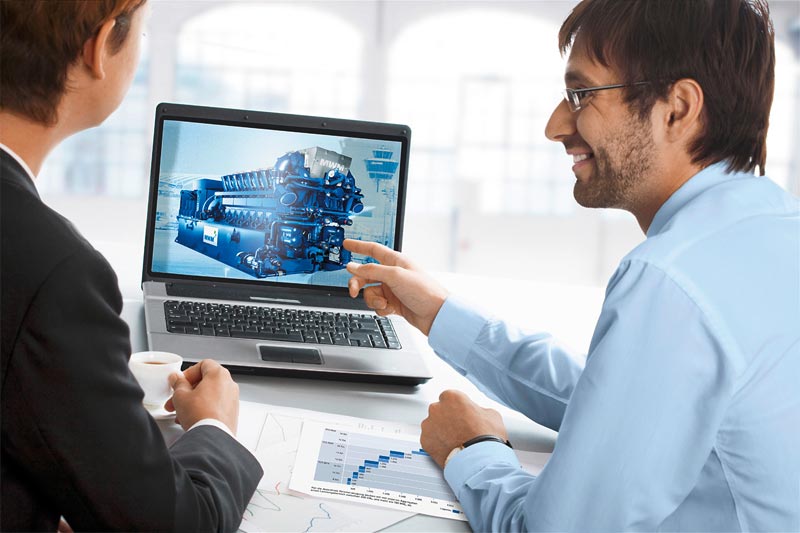 Working together with select partners, the MWM service handles systems in over 150 countries worldwide.