Research & Development
Maximum Efficiency Thanks to Years of Research
Through continuous research and development, we have almost tripled the power density of MWM gas engines over the past 20 years. At the same time, the efficiency has been increased by 30 percent, along with very low emission levels. In this way, we make a valuable contribution to the conservation of resources and guarantee high efficiency of our products.
Despite their advanced technology, MWM gas engines and power generators are easy to use and extremely maintenance-friendly.
Trend-Setting Calculation Instruments (Calculation)
We have developed our own calculation instruments in order to continually improve the components for high-performance gas engines. With this information on the long-term behavior of the engine components, the tuning has been steadily optimized, resulting in longer maintenance intervals and thus higher efficiency of the plant.
Simulation Instruments Reduce Development Times in Combustion
All further developments, from the gas dynamics to the combustion, are calculated with the help of computer simulations and verified on the test bench. The results serve the ongoing improvement of the simulation programs, which facilitates further predictions and reduces development times.
More than 20 years ago, MWM began with the development and innovation of chamber spark plugs. Thus we aim to further improve the combustion process, thereby significantly increasing the efficiency.
Test Bench
For each series and cylinder count, there is a test bench with state-of-the-art measurement technology, on which the power generators can be run with natural gas from the municipal grid and with synthetically mixed gases. These synthetically mixed gases comprise natural gas with different methane numbers, biogas, landfill gas, and mine gas. The tests on the test bench enable optimum tuning of the engines for diverse gas qualities. In this way, time-consuming tuning is not necessary at the customer due to the lack of suitable measurement instruments, such tuning would anyway often represent a compromise.
Moreover, external engine tests of mechanical components and flow analyses are conducted on special test benches.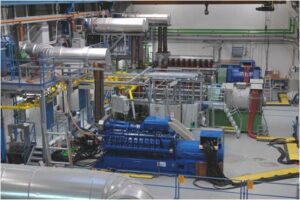 Contact Sales
Caterpillar Energy Solutions GmbH Carl-Benz-Strasse 1 68167 Mannheim Germany
Please fill out our contact form and we will call you back!