TPEM – Digital Plant Control
MWM Digital Power with TPEM – Total Plant & Energy Management
The transformation to holistic power plant and genset control: With its new fully integrated, digital power plant control TPEM, MWM redefines the control standard for gas engines and energy solutions.
Modern energy generation plants feature complex applications and custom circuitry. Automation and closed-loop control with maximum operating security and seamless communication play a key role, which TPEM effectively handles. In this way, additional controls are not necessary, as all power plant data are combined in a single system, and the control of the entire energy generation plant is possible via a hardware and software solution custom-developed by MWM.
In this way, TPEM revolutionizes the previous TEM control systems through additional integration of relevant key functions such as synchronization, generator and network power switch, and remote access.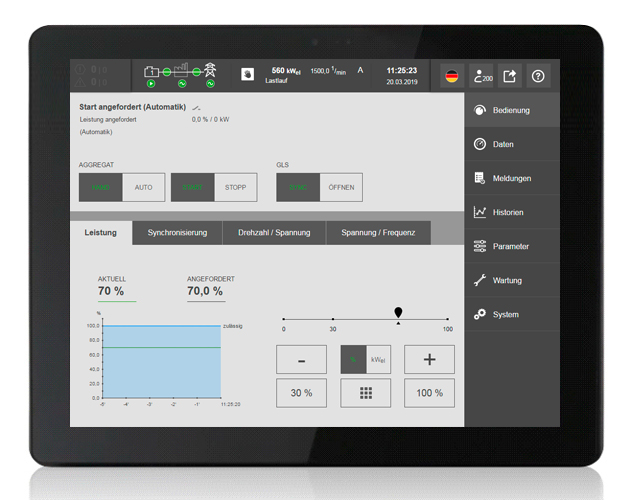 TPEM – Digital, Flexible, and Highly Efficient
High efficiency through optimum control of the entire power plant
Reduced planning and installation costs thanks to integrated power plant control concept and, in most applications, elimination of the need for additional controls
Configurable modules for individual customer and application solutions
Wealth of experience from decades of further development and supervision of the TEM control system
Software and hardware from one source for full genset performance and maximum reliability

Digital Operations: Integrated Power Plant and Gas Engine Control
Integrated system for genset, backup genset, and plant control
Easy to use, multilingual 15″ touchscreen with intuitive, user-friendly interface
Uniform user interface for full power plant control and configuration
Integrated, secure remote access for comprehensive power plant control on site and via VPN connection with the TPEM Remote Client including free visualization (no license required)
Uses state-of-the-art technology for cutting-edge security, TÜV-tested safety chain
Personalized access control system for authorization and identification check
Parallel operation including synchronization as well as isolated operation including load balancing
Full gas engine and genset control including mixture and engine cooling circuit as well as cooler and ventilation control
Customer interfaces for integration in add-on systems – digital inputs and modbus RTU
Comprehensive storage of power plant data of up to one year including real-time analysis option
The operating log enables the recording and analysis throughout the lifecycle of the genset and connected components
Permanent monitoring, control, and collection of data on the system and power plant status (gas engines, genset, pumps, valves, fan, and generator, including synchronization and power switch)
TPEM Redefines Control Standards of Gas Engines and Energy Solutions
Secure maintenance and customer access via TPEM Remote Client and dual user authentication with USB token and password
Certified according to the BDEW technical guideline "Generating Plants Connected to the Medium-Voltage Network" in Germany and UL "Underwriters Laboratories" standards in the USA and Canada
Comprehensive support of the required NAB functionality
MWM RAM with TPEM Integration
MWM gas engines with TPEM (Total Plant & Energy Management) control can also be used with MWM RAM (Remote Asset Monitoring). Newly ordered gas engines can be delivered RAM-ready with TPEM CC Factory Fit. Existing plants can easily be upgraded with a retrofit kit.
TPEM and RAM – Your Benefits
Optimum troubleshooting support through instant messages and reports
Easy support of multiple gas engines and entire fleets
Subscription is sufficient (no need for installation, additional hardware, or wiring)
Various subscription levels available for selection
Always secure and up to date thanks to online updates
Use of existing TPEM Ethernet connection
Cellular connection possible
Easy end-to-end communication
TPEM CC Factory Fit and Retrofit Kits for Your Plant
On request, MWM gas engines can be delivered RAM-ready, equipped with TPEM CC Factory Fit. By default, TPEM CC comes with a PLE telematics device. As it is fully integrated in the TPEM cabinet, no further wiring is required. The TPEM Ethernet connection is part of the standard features; a cellular module is available on request. The easy online activation of RAM eliminates the need for work on site and traveling. TPEM CC Factory Fit is PLE-certified for global deployment.
On request, existing TPEM cabinets can easily be updated with a retrofit kit. The retrofit kits are suitable for all existing TPEM cabinets, and their functionality and look and feel are equivalent to those of the ex-works integration. The retrofit kit contains all required cabling and terminals.
For an overview of the various subscription levels, please refer to the flyer.
Flyer: MWM Remote Asset Monitoring – TPEM Integration
Click this brochure to access the digital publishing platform issuu.com. This website is governed by the issuu Privacy Policy.
All languages on issuu: EN | DE | ES | FR | NL | CN
Download PDF: EN | DE | ES | FR | NL | CN
Two videos from the MWM Service Tutorials series "Do it the smart way" deal with the TPEM power plant control. You can watch these videos here.
Episode 3: TPEM Auxiliary Drive Test
All language versions of the video on YouTube: EN | DE | ES | FR
Download Video: EN | DE | ES | FR
(7.5 minutes, high end DVD version, 860 MB, MP4)
Episode 4: TPEM Data Export
All language versions of the video on YouTube: EN | DE | ES | FR
Download Video: EN | DE | ES | FR
(5.5 minutes, high end DVD version, 657 MB, MP4)