MWM History
Future Needs Tradition.
MWM can look back on a tradition 150 years old, always guided by a mindset of innovation. The foundation of the "Mechanische Werkstätte" (Mechanical Workshop) by automobile pioneer Carl Benz in Mannheim in 1871 marked the dawn of the era of gas engines and the start of MWM. The enthusiasm and innovative drive of engineers from more than a dozen decades have continued to yield new developments and contributed to MWM becoming what it is today, one of the leading and most renowned brands in the field of gas engines and gensets. Today, some 1,400 employees work at the Mannheim plant and other MWM locations. MWM thus continued to improve the output rating, efficiency and reliability of its systems, distributed from Mannheim throughout the globe today.
150 Years of Engine Building in Mannheim
In 2021, MWM celebrated its 150th anniversary. To review the major milestones in the company's history, various projects and campaigns were conducted on site in Mannheim for active and former MWM employees, customers, and distributors as part of the anniversary marketing campaign.
100 Years MWM Brand
In 2022, MWM celebrated its 100th brand anniversary. To draw attention to this special event in the company's history, an anniversary website has been released with historical milestones, personal moments of MWM employees, customers, and distributors, and a monthly brand quiz.
Origin of the Traditional Brand
In 1922, Benz & Cie. sold its Stationary Engine Building department. After the sale was finalized under a spin-off agreement, the stationary engine production became independent from Benz & Cie. on April 22, 1922 and started operating under the name "Motoren-Werke Mannheim A.-G. vorm. Benz, Abt. stationärer Motorenbau". A year later, on January 22, 1923, "Motoren-Werke Mannheim A.-G." applied to the Imperial Patent Office for registration of the trademark—the first official MWM trademark.
Historic Moments and Key People Behind the MWM Brand
Video "150 Years of Innovation: MWM – How Everything Started"
The Brand Anniversary Book: "150 Years of Continuous Innovation"
Through Mannheim with the Tram in "MWM Blue"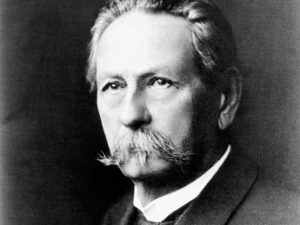 Milestones in MWM History
The MWM brand looks back on a tradition of 150 years full of innovation.
1871
Automobile inventor Carl Benz founds his "Mechanical Workshop" in Mannheim, thereby laying the basis for Benz&Cie., which later becomes MWM.
1879
Successful continuous operation of the inventor's first two-stroke gas engine.
1883
Serial production of the two-stroke gas engines
1886
The motorized car patented under DRP no. 37435 is built at the new site in Mannheim-Neckarstadt.
1910
Production launch of two-stroke diesel engines for submarines
1911
The new diesel procedure without compressor is patented under DRP no. 230517 and in 1919 under DRP no. 397142. The pioneer patents enable the construction of small, fast-running diesel engines.
1922
Benz&Cie. sells the Stationary Engine Building department
Establishment of the company with entry in the Commercial Register on April 1, 1922 and sealing of the independence of "Motoren-Werke Mannheim A.-G. vorm. Benz, Abt. stationärer Motorenbau" under a spin-off agreement on April 22, 1922.
1923
Official registration of the protected MWM trademark with the Imperial Patent Office on January 22, 1923.
1926
Knorr-Bremse AG in Berlin and "Süddeutsche Bremsen AG" (SB) in Munich acquire the shares of MWM. Henceforth, MWM is a subsidiary of "Süddeutsche Bremsen AG" (SB), Munich.
1932
Development of small diesel engines (KD15 E und KD15 Z) for industrial and agricultural applications.
1938
First medium-speed diesel engine with turbo charging (TRH134S) and 1,400 hp at 600 rpm
1943-1945
Up to 70 percent of the factories destroyed, production moved out to various locations
1946
First new design of an RH engine (RH348) and production launch of small diesel engines for tractors
1953
First production of small air-cooled diesel engines with patented MWM equal-pressure pre-chamber method
1954
100,000 small diesel engines built since 1946 and supplied to numerous tractor and construction machinery manufacturers
1972
MWM celebrates its 50th brand anniversary.
1979
MWM celebrates "100 Years of Engine Building in Mannheim".
1985
Klöckner-Humboldt-Deutz AG (KHD), Cologne, acquires the majority of the shares of MWM in Mannheim and Südbremse in Munich.
1989-1991
MWM takes over the large engine production of Klöckner-Humboldt-Deutz AG (KHD) (528/628 and 540/640 series) in Mannheim.
1992
MWM receives an order for the design and production of prototypes of an electronically controlled 6,000-hp locomotive engine. This engine is the forerunner of the current TCG 2032 gas engines.
1999
MWM is sold to Deutz AG for DM 34.3 million. The operational business for the engine division passes to Deutz AG, the production of small diesel engines is discontinued at MWM.
2005
Deutz AG founds the independent subsidiary Deutz Power Systems.
2007-2008
Sale to the financial investor 3i and re-branding to MWM GmbH
2011-2013
MWM GmbH becomes part of Caterpillar Inc., MWM GmbH becomes Caterpillar Energy Solutions GmbH.
2018-2019
Presentation of TCG 3016 and 3020 V20, which were designed from scratch
2021
Presentation of the digital monitoring system MWM Remote Asset Monitoring (RAM) for location-independent and transparent monitoring of CHP plants in real time.
MWM celebrates its 150th anniversary – 150 years of continuous innovation.
Launch of the TCG 3020 V12 and the V16 as completion of the TCG 3020 series
2022
Introduction of the SCR (selective catalytic reduction) catalyst retrofit kit as a compact turn-key solution for gas engines to reduce NOX emissions and to meet the requirements of the 44th BImSchV.
On the occasion of the foundation of "Motoren-Werke Mannheim A.-G." in 1922, MWM celebrates the anniversary "100 Years of the MWM Brand".
2023
100 years after the registration of the MWM trademark on January 22, 1923, the anniversary campaign starts with 100 moments and milestones, 100 quiz questions and other activities about the company and brand history of MWM.