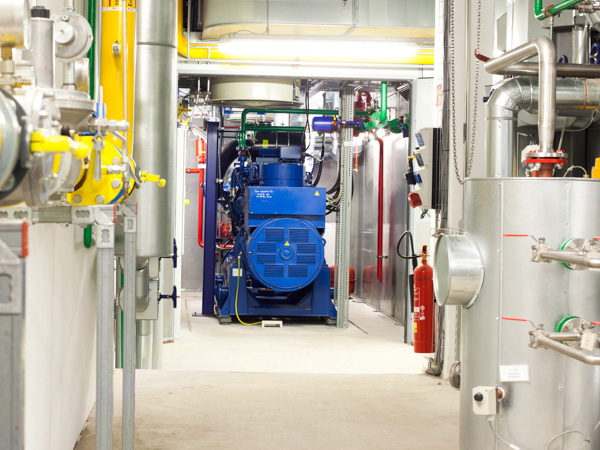 Cogeneration Power Plant Solutions
Power Plant Solutions
Eco-friendly MWM cogeneration power plants with combined heat and power enable decentralized, economical and energy-efficient power production.
Our Range for your Cogeneration Power Plants (CHP)
Tailored Power Plant Solutions and Gas Engines from MWM
MWM stands for highly-efficient and eco-friendly combined heat and power (CHP) plants for decentralized electric power, and has 150 years of experience in the development and optimization of gas engines and gensets for natural gas, biogas and other special gases.
The advantage of MWM combined heat and power over the separate production of electrical power and heat lies in the significantly higher utilization of the primary energy.
MWM cogeneration plants are the perfect choice for you if you want to invest in energy-efficient and environmentally sound energy solutions for the future growth of your company. Use the conversation with your contact person for assessing the profitability and efficiency of your planned investment.
We are also gladly available to you to provide personal consultation.
Five Good Arguments for a Compelling Offer
Extremely high utilization rates
Independent production of economical and eco-friendly electricity
Increased energy and supply security thanks to decentralized power production
Enhanced added value and competitiveness
Investments eligible for subsidies according to country-specific policies
The MWM Promise
MWM offers comprehensive plant expertise.
Competent, reliable and straightforward cooperation with us as manufacturers and our network partners
You too can benefit from our quick and cost-effective service.
Our CHP plants and cogeneration systems are renowned for best quality in material and workmanship: Quality made in Germany.
This guarantees high availability thanks to extended maintenance intervals.
Economically attractive investments with short payback periods.
Compliant with the requirements of CHP plants according to various country-specific usage regulations.
MWM Products & Solutions for Cogeneration Power Plants
MWM gas engines and gensets: power range from 400 kWel to 4,500 kWel. The gas engines can be run on natural gas, biogas and on gases containing hydrogen.
Complete solutions such as container cogeneration power plants or turnkey systems: perfectly matched and ready for immediate deployment.
Systems solutions and components: online controllers, catalytic converters, gas conditioning for biogas systems, heat converter.
Plant engineering: planning, configuration, installation, service – your one stop shop provider for solutions that are perfectly geared to your needs and individual requirements.
Services: We're also there for you after the sale as the availability of a system is a key success factor for its efficiency. That is why you can count on MWM quality in advanced service concepts, particularly in customer service, Xchange – our exchange program –, maintenance and service, logistics, training as well as financing.
We are also gladly available to you to provide personal consultation.
How Does a Cogeneration Power Plant (CHP) Work?
The MWM cogeneration power plants (combined heat and power systems) enable economical and efficient electric power generation. In an on-site technical system, the input energy source is converted into electrical power and useful heat. The resulting waste heat can be directly utilized and is not lost.
Among the fuels used are natural gas, biogas, coal mine gas or other gases.
The electricity generated by the CHP plant can be harnessed for captive use or fed back into to the public grid for a feed-in tariff.
What Components Make Up an MWM Cogeneration Power Plant?
Gas engines to drive the generator
Generator for power production
Heat exchanger systems for the recovery of heat energy from exhaust, engine waste heat and oil circuits
Various electrical switching and control equipment for power distribution and engine management
Hydraulic installations for heat distribution
Cogeneration Plants – Range of Application
Infrastructure projects
Shopping malls
Airports
Industrial plants
Greenhouses
Mines
Power producers, IPPs
Oil and gas industry, drilling rig systems, flare gas
Steel and chemical industry, synthesis gas, coke oven gas
Sewage treatment plants
Landfills
Nawaro biogas
Natural gas
You can find our references here.