Expansion of One of Europe's Largest Greenhouse CHP Plants with Two More MWM Gas Engines
Mannheim, September 20, 2016
Some time ago, Wim Gresnigt, a renowned greenhouse operator and farmer from the Netherlands and managing director of the family enterprise Seasun B.V., headquartered in Kapelle in the province of Zeeland, decided to upsize his greenhouse facilities in the region of Zeeland from about 50 ha to more than 60 ha. Back in 2000, the huge greenhouse complex had already seen the installation of 12 TBG 620 V16K units. Four years later, another four TCG 2020 V20 MWM gas engines with a total capacity of 25 MWel were installed. The two new gensets will supplement and expand the existing plant, thereby becoming part of one of Europe's largest greenhouse CHP plants.

Frank Lichtenhahn of MWM Benelux explains why the success in the Dutch greenhouse segment is so remarkable: "The Netherlands are perceived as a pioneer in the field of renewable energies and ecological, sustainable power generation; for this reason, we of MWM Benelux regard our success in the greenhouse segment as a triumph and an encouragement for the future."
Seasun Again Opts for MWM Competence in the Field of Cogeneration
Gresnigt, an advocate of eco-friendly energy generation, asked MWM Benelux to come up with an energy solution for the additional greenhouse area of about 12 ha. Thus, MWM designed a cogeneration power plant with a 12-cylinder gas engine and a 16-cylinder gas engine of the MWM TCG 2032 series, which will henceforth supply the new greenhouses with inexpensive power and heat energy generated by distributed cogeneration power plants. A key advantage of the CHP plant is that the purified exhaust fumes from the gas engines can be used for the purpose of stimulating the growth of the tomatoes cultivated in the greenhouses. Here, the CO2 is used as fertilizer.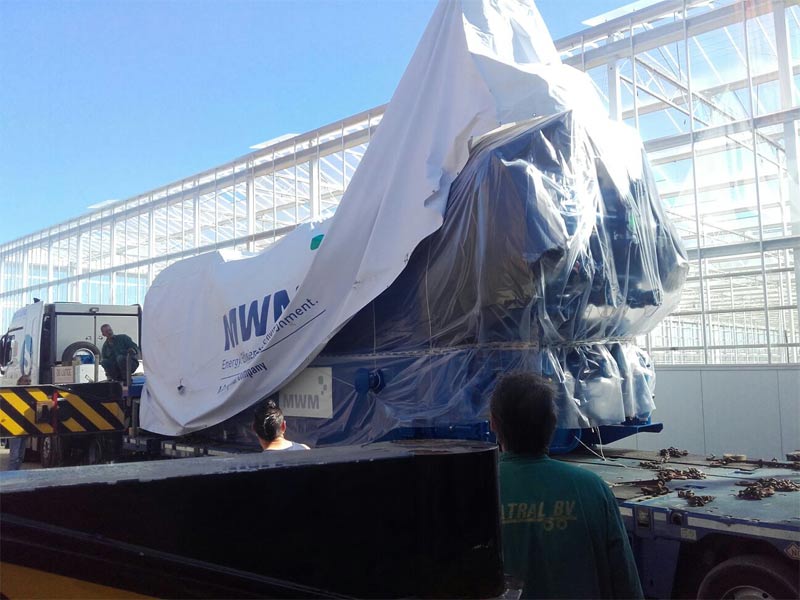 The MWM gas engines reached the greenhouse complex of the Dutch vegetable cultivation company Seasun in early July.
Installation of TCG 2032 Gas Engines under Way
The TCG 2032 V16 is the first MWM gas engine with a total capacity of 4.5 MWel that has ever been installed by MWM Benelux. The sound-insulated housing of the cogeneration power plant had already been set up in early July; shortly thereafter, the gas gensets arrived on location. The MWM experts are currently installing the CHP plant on site. The TCG 2032 V16 will most likely be ready to go live in late September, and the TCG 2032 V12 gas engine in late October. Upon commissioning of the CHP plant, a long-term service agreement will commence between MWM Benelux and Seasun.
Photographs:
The following pictures give an impression of the construction progress of the greenhouse and the delivery of the MWM gas engines for the CHP plant.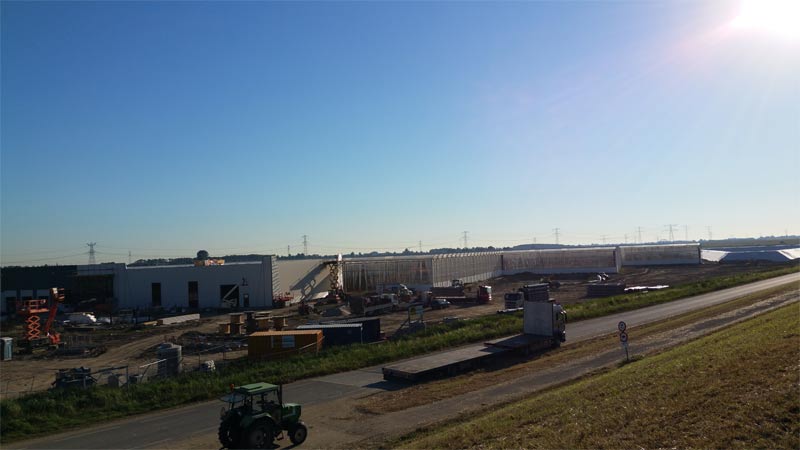 Expansion of the CHP plant of the greenhouse complex of Seasun B.V. in the region of Zeeland, Netherlands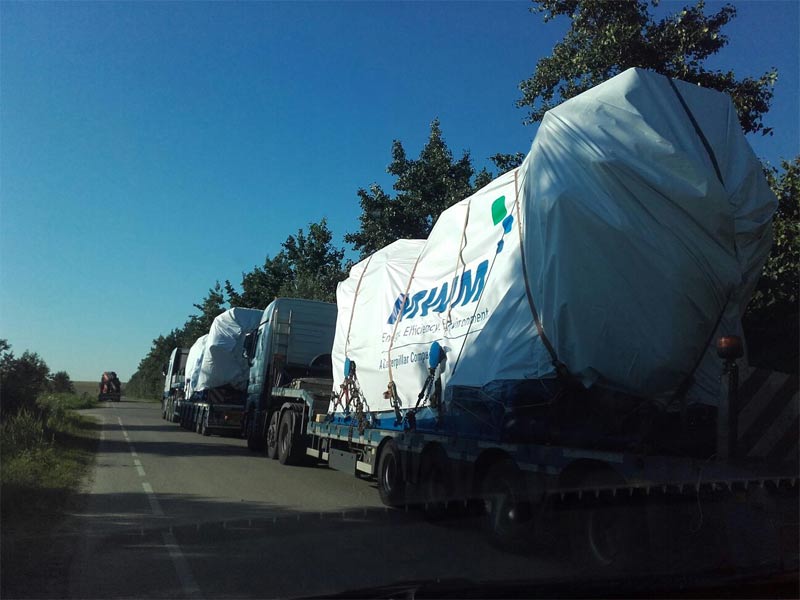 Delivery of the MWM TCG 2032 gas engines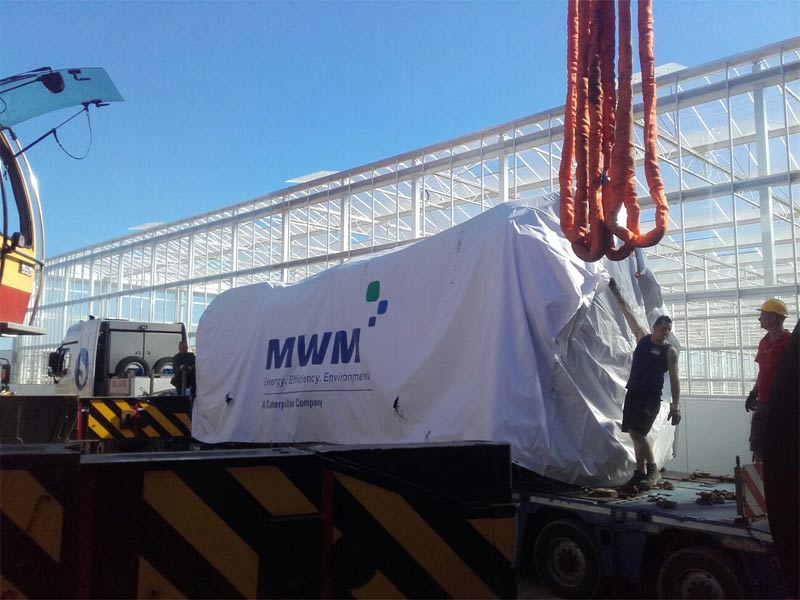 Unloading the MWM TCG 2032 gas engines in front of the shell of the CHP plant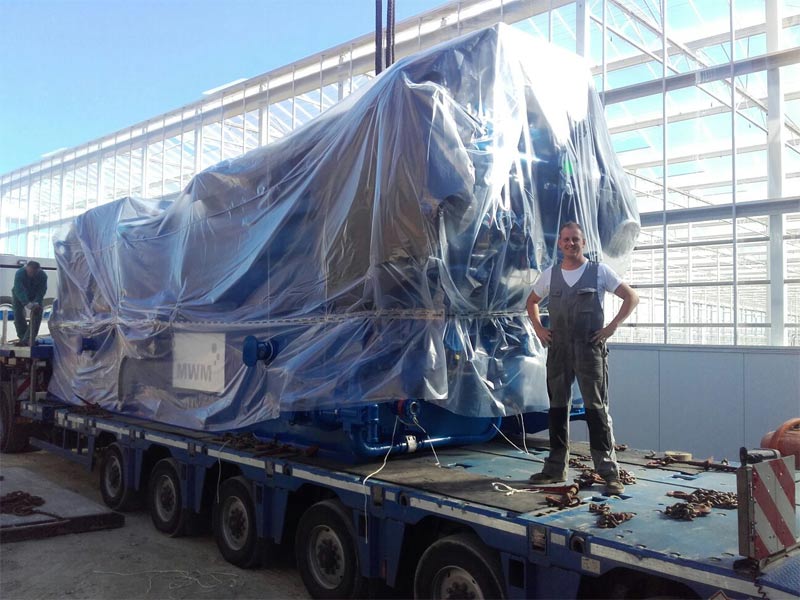 Unloading the MWM gas engines in front of the shell of the CHP plant
Delivery of the MWM TCG 2032 gas engines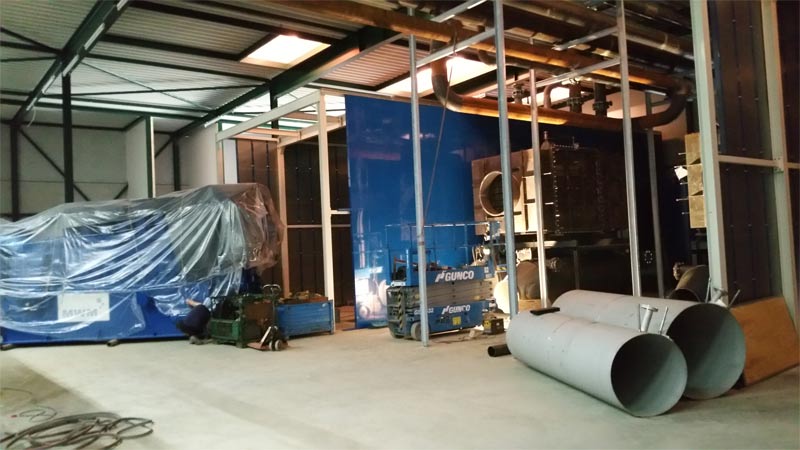 Setting up the MWM TCG 2032 gas engines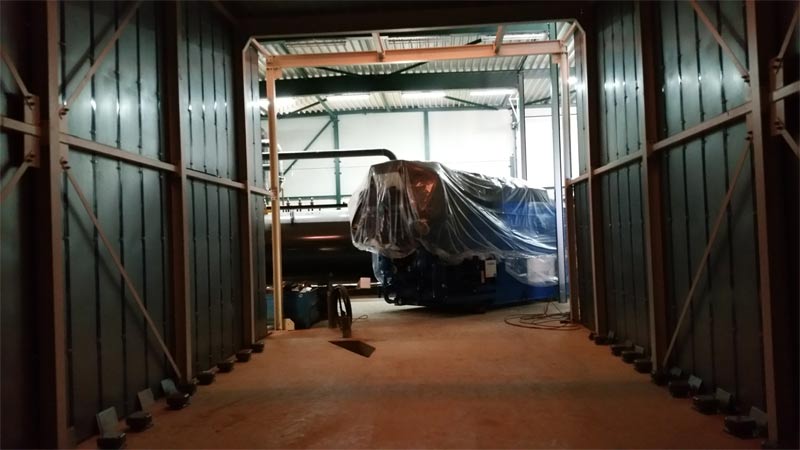 Setting up the MWM TCG 2032 gas engines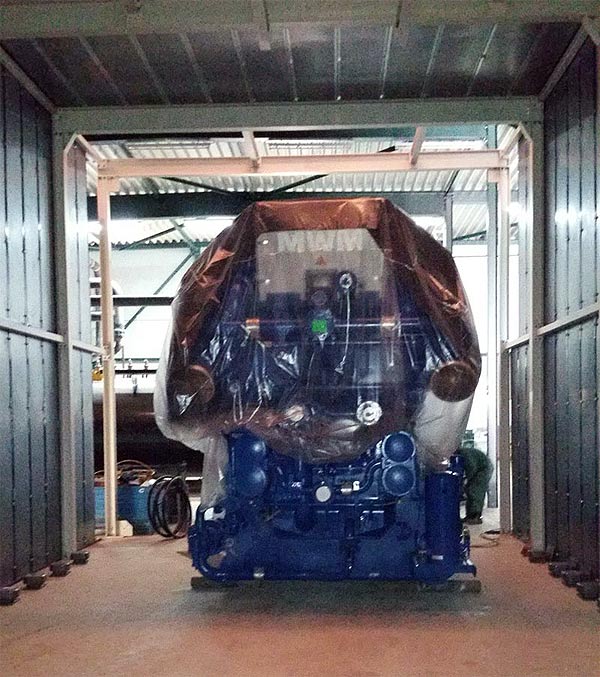 Setting up the MWM TCG 2032 gas engines
Contact Media
Aljoscha Kertesz
Manager Communications
T +49 6 21/3 84 – 87 48
E press@mwm.net
Frank Fuhrmann
Online Editor
Member of DPV / German Press Association
T +49 6 21/3 84 – 86 33
E press@mwm.net