Maximum Efficiency, Fast Installation, Optimum Space Utilization: MWM TCG 3042 Gas Engine Joins MWM Lineup
Mannheim, September 24, 2019
The gas engines of the new MWM TCG 3042 series are spark-ignited engines that make use of the lean-burn principle. The units stand out with their operator-friendly installation, operation, and maintenance as well as their extraordinarily high output with consistently high efficiency.  The new TCG 3042 gas engines are single-stage turbocharged, charge air cooled 20-cylinder engines that run on natural gas. With an electrical efficiency of up to 48 percent and a total efficiency of up to 93 percent, the gas gensets achieve outputs of 9,830 kWel to 10,300 kWel. The use of a spark plug-operated pre-combustion chamber enables combustion with a high level of efficiency and low emissions.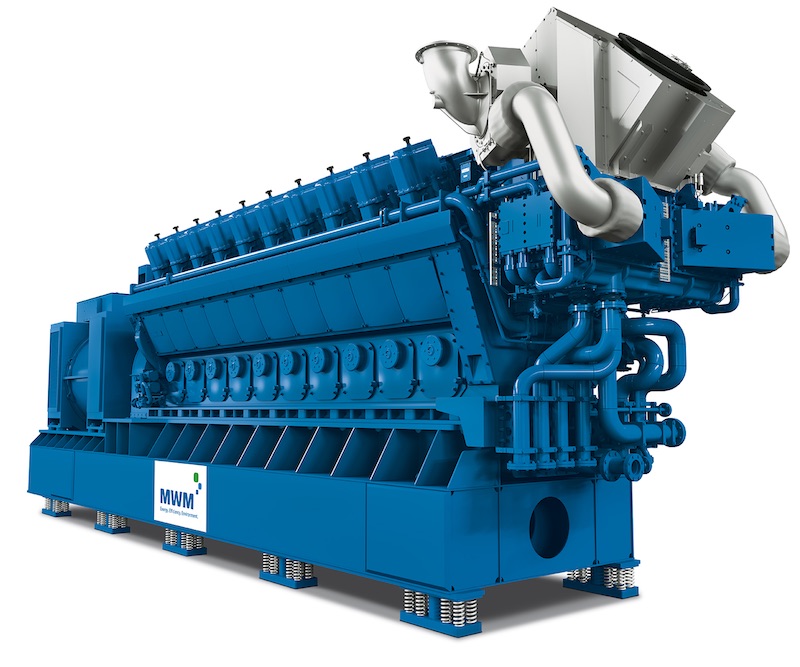 Less Is More: Gas Engine TCG 3042 Impresses with Rock-Bottom Installation, Operation, and Maintenance Costs
Thanks to its modular design, the TCG 3042 is ready for installation immediately upon delivery. Compared to conventional designs, the number of components of the TCG 3042 gas engines has been reduced by 40 percent. The result: fewer wear-and-tear parts and longer maintenance intervals. Another highlight is the modest need for space between gensets, which saves a lot of space.
Thanks to the easy maintenance and long maintenance intervals, the upkeep of the TCG 3042 gas engines is very cost-efficient.
TCG 3042: Maximum Flexibility, Reliable Performance
Depending on the application scenario, the TCG 3042 can be optimized either for combined heat and power (CHP) generation or for power generation only. For cogeneration power plant applications, it is also possible to toggle between summer and winter mode. Two differently designed coolant circuits that can be combined with three different thermodynamic engine layouts deliver even more flexibility.
Line brochure and Product flyer
Click this brochure to access the digital publishing platform issuu.com. This website is governed by the issuu Privacy Policy.
All languages on issuu: DE | EN
Download PDF: DE | EN
---
MWM Gas Engine TCG 3016 V16 S
Find out more about specifications, references as well as key selling points of the TCG 3016 V16 S: Outstanding price-performance ratio: Highest-in-class power density. High stress tolerance, optimum availability, and long useful life.
Click this brochure to access the digital publishing platform issuu.com. This website is governed by the issuu Privacy Policy.
All languages on issuu: DE | EN
Download PDF: DE | EN
Further information:
Contact Media
Aljoscha Kertesz
Manager Communications
T +49 6 21/3 84 – 87 48
E press@mwm.net
Frank Fuhrmann
Online Editor
Member of DPV / German Press Association
T +49 6 21/3 84 – 86 33
E press@mwm.net