MWM donates 10.000 Euro for children suffering from cancer
Mannheim, December 19, 2012
This year MWM managing director Willy Schumacher and director marketing Thoralf Lemke handed over a check in the amount of 10.000 Euro to the pediatric clinic of the university hospital.
For a number of years MWM has not given any Christmas presents to customers and business partners. Instead the money saved was donated to a charitable organization. For three years the money has been donated to the neuroblastoma project of the pediatric clinic where Prof. Dr. Horst Schroten, Dr. Matthias Dürken and their team look after children that suffer from cancer.
Prof. Dr. Horst Schroten accepted the check on behalf of the organization and said: "We are very happy about the renewed donation. The company makes a valuable contribution to enhance the prospect of curing cancer in small children." The money helps financing a scientific staff member for a number of years and thus supports medical research in this field.
Next to the check in support of the research work, Willy Schumacher and Thoralf Lemke handed MWM-teddy bears and chocolate to the young patients.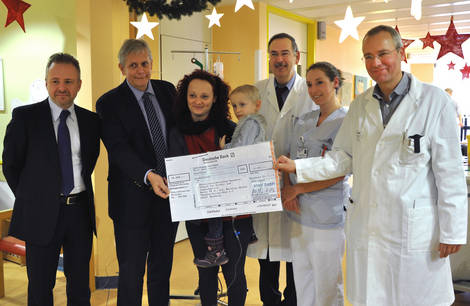 Contact Media
Aljoscha Kertesz
Manager Communications
T +49 6 21/3 84 – 87 48
E press@mwm.net
Frank Fuhrmann
Online Editor
Member of DPV / German Press Association
T +49 6 21/3 84 – 86 33
E press@mwm.net