MWM Service Tutorial Video Series "Do it the smart way": Episode 4 Shows TPEM Data Export
Mannheim, March 7, 2023
The MWM service tutorial series "Do it the smart way" on the MWM YouTube channel presents basic tips and help for the maintenance of MWM gas engines. In the fourth episode of the video series, Alexander Klotz, Technical Trainer at the Training Center Service in Mannheim demonstrates a TPEM data export.
Instructions for Direct and Remote TPEM Data Exports
The abbreviation TPEM stands for "Total Plant & Energy Management". This digital system is used for comprehensive power-plant and gas-engine control. The TPEM data export is performed with the help of a TPEM operating computer. By means of the data export, it is possible to download parameters, notifications, and logs for the plant and the gas engine. The video first shows how the data can be exported via direct access. Step by step, Alexander Klotz demonstrates the download of the data, the transfer to the storage media, and the analysis of the parameters in the selected time period. Apart from showing the data export directly from the plant, Alexander Klotz shows how this can be done remotely. The procedure is presented on a screen that is visible to the viewer and in a way that is easy to understand.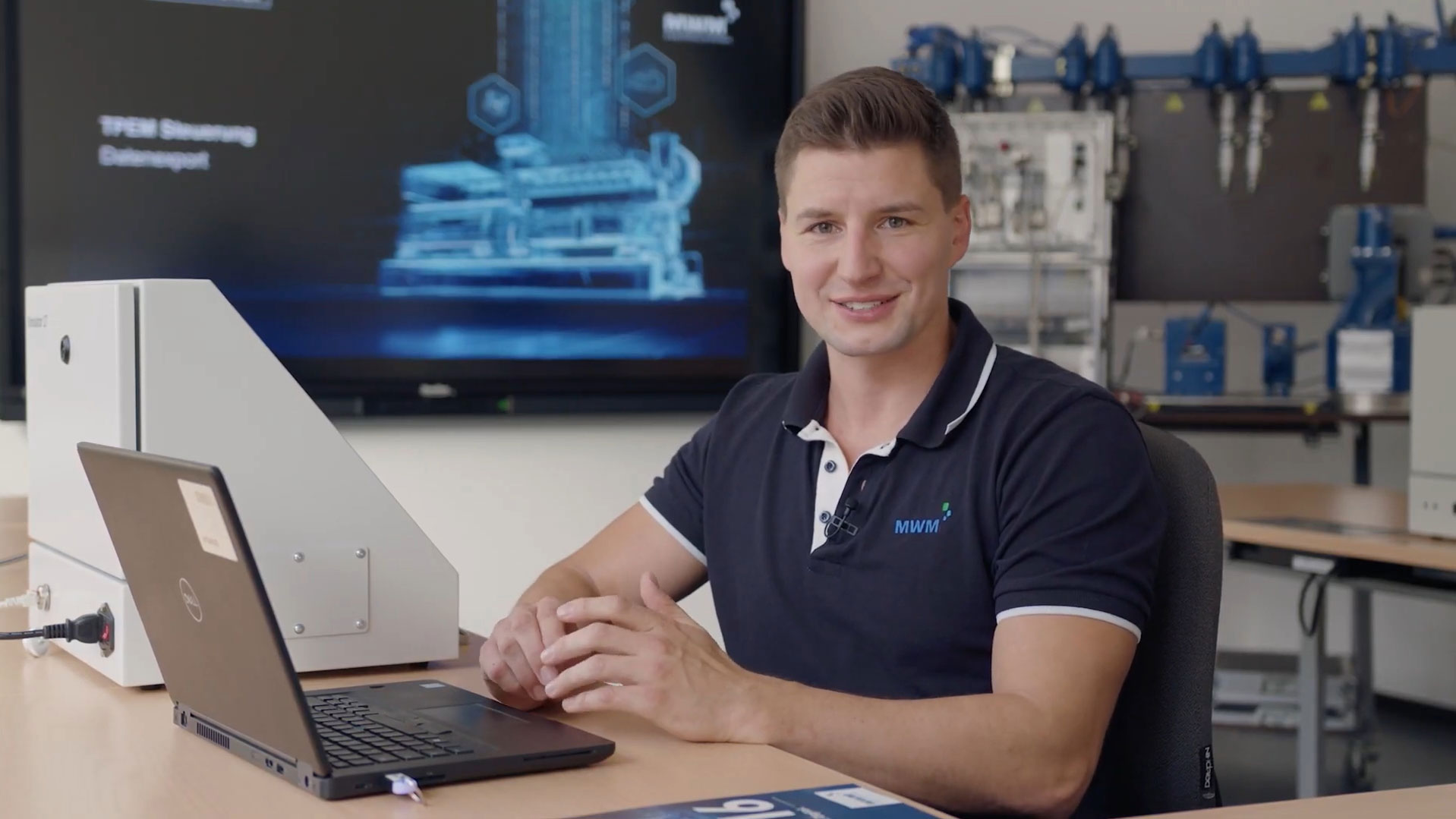 Further episodes of the MWM video series "Do it the smart way" are in the works. Episode 3 "TPEM Auxiliary Drive Test" was recently published on the YouTube channel "mwmgenset". The English versions of the two new MWM service tutorial episodes are available on YouTube (synchronized and with subtitles). Additional language versions of the new episode are currently being prepared in French, Spanish, and Chinese.
All language versions of the video on YouTube:
EN
| 
DE
| 
FR
Download Video:
DE
| 
EN
| 
FR
(5.5 minutes, high end DVD version, 657 MB, MP4)
Further information:
* You can use the links above to leave the MWM website and reach the external website of another provider (Google Ireland Limited). The data protection regulations of this provider apply there and cookies may be set by this provider. This is beyond our control.
Contact Media
Aljoscha Kertesz
Manager Communications
T +49 6 21/3 84 – 87 48
E press@mwm.net
Frank Fuhrmann
Online Editor
Member of DPV / German Press Association
T +49 6 21/3 84 – 86 33
E press@mwm.net