MWM at the E-world energy & water 2020, Europe's Largest Energy Fair: Registration and Appointment Requests Directly via MWM Online Form
Mannheim, 11.11.2019
The next E-world energy & water will be held in Essen, Germany, from February 11 to 13, 2020.  The E-world agenda will highlight the subjects of "Smart City" and "Climate Solutions" for the sustainable transformation of cities and to protect the global climate. Apart from key decision-makers, Europe's largest event for the energy industry attracts approximately 780 exhibitors who will present sustainable and innovative technologies as well as smart, future-oriented services and will discuss these in specialized lectures.
The global appeal of the trade fair is on the rise: In 2019, a total of 73 nations were represented, meaning that about one in every five exhibitors is from overseas. Apart from exciting lectures and discussions, there will be ample opportunity for international networking
MWM gas engines. Efficiency across the board. MWM gas engines for cogeneration plants (CHP plants).
Focus on the new Multi-Purpose MWM TCG 3020 and the Space-Saving TCG 3042 Gas Engines
As a long-standing participant in the E-world energy & water, Caterpillar Energy Solutions will again be present at the event with its MWM brand in 2020. At stand 2-100 in hall 2, MWM will show visitors new, efficient gas engines including the multi-purpose gas engine TCG 3020 and the space-saving TCG 3042 (10 MW). Visitors will have the opportunity to get information about flexible gas solutions for various gas types and about the fast ramp-up option for gas gensets.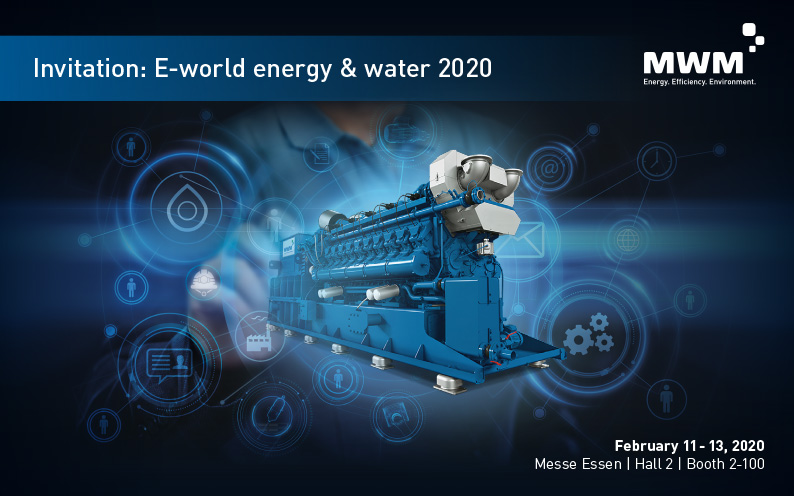 Download Invitation flyer E-world energy & water 2020: EN | DE
Registration and Appointment Requests: Contact form
Registration and Appointment Requests with MWM
Registration for the E-world energy & water 2020 and requests for appointments with MWM can now be submitted directly via the online form on the MWM website: Contact form
Further information:
Contact Media
Aljoscha Kertesz
Manager Communications
T +49 6 21/3 84 – 87 48
E press@mwm.net
Frank Fuhrmann
Online Editor
Member of DPV / German Press Association
T +49 6 21/3 84 – 86 33
E press@mwm.net