MWM on the E-world Topic "Smart City & Climate Solutions": Innovative Technologies and Concepts for Maximum Efficiency and Sustainability in the Age of Industry 4.0
Mannheim, January 7, 2020
The development of sustainable, innovative technologies to protect the climate is the key topic of the E-world energy & water 2020, Europe's largest event for the energy industry. Central subjects include solution concepts for more sustainable power generation as well as grid stability and the efficient supply of cities with electrical energy. The energy policy aims at the increased transition from fossil energy sources to natural gas, solar energy, and wind energy for power generation purposes. In this way, pollutant emissions are to be reduced, resources are to be saved, and the use of renewable energies is to be expanded. Germany plans to stop using coal to generate power by 2038. 
Flexible Gas Solutions for Various Gas Types with a Wide Application Spectrum
The flexibilization of the energy generation according to the new requirements of the energy markets and of the energy policy will become increasingly important in the future. MWM offers energy providers custom-tailored gas engines that are aligned with the individual needs and challenges in the field of energy generation. The engines and power gensets in the output range from 400 to 4,500 kWel can be used with various gas types and grades. Apart from their high reliability and availability, the units are very durable and boast efficiency levels of more than 90 percent (depending on the application scenario).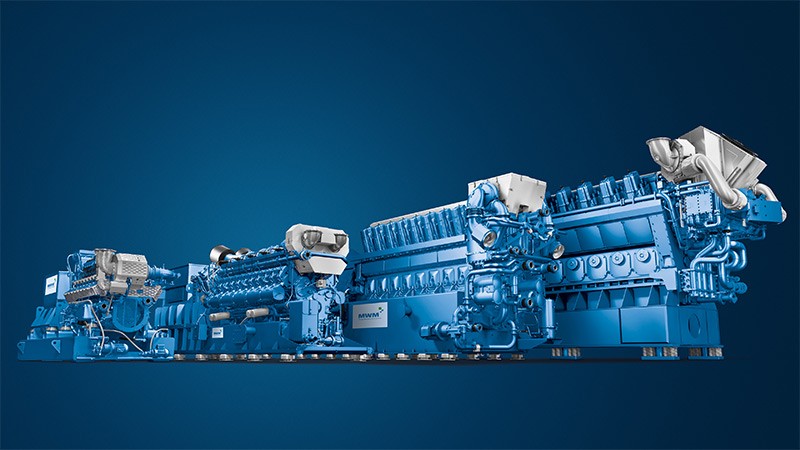 MWM gas engines. Efficiency across the board. MWM gas engines for cogeneration plants (CHP plants).
MWM Power Plant Solutions: Prepared for the Challenges of the Energy Reform
MWM stands for highly efficient, eco-friendly combined heat and power (CHP) plants for distributed energy generation. Apart from turnkey solutions such as containerized cogeneration power plants, modular power plants (MPP) form the basis for distributed, location-independent energy supply. All modules are ready for quick installation and are already pre-assembled upon delivery to the setup location. Thanks to the easy installation even in locations with poor infrastructure, even cities whose infrastructure is not highly developed can benefit from distributed energy supply.
Further information:
Contact Media
Aljoscha Kertesz
Manager Communications
T +49 6 21/3 84 – 87 48
E press@mwm.net
Frank Fuhrmann
Online Editor
Member of DPV / German Press Association
T +49 6 21/3 84 – 86 33
E press@mwm.net