MWM GmbH is to become Caterpillar Energy Solutions GmbH
On the first of November, MWM GmbH will change its name to Caterpillar Energy Solutions GmbH. On this date, the name change solely affects the legal entity, the established global MWM brand is being continued. This step underscores the company's belonging to the international Caterpillar Group.
With its more than 120,000 employees, Caterpillar is the world's largest manufacturer of construction and mining equipment, diesel and natural gas engines, industrial gas turbines and diesel-electric locomotives. Throughout the group, 300 products are offered to customers in more than 180 countries around the globe. And for two years now, MWM, the well-established Mannheim company founded by Carl Benz in 1871, has also been an integral part of Caterpillar.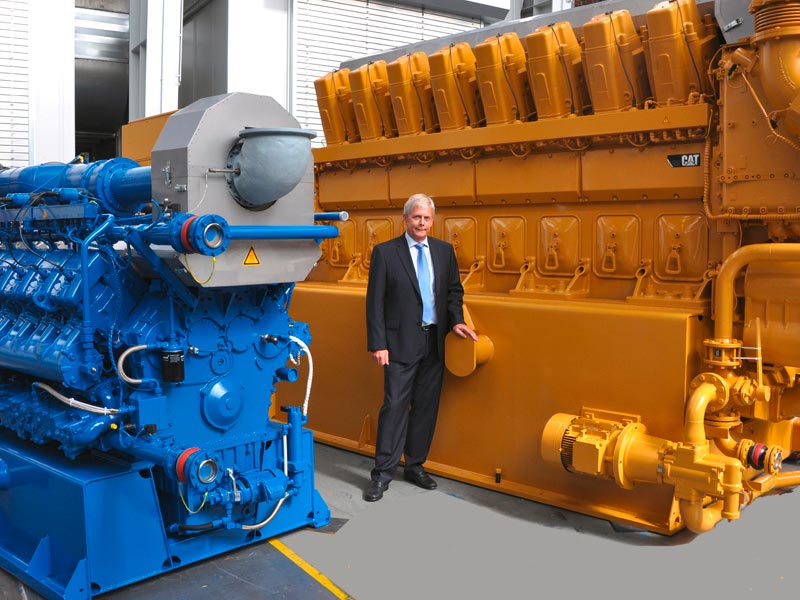 Willy Schumacher, Managing Director of MWM GmbH
As an innovative provider of efficient and reliable energy solutions based on gas engines, MWM fits in superbly in the Electric Power Division of this global group. Caterpillar with its products has been a force to be reckoned with in the decentralized energy market for quite some time now. In the range of 5 to 20 megawatts, the company offers its customers efficient products based on numerous fuels.
Well positioned for the future
And there are signs of continued growth up ahead. With investments in the tens of millions, Caterpillar has expanded the Mannheim location over the past two years to become a global Gas Center of Excellence. This included further qualification of employees, modernization of machinery and facilities, and hiring of new skilled employees. The number of employees alone grew in this period by more than 100 to some 1,400 today.
Although the company's name will be changed on the first of November, the successful brand strategy will remain intact. Caterpillar Energy Solutions GmbH will continue to pursue a consistent two-brand strategy with Cat and MWM.
The yellow Cat gensets will be distributed through the worldwide Cat dealer network, and the blue MWM units will be sold in the market directly as well as via the existing MWM international distributor network. The range will be completed by a first-rate Service division that will handle maintenance of the gensets and supply customers with original manufacturer's parts.
The MWM brand is a firmly established part of Caterpillar
"Engines made in Mannheim are regarded worldwide as being among the most reliable and efficient products in decentralized energy production. Our strong MWM brand has become an integral part of the Caterpillar product portfolio", says Willy Schumacher, CEO of MWM GmbH. He added: "Through the name change, we are demonstrating that the integration of MWM involves a strategic commitment by Caterpillar, which is geared for long-term success".
Given this constellation, industry experts are calling it an ideal brand orientation: Caterpillar is a worldwide supplier of quality products. Over decades, MWM has in turn developed unique expert knowledge in the development of highly-efficient gas engines. This legacy of Carl Benz has found a worthy new home in the global Caterpillar Group. As part of Caterpillar, the well-established Mannheim company has a bright future ahead of it. And customers can continue to count on the blue engines playing a role in boosting energy efficiency.