CHP amortization calculator unveiled
Now you can easily evaluate the profitability of MWM gas engines online
Whether public buildings, hotels, industrial plants, greenhouses or biogas systems, the opportunities for using MWM gensets are wide-ranging and versatile. From the customer's perspective, there are two issues always mentioned as top decision criteria for investing in decentralized energy production: Independence towards power outages/network fluctuations and the financial benefit of operating the system.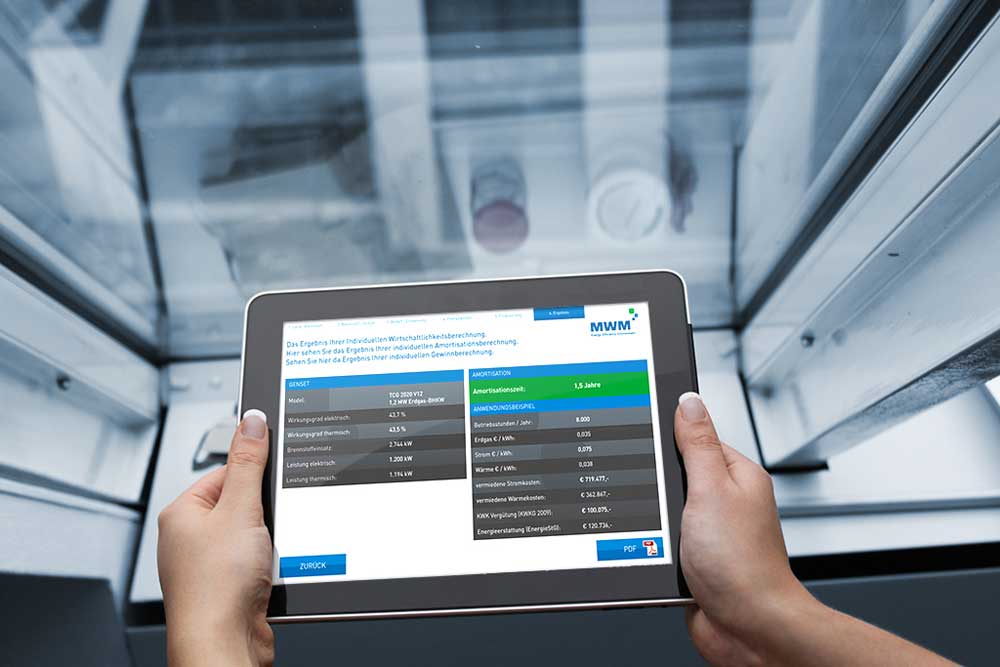 Provides prospects an initial overview of the key figures weighing into the purchase of a CHP plant: the MWM Amortization Calculator
Many potential end customers, however, simply do not know whether the operation of a plant is advantageous to their bottom line for their specific situation and if so, what the full extent of the anticipated benefits would be. In order to provide prospects greater transparency on these questions in the future, since April 2014 we have been offering the "CHP Amortization Calculator" on our website: www.mwm.net. With the help of this online solution, users can run their own calculations for how quickly the planned investment will pay off, based on their individual situation. The program is available in English and German, and requires inputs on various framework parameters for assessing the individual payback periods. The user has to specify the installation country, for example, along with the desired type of gas operation, their existing annual requirement for electricity or heat, as well as the current supply price for electricity, heat and gas. In addition, information is required on internal consumption and sales volumes, along with the cost of capital.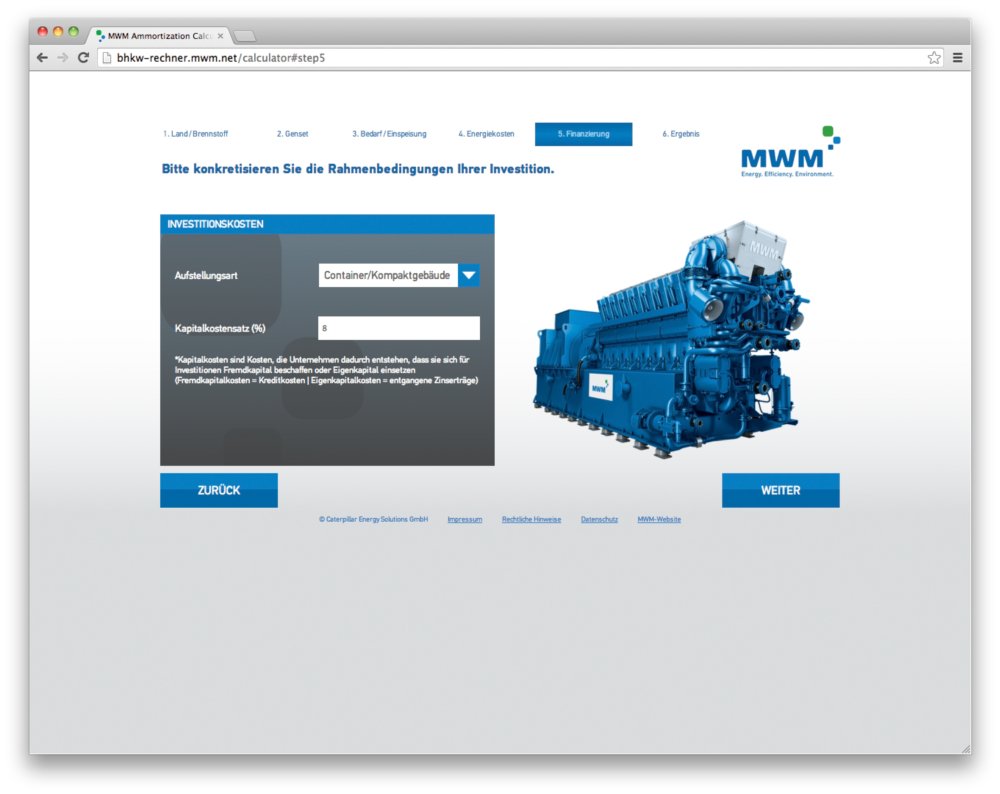 MWM Amortization Calculator – details on the installation type of the CHP plant and the cost of capital for the investment
Individual calculation online
On the basis of the so-called net present value method, the program performs a dynamic profitability calculation and immediately presents the user the result of their individual assessment online, as well as in a separate pdf document. In addition to a brief description of the matched MWM genset, the essential figures in the summary findings include the electricity and heat costs avoided by operating the genset, annual operating costs, as well as the corresponding payback period in years.
Providing the basis for a purchasing decision
Due to reasons of complexity, the assessment is based on simplified assumptions and findings may vary from project-specific calculations. The whole idea behind the calculator is in fact to give prospective users an initial impression of whether running an MWM gas genset would also be lucrative for their particular situation. "With our solution, we primarily want to reach potential customers who are still at square one in their potential purchasing decision and who are not yet sure whether such a power plant operation would generally be profitable for their individual scenario," says Jörg Richter from Business Development, who co-developed the Profitability Calculator.
Photos: Caterpillar Energy Solutions