Seminar Program
Training in the Use of Maintenance of MWM Gensets and Plants
At the MWM Learning Center Service, qualified trainers teach the correct use and maintenance of MWM gensets and plants. In courses held at the Mannheim Learning Center Service or on site at the customer, the participants gain theoretical knowledge and learn the practical use of the various genset types. Depending on their knowledge level, seminar participants can select from a range of successive courses or compact, subject-specific individual seminars.
Freely selectable training modules enable user-oriented training and offer the course participants a high degree of flexibility. Depending on the operator's qualification, the custom-tailored training offers impart user skills for the correct use of plants, periodic servicing tasks, early identification and elimination of problems, and simple maintenance work.
From Theory to Practice
All courses have a clear structure, from the imparting of theoretical fundamentals to the concrete practical application. Participants apply their theoretical knowledge on suitable engines and simulation setups in small groups. This approach helps the participants to gain a deep, founded understanding, especially in highly complex technology fields.
Seminar Program for MWM Gas Engines and Other Gensets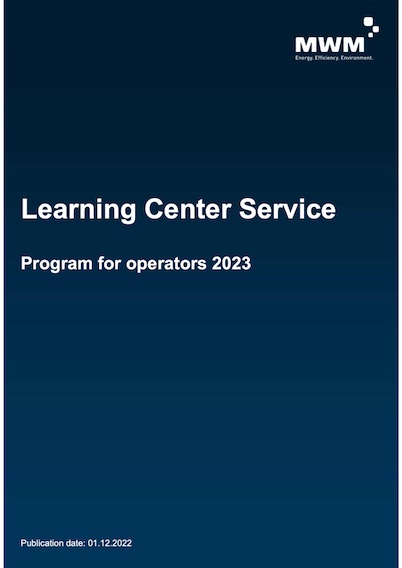 Click this brochure to access the digital publishing platform issuu.com. This website is governed by the issuu Privacy Policy
All languages on issuu: EN | DE
Download seminar program 2023: EN | DE
Downloads
Contact Learning Center
Caterpillar Energy Solutions GmbH Administration Team MWM Learning Center Carl-Benz-Strasse 1 68167 Mannheim Germany