All-Round Talent TCG 3020: MWM's High-Performance Genset Now Available as V12 and V16
Mannheim, July 1, 2021
The lineup of the MWM TCG 3020 gas genset series—the all-round talent among the gas engines—has been supplemented with new variants. To provide customers with even more performance, flexibility, and custom-tailored energy solutions with gas engines, MWM has introduced a V12 and a V16-cylinder variant of the TCG 3020 series to the market. The new cylinder variants feature up to 18 percent more performance and lower oil consumption.
Powerful Gas Engines for Custom-Tailored Applications
The MWM TCG 3020 gas engines are designed for flexible use for various applications and gas types, such as natural gas, biogas, APG, and propane gas. Due to their compact design, the two new cylinder variants achieve up to 18 percent more performance than their predecessors, though their dimensions are almost identical. The two gas engines deliver an output of 1,380 kWel (V12) and 1,840 kWel (V16), respectively. The electrical efficiency of these engines amounts to 45 percent for natural gas and 43.6 percent for biogas applications. Fueled with natural gas, the total efficiency of the gas engines is more than 87 percent.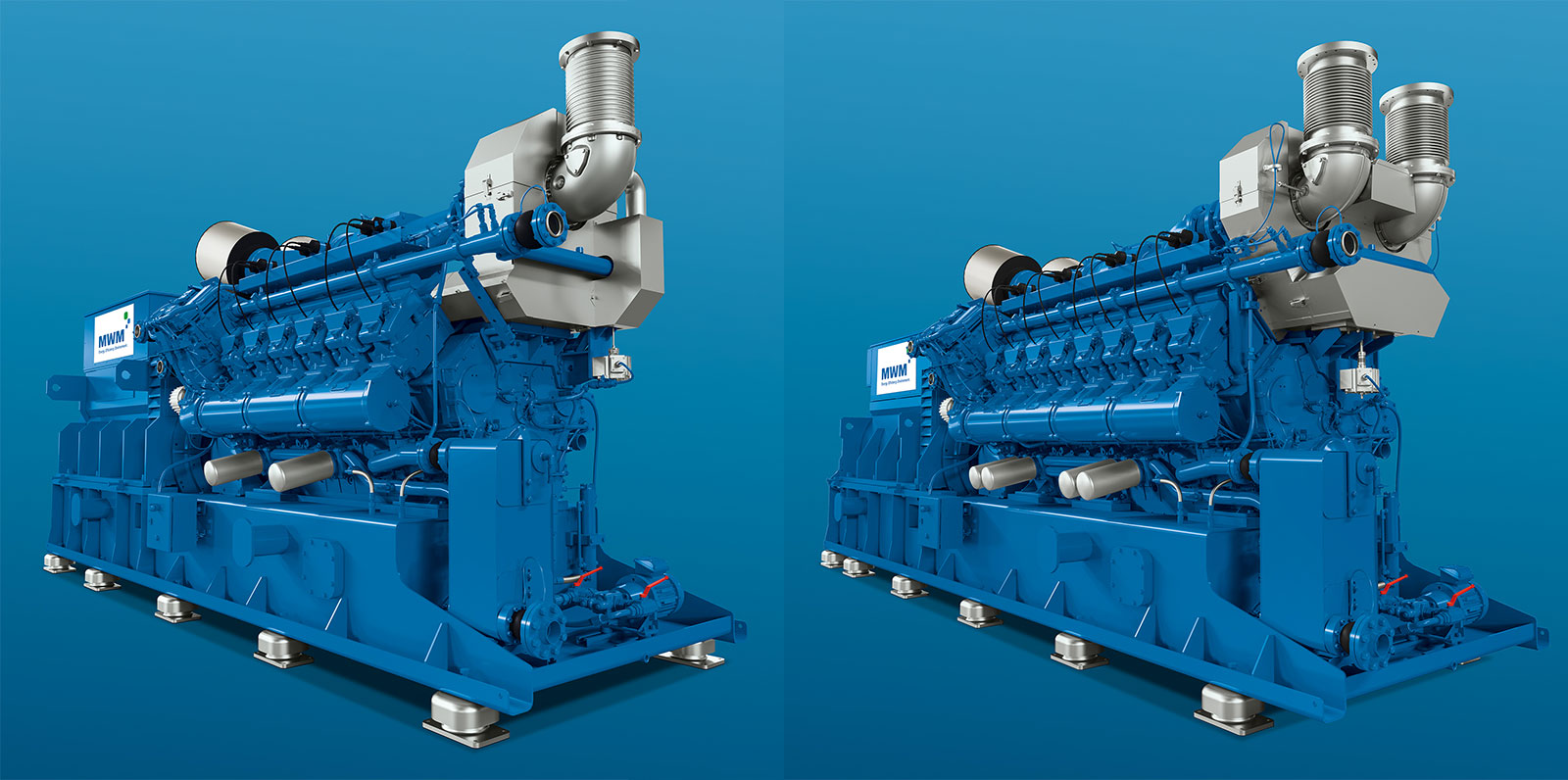 "By introducing the new cylinder variants, we offer our customers two reliable high-performance gensets that stand out with their high electrical efficiency and compact design", says Tim Scott, Director of MWM. In addition to their high performance, flexibility, reliability, and smart plant control, the advantages of the TCG 3020 gas engines for customers especially include the improved profitability. Besides the low installation and operating costs, longer service intervals of up to 80,000 operating hours are possible until the next general overhaul, provided that high-quality gas is used.
Ongoing Further Development of MWM Gas Engines and Power Gensets for Custom-Tailored Energy Solutions
Back in January 2019, MWM had launched the 20-cylinder variant of the TCG 3020, which is very much in vogue. "With the two new variants, we offer additional powerful alternatives in the popular output range of 1 to 2 MW", explains Tim Scott. The digital MWM power plant control TPEM (Total Plant & Energy Management) consolidates all engine and plant control data in a single system. The combination of the new cylinder variants and the digital power plant control enables plant operators to ensure maximum plant capacity and availability. For example, the TCG 3020 gas engines can be used for combined heat and power generation in the industry, in hospitals, or at airports as well as for the generation of power by power suppliers or in sewage treatment plants and landfills.
Line Brochure MWM TCG 3020 Gas Engine
Click this brochure to access the digital publishing platform issuu.com. This website is governed by the issuu Privacy Policy.
All languages on issuu: EN | DE
Download PDF: EN | DE
Further Information:
Contact Media
Aljoscha Kertesz
Manager Communications
T +49 6 21/3 84 – 87 48
E press@mwm.net
Frank Fuhrmann
Online Editor
Member of DPV / German Press Association
T +49 6 21/3 84 – 86 33
E press@mwm.net