Caterpillar Energy Solutions Website Relaunch: Upgraded Information Offering in Line with Digitization and Online Strategy
Mannheim, January 15, 2021
With its corporate website relaunch, Caterpillar Energy Solutions GmbH has upgraded its corporate communication. Apart from the ongoing further development and digitization of trend-setting gas engines and power gensets of the MWM and Cat brands, Caterpillar Energy Solutions has also renewed its corporate website.
The redesigned website focuses on the subjects of quality, success factors, brands, jobs and career, events, and training, human resources (HR), and recruiting. The relaunched website is even user-friendlier than before. "Caterpillar Energy Solutions has continually expanded its extensive information offering with additional digital platforms. As recently as October, we had supplemented the presence of the MWM product brand in the digital world with an 'MWM Energy Blog' in addition to the channels that already existed in social networks such as Facebook, LinkedIn, and YouTube", explains Frank Fuhrmann, Manager PR & Online Marketing.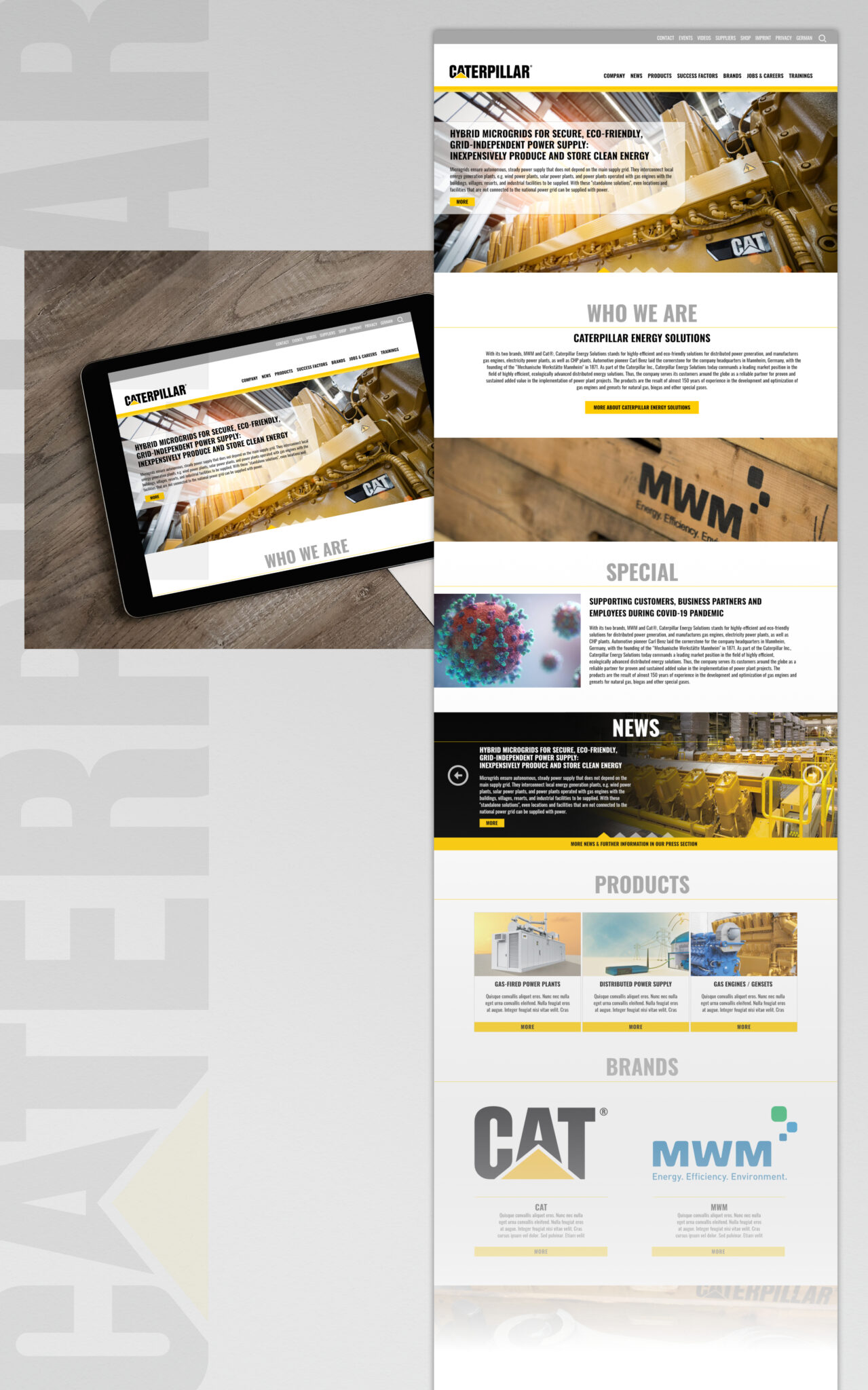 The technical and visual restructuring of the website has improved the way that product information about the MWM and Cat brands as well as services for gas engines, CHP plants, and cogeneration power plants is displayed. On the restructured website, it has become even easier for site visitors to find information on career opportunities, services, products, and training offerings.
Since 2013, Caterpillar Energy Solutions has represented the renowned product brands Cat and MWM. Both brands stand for highly efficient, eco-friendly combined heat and power (CHP) plants for distributed energy generation. At the traditional location in Mannheim, Germany, the company develops trend-setting, powerful products, services, and technologies for the global industry of decentralized energy supply with gas engines.
Further information:
Contact Media
Aljoscha Kertesz
Manager Communications
T +49 6 21/3 84 – 87 48
E press@mwm.net
Frank Fuhrmann
Online Editor
Member of DPV / German Press Association
T +49 6 21/3 84 – 86 33
E press@mwm.net