MWM unveils new CHP amortization calculator
Mannheim, 7. April 2014
Find answers online to questions concerning the profitability and energy payback time of investments in MWM cogeneration power plants (CHP) and gas engines.
The Mannheim-based company MWM is presenting a new software tool at the Hannover Industrial Fair. This calculator is intended for all those who are seeking to invest in energy-efficient and environmentally sound energy solutions for the future growth of their company. Through the use of the CHP Amortization Calculator, users receive an initial assessment of the economic advantages of their plan to invest in MWM gas engines and cogeneration power plants (CHP), based on the prevailing conditions in their countries.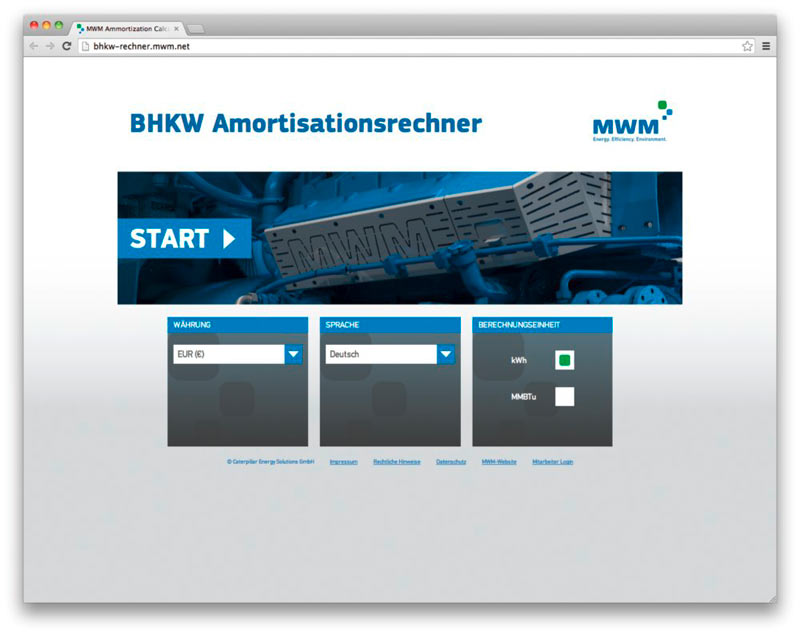 CHP amortization calculator – home
Simply enter individual values and calculate profitability
The user enters the relevant framework parameters for assessing the profitability of his individual situation and receives a custom profitability calculation based on these inputs. The Amortization Calculator automatically calculates the number of years until you reach your ROI.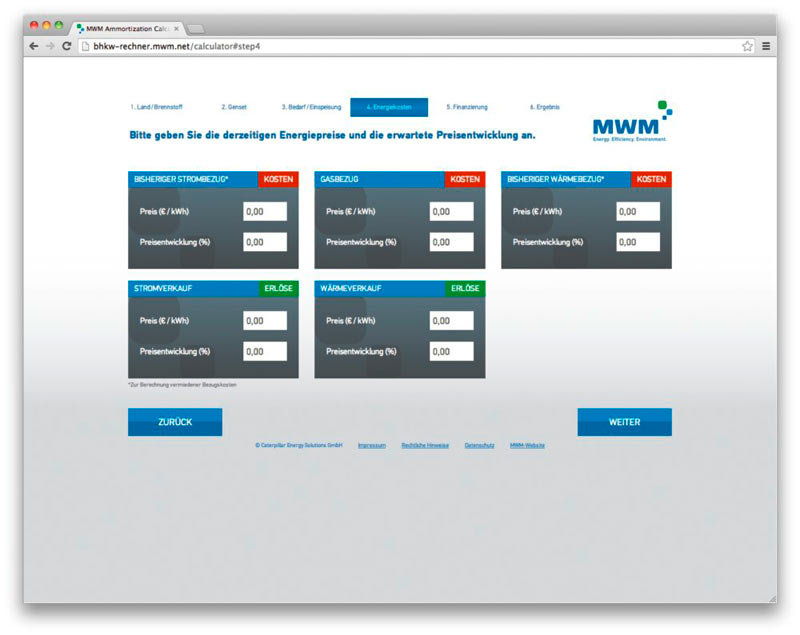 CHP amortization calculator – input mask for current energy prices and expected price change
The economic efficiency of MWM solutions is determined on the basis of the following specific criteria:
Installation country
Gas types: natural gas, biogas, wastewater digester gas, or landfill gas
Gas engine specifications (required properties and output of the CHP plant)
Year of commissioning
On-site power and feed
Energy prices and price development
Installation type and cost of capital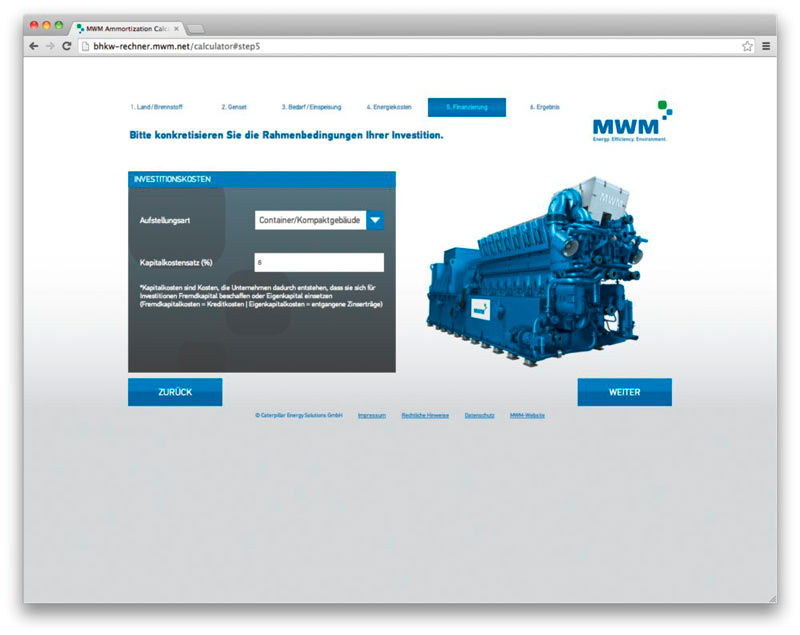 MWM amortization calculator – input mask for CHP installation type and capital costs
The results contain comprehensive information relevant for the decision-making process: the overview of energy prices used for the calculation includes price trends, the power, heat, and gas requirements, a description of the most suitable MWM gas engine (technical specifications and benefits), and a summary of the profitability calculation. Afterwards, users can also have the result sent to them via email. The new CHP Amortization Calculator by MWM can be accessed via the following links:
German version: http://bhkw-rechner.mwm.net
English version: http://chp-calculator.mwm.net
Download
Contact Media
Aljoscha Kertesz
Manager Communications
T +49 6 21/3 84 – 87 48
E press@mwm.net
Frank Fuhrmann
Online Editor
Member of DPV / German Press Association
T +49 6 21/3 84 – 86 33
E press@mwm.net