Reiling Group CHP Plant Receives Award as "Cogeneration Power Plant of the Month of 01/2015″
Mannheim, March 23, 2015
At the main factory of Reiling Kunststoff Recycling GmbH in the eastern Westphalian town of Marienfeld near Gütersloh, a cogeneration power plant with an MWM TCG 2016 V12 gas genset has been installed since July 2014. The CHP plant achieves electrical efficiency of 42 percent and thermal efficiency of 46.3 percent. The CHP has become an important factor in the recycling process, also covering a large share of the group's own demand for electricity.
Washing, recycling packaging materials and saving the climate
In addition to glass, wood and paper, the Marienfeld plant also produces beverage packages made of plastic: the bales of pressed PET bottles are first freed of contaminants and shredded in a cutting mill. Then the so-called flakes must be cleaned in a hot washing process to remove labels and other impurities. Previously, a wood chip boiler produced the required heat. In order to also uphold the company's values – economic and material sustainability – Reiling GmbH decided last year to commit to more responsible handling of resources, and it commissioned the company Pro2 Anlagentechnik to devise a more sustainable solution. The MWM gas-fired power plant with 660 kW thermal and 600 kW electrical output also covers the plant's heat energy needs.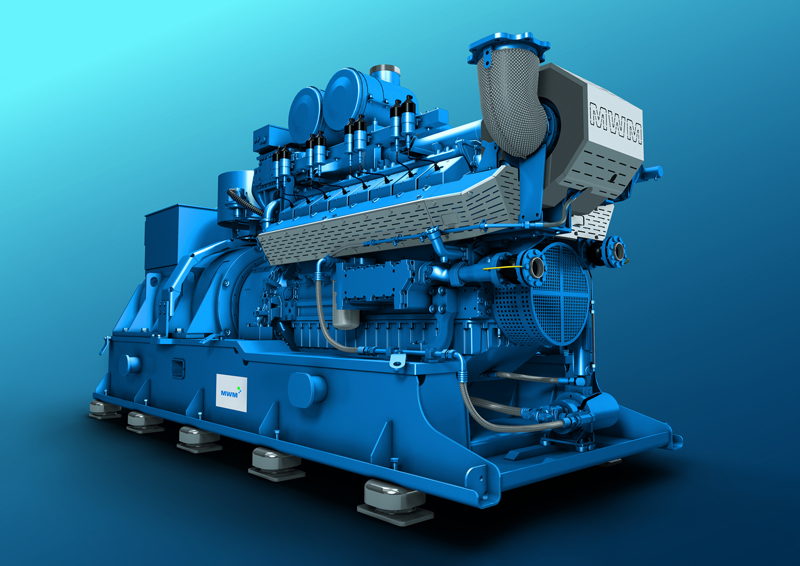 MWM TCG 2016 V12 gas genset
An efficient concept
The plant concept was developed by Pro2 and adapted to the existing heating supply system, where
the waste heat of the cogeneration power plant is distributed among three heating circuits. Through the use of engine lubricant and exhaust gas heat, the MWM genset heats the water in the washing system to more than 90° Celsius, allowing the efficient and thorough removal of the affixed labels. For the ramp down of the return temperature to the CHP plant to 75° Celsius, the system was also supplemented with a drying plant as an additional heat sink. The CHP plant is always interconnected with the hot washing process and the drying plant. This enables the heat-fed engine to be operated at high capacity year-round.
Own power generation in Marienfeld
The factory facility and office building were previously heated by a wood chip boiler. By feeding the excess heat from the cleaning system into the heating system, this task is now handled by the cogeneration power plant. A large share of the power consumption at the Marienfeld site can thus be met for PET recycling, along with glass recycling. Thanks to the CHP, the power generation costs are lower than that of purchased electricity. The system not only saves material resources but also financial means and shortens the payback time  of the plant.
For these accomplishments, the Reiling Group cogeneration power plant received the best-of-class award from the German trade journal "Energie und Management" for the month of January 2015.
Here you will find the relevant article from the trade journal "Energie & Management" featuring additional information about the award:
Contact Media
Aljoscha Kertesz
Manager Communications
T +49 6 21/3 84 – 87 48
E press@mwm.net
Frank Fuhrmann
Online Editor
Member of DPV / German Press Association
T +49 6 21/3 84 – 86 33
E press@mwm.net