Cogeneration as Key Technology for Eco-Friendly, Efficient Greenhouse Horticulture
Mannheim, June 11, 2019
In February, MWM exhibited its newly developed TCG 3016 und TCG 3020 gas engines, two eco-friendly, highly efficient gensets for use in greenhouse facilities, at the HortiContact 2019, the Netherlands' largest exhibition for greenhouse horticulture. This year's event focused on cogeneration as a sustainable, highly efficient, future-oriented technology for heating and illuminating greenhouses.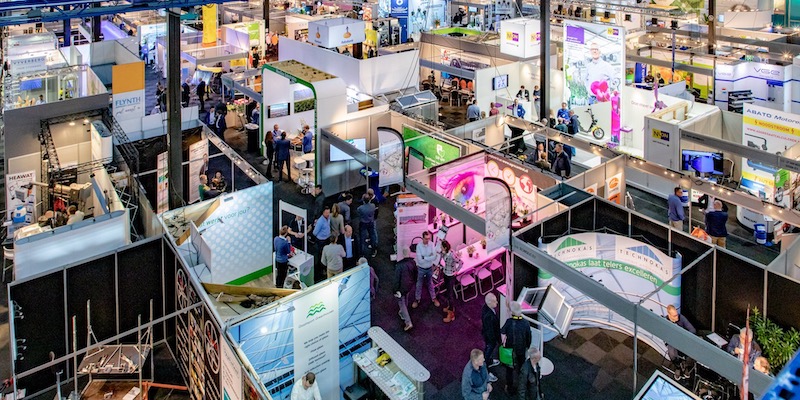 Exhibition Hall HortiConatct 2019 (Photo: Evenementenhal Gorinchem)
At present, cogeneration is one of the most reliable solutions on the path to eco-compatible operation of greenhouse horticulture facilities. Due to the better utilization of the primary energy, gas engine-driven cogeneration power plants are the most efficient, eco-friendly method for the operation of greenhouses. Until industrial alternatives that do not depend on fossil fuels are developed for heating and illuminating greenhouses, cogeneration remains the most sustainable and profitable solution on the market.
Apart from the sustainability factor, the MWM TCG 3016 and TCG 3020 gas engines stand out with their high efficiency and greatly reduced total cost of ownership (TCO), which make these models ideal for use in greenhouse operations. Besides autonomous energy generation, the possibility to use the combustion products of the utilized gas is a key factor with respect to the optimized operation of greenhouse facilities. For example, scrubbed carbon dioxide can be used to promote plant growth. Most of the operating costs of horticultural operations are incurred for heating and illuminating greenhouses and for running burners and control systems. The use of a CHP plant can greatly reduce the TCO with clean natural gas from pipelines or biogas, which is even more resource-friendly. MWM gas engines can provide electrical energy for electrical loads, heat energy for heating greenhouses, and recyclable carbon dioxide from the exhaust gas for use as organic fertilizer.
The digital plant control TPEM (Total Plant & Energy Management), which is integrated in the new generation of gas engines, controls the entire cogeneration power plant and communicates directly with the main computers of the respective greenhouse. Depending on the respective market, the amortization period for the investment in a CHP plant for a greenhouse operation is currently about seven years for a plant in Belgium or the Netherlands.
Additionally, MWM offers its customers a full maintenance agreement that comprises the maintenance of gas engines, power gensets, and MWM cogeneration power plants in order to ensure maximum availability and efficiency. Currently, MWM supervises some 290 cogeneration power plants in the agricultural sector under full maintenance agreements, including numerous facilities in the Netherlands. 
Further information:
Contact Media
Aljoscha Kertesz
Manager Communications
T +49 6 21/3 84 – 87 48
E press@mwm.net
Frank Fuhrmann
Online Editor
Member of DPV / German Press Association
T +49 6 21/3 84 – 86 33
E press@mwm.net