Cogeneration Plant with Two MWM Gas Engines Wins Renowned Award
Mannheim, April 29, 2016
The cogeneration concept of the MWM partner Edina was successful in the category "Best Anaerobic Digestion (AD)" because the cogeneration plant does not merely generate power and heat energy, but also cleans the exhaust fumes of the MWM TCG 2016 biogas engines, using them for the production of renewable carbon dioxide. The award ceremony was held on February 10, 2016 during the Energy Now Expo in London.
The Core of the Plant: Two MWM TCG 2016 V12 Engines
Edina had received the cogeneration order from the Guy and Wright farm, an organic UK farm that mainly grows tomatoes in its six greenhouses. The first MWM TCG 2016 V12 biogas engine with a capacity of 500 kWel was installed in 2013 along with a new SCADA system, a gas storage unit, and the COdiNOx system for exhaust treatment. Shortly thereafter, another MWM gas engine of the same type with a capacity of 600 kWel was commissioned. Unlike other gas types, biogas requires scrubbing before it can be fed into the cogeneration plant. Thus, a special gas scrubbing system is needed for the generation of energy from the combustion of biogas. In the case of MWM biogas engines, this system is included in the product scope.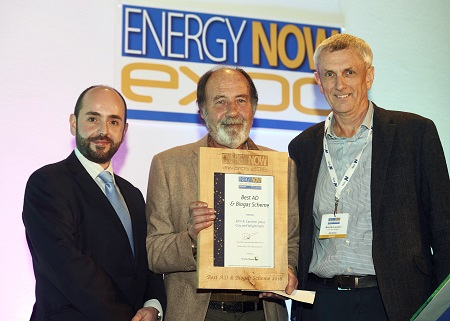 From right to left: David Jacobmeyer (Director of Energy Now), John Jones (Guy and Wright farm), Mike McLaughlin (Director of EnviTec Biogas, award sponsor).
The cogeneration plant generates so much power and heat energy that the Guy and Wright farm can both cover the needs of its operations and feed in energy to the public network, thereby refinancing the plant with the proceeds.
Carbon Dioxide Production through the Combustion of Biogas: Unique and Trend-Setting
On the Guy and Wright farm, the cleaned exhaust fumes of the gas gensets are employed to stimulate the growth of the tomatoes. Though the carbon treatment of greenhouse tomatoes is a common process in the greenhouse sector, this is usually done with carbon dioxide from the combustion of natural gas. The Guy and Wright farm is the world's only commercial biogas operator that uses the exhaust fumes of biogas engines for the production of renewable carbon dioxide.
Only vegetable waste that accumulates on the farm and food waste from local markets is used for the biogas production. Though the planning of the cogeneration plant was more complex compared to other decentralized energy projects, it is an excellent example of a closed, sustainable cycle in the field of agriculture and horticulture. The idea to use food waste for the production of new food is globally unique and thus garnered the AD award.
Further information
Contact Media
Aljoscha Kertesz
Manager Communications
T +49 6 21/3 84 – 87 48
E press@mwm.net
Frank Fuhrmann
Online Editor
Member of DPV / German Press Association
T +49 6 21/3 84 – 86 33
E press@mwm.net