For MWM Distributors and Service Partners: Digital Production of Customized Product Catalogs via MWM Online Portal
Mannheim, September 29, 2020
By way of this new service tool, MWM distributors and service partners can use digital print templates to create individualized product catalogs with product flyers for their customers and business partners. Besides brochures for digital use, catalogs to be printed can also be prepared. The Service Tool is part of the MWM's central "TCG Portal", which provides MWM partners with access to tools and services for MWM gas engines.
Design MWM Product Flyers with Your Own Logo and Appealing Layout
Currently, this service tool can be used to create catalogs and product flyers in English and German. Other languages—including Chinese, Dutch, Russian, Spanish, and Thai—are to follow soon. In addition to their personal company logo, MWM service partners can upload their own contact details as well as the contact details on the customer side for the purpose of individualizing the catalog for the web or for printing.  The great advantage of the new service tool is that contents and offerings can be selected and custom-tailored for the respective customer and be compiled with a click. The service tool features a user-friendly menu structure and efficient design and enables the quick compilation of service catalogs on the basis of a uniform product portfolio and MWM's corporate guidelines.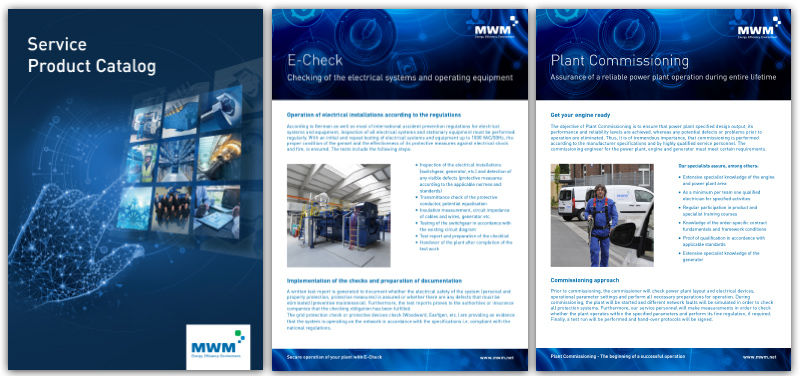 The modular MWM service brochures and product catalogs can always be updated via the Online Portal in case a contact, the address, or the service portfolio changes.
Within the scope of their own service portfolios, MWM distributors and service partners can select MWM products and services from the categories "Commercial Support", "Upgrade Kits", "Predictive Maintenance and Technical Support", "Repair, Maintenance, and On-Site Support", "Parts and Consumables", and "X-Change Products". Currently, more than 20 service products are available in various documents. Following the design process, the individual product catalog that is created via the Portal is perfectly tuned to the customer-specific needs and requirements and can be used to support sales pitches.
Easy and Secure Access via Digital MWM TCG Portal
The login to the service tool takes place via the MWM TCG Portal. Other services, such as the Product Support Center (PSC), the Service Shop, and the access to online training, are also unified via the TCG Platform. To log in to the TCG Portal, users can authenticate with their CWS ID and a second security check via e-mail or telephone. Users who do not yet have a CWS ID can easily request it via the local Identity Manager. 
Continuous Optimization of the MWM Service Offering
To offer its partners, distributors, and customers optimum services, MWM is continually expanding and optimizing its extensive range of products and services. Apart from developing the new Service Portal for the creation of customer-specific catalogs and brochures, MWM recently launched its own Facebook brand channel and a LinkedIn page, thereby stepping up its online presence in order to intensify the customer dialog and further expand the public information offering about MWM products.
Further information:
Contact Media
Aljoscha Kertesz
Manager Communications
T +49 6 21/3 84 – 87 48
E press@mwm.net
Frank Fuhrmann
Online Editor
Member of DPV / German Press Association
T +49 6 21/3 84 – 86 33
E press@mwm.net