Expansion of the MWM Customer Service: Caterpillar Energy Solutions and AVAT Reinforce Long-Term Collaboration in the Field of Services and Supply of Spare Parts for TEM Evo Systems
Mannheim, July 3, 2020
Caterpillar Energy Solutions (CES) and the technology company AVAT, which has served as a highly specialized energy engineering partner of manufacturers of large gas engines for more than 25 years, have reinforced the continuation of their collaboration. The central goal of the collaboration is to ensure the long-term availability of spare parts for all TEM Evo systems for MWM customers.
Higher Planning Security and Central Support
For MWM customers, the partnership delivers increased planning security and an expanded MWM service offering. "I am pleased that today, we have secured the continuation of the highly successful collaboration between our companies, which has already existed for more than 25 years, on a long-term basis", says Uwe Sternstein, Head of Service and Managing Director of Caterpillar Energy Solutions. In a centralized competence center at Caterpillar Energy Solutions, all technical and commercial customer inquiries will henceforth be handled directly via MWM in bundled form.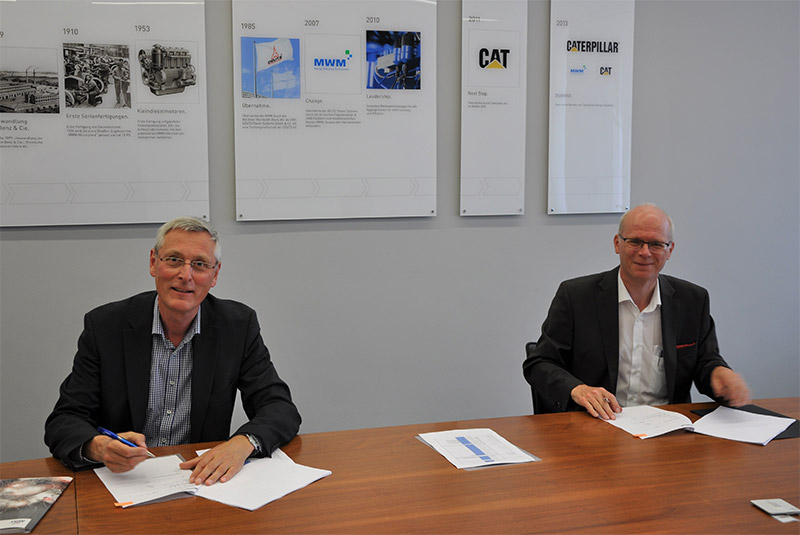 Uwe Sternstein, Head of Service and Managing Director of Caterpillar Energy Solutions, and Frank Ganssloser, CEO of the technology company AVAT in Tübingen, Germany, signing the collaboration agreement
Security of Supply and Economy
The collaboration between Caterpillar Energy Solutions and AVAT provides MWM customers with comprehensive, premium services and reliable spare-part supply. Customers who operate TEM Evo systems or plan to do so thus benefit from a reliable, sustainable and economic perspective as well as low risk thanks to high security of supply. Technical inquiries can now be submitted via the Product Support Center (PSC). MWM customers and partners can access the PSC, the Service Shop, and online training in the digital MWM "TCG Portal".
Quick Availability of the Right Spare Parts
The logistics center in Lorsch, Germany is the central hub for all MWM spare parts. From here, MWM coordinates the worldwide shipping and supply of all plants. Efficient and quick spare-part supply is a decisive competitive factor. This is made possible by means of the MWM logistics center, one of the most modern of its kind worldwide. Streamlined processes enable extremely short flow times, from the order of components to the shipping. In this way, MWM offers plant operators important time advantages and minimizes potential downtimes.
Further information:
Contact Media
Aljoscha Kertesz
Manager Communications
T +49 6 21/3 84 – 87 48
E press@mwm.net
Frank Fuhrmann
Online Editor
Member of DPV / German Press Association
T +49 6 21/3 84 – 86 33
E press@mwm.net