Globally Successful MWM TCG 2020 Gas Engine for Distributed Energy Generation: Popular in India as Well
Mannheim, April 18, 2018
Three of these highly popular TCG 2020 power gensets are in operation at Gujarat Fluorochemicals Limited (GFL), India's largest producer (by volume) of chloromethane, refrigerant, and polytetrafluoroethylene (PTFE) in western India's federal state of Gujarat. Since 2005, the TCG 2020 gas engines have been supplying the chemical giant with cogenerated power and heat energy. Each of the MMW power gensets has thus run continually with natural gas for more than 100,000 hours. To celebrate the occasion, the executive staff of Fluorochemicals invited the entire service team of Green Power, the Indian distributor of MWM gas engines, and Nazmi Tanis, the responsible Service Sales Manager from Mannheim.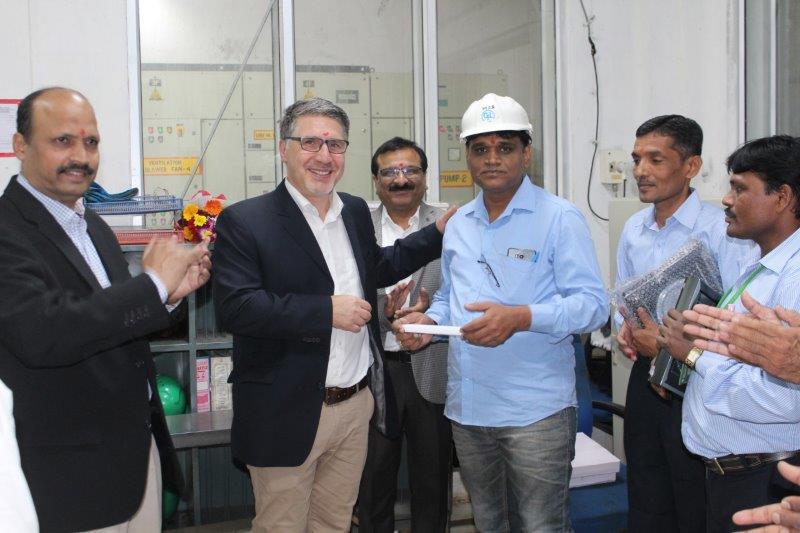 From left: Vijay Wesanekar (Vice President Technical Service at Green Power), Nazmi Tanis (Service Sales Manager at Caterpillar Energy Solutions), and Sanjay Chawla (Spare Parts and Service Director at Green Power) handing over a plaque to Manish Shukla (Deputy General Manager of Gujarat Fluorochemicals)
A Memorable Anniversary Party: TCG 2020 Gas Engines Deliver Power and Heat for 100,000 Hours of Continuous Operation
The celebration took place in the Indian federal state of Gujarat. Upon return, Nazmi Tanis, who had traveled to India from Mannheim on behalf of Caterpillar Energy Solutions, expressed his satisfaction with the work of the Indian MWM partner Green Power and with the operation of the three MWM TCG 2020 V12 natural gas engines. To ensure smooth operation and optimum efficiency of the combined heat and power (CHP) plant, Green Power has deployed a service team to the CHP plant to be able to react to even the most insignificant error messages of the cogeneration power plant around the clock.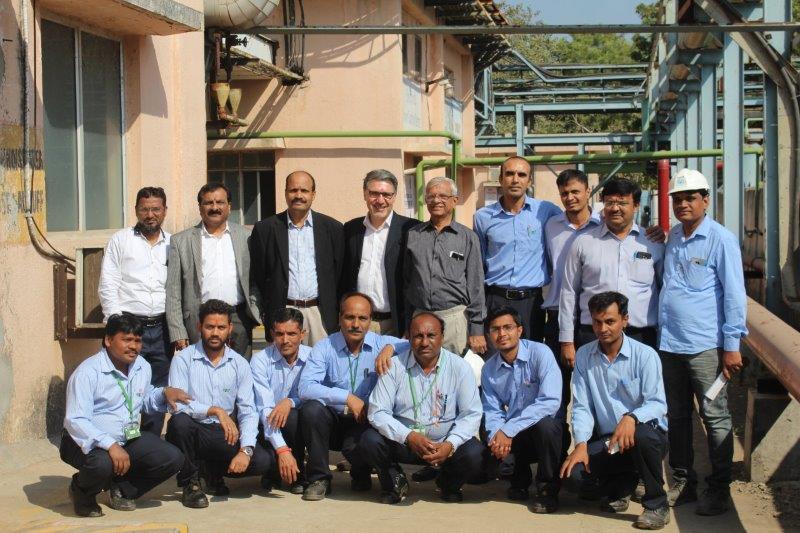 Nazmi Tanis (standing, fourth from left) with the Green Power MWM Service Team and the technical decision makers of Gujarat Fluorochemicals
In view of the positive feedback on the gas engines from Mannheim and the outstanding MWM service for CHP plants, Nazmi Tanis has expressed his confidence that Fluorochemicals will replace its engines with MWM engines after the next cogeneration power plant maintenance run.
Further Information:
Contact Media
Aljoscha Kertesz
Manager Communications
T +49 6 21/3 84 – 87 48
E press@mwm.net
Frank Fuhrmann
Online Editor
Member of DPV / German Press Association
T +49 6 21/3 84 – 86 33
E press@mwm.net