Highly Efficient Power and Heat from Plant Substrates: New Cogeneration Power Plant with MWM TCG 2020 Gas Engine for Biogas Plant in Oberspiesheim
Mannheim, July 30, 2019
Gartenbau Gernert, one of the largest horticultural enterprises in the Nuremberg metropolitan area, needs a warm climate in its orchid greenhouses throughout the year. In 2017, the biogas plant in Oberspiesheim, which had been established in 2006, was supplemented with a new containerized cogeneration power plant with an integrated MWM TCG 2020 V12 gas engine in order to meet these temperature requirements.
Containerized cogeneration power plant of the biogas plant in Oberspiesheim (photograph: ÜZ Lülsfeld)
Conversion to Flexible Operation for Optimum Heat Utilization
The new cogeneration power plant enables flexible, needs-oriented power generation from biogas. The energy that is produced by the power plant is fed into the grid of Überlandwerk Mainfranken AG, Würzburg. Gartenbau Gernert uses the heat that is generated during the power production for heating its greenhouses. "The decision in favor of the MWM TCG 2020 V12 gas engine was motivated by the good background service and support", explains Bernhard Bedenk, Director of Bioenergie Oberspiesheim. "What is more, the engine's fast ramp-up capability is important for efficient flex operation."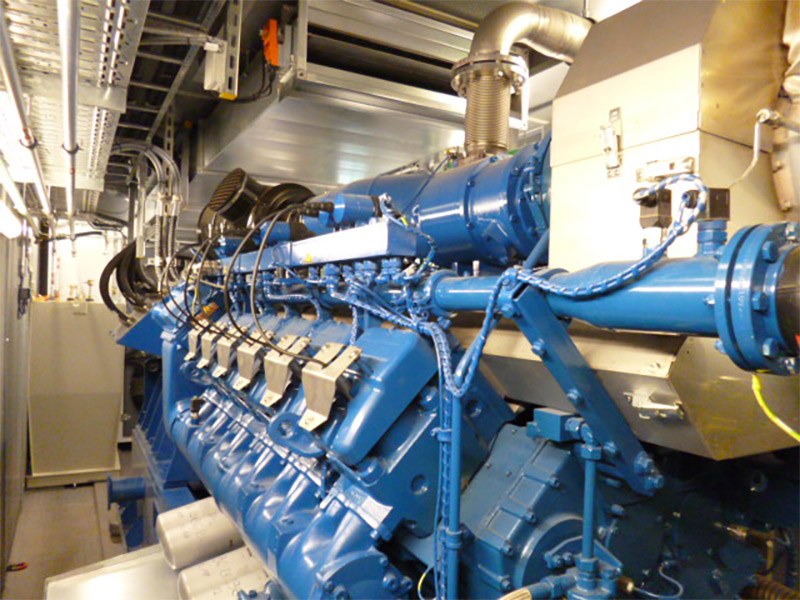 MWM TCG 2020 gas engine with best electrical and thermal efficiency in its output class (photograph: ÜZ Lülsfeld)
The biogas-fired cogeneration power plant, which was set up by Caterpillar Energy Solutions, boasts a total efficiency of 84.3 percent and a heat storage tank of 360,000 l. The plant produces power and heat from plant substrates such as dung and chopped green plants and covers about 60 percent of the nursery's total annual heat demand, which corresponds to approximately 1 million l of fuel oil.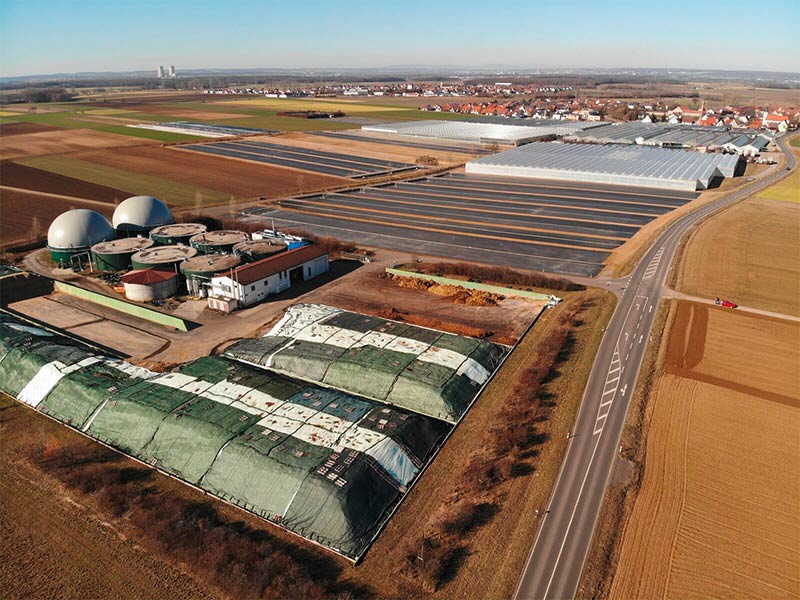 Biogas plant with containerized cogeneration power plant in Oberspiesheim, Bavaria, and large horticultural enterprise Gartenbau Gernert in the background (photograph: ÜZ Lülsfeld)
Environmental Assessments Acknowledge Cogeneration Power Plant Is "Highly Efficient"
Bavarian environmental assessments confirm that the biogas plant in Oberspiesheim is a pioneer in the field of sustainable energy supply in the region, as the plant is capable of efficiently using all forms of energy. The exhaust heat that is emitted by the cogeneration power plant parts is used for drying the wood chips. Additionally, the usually untapped process heat of the low-temperature mixture cooling circuit is used for heating the digesters. These 89 kW of thermal energy thus do not need to be extracted from the district heat network.
Reference Case Bioenergie Oberspiesheim
Click this brochure to access the digital publishing platform issuu.com. This website is governed by the issuu Privacy Policy.
All languages on issuu:  DE | EN
Download PDF: DE | EN
Further information:
Contact Media
Aljoscha Kertesz
Manager Communications
T +49 6 21/3 84 – 87 48
E press@mwm.net
Frank Fuhrmann
Online Editor
Member of DPV / German Press Association
T +49 6 21/3 84 – 86 33
E press@mwm.net