Intermedia-Globe Award in gold for Modular Power Plant product film
Mannheim, May 13, 2015
The "Cat Modular Power Plant – The Modern Energy Solution" was honored with the World Media Festival Award 2015, thus winning the golden Intermedia-Globe awards in the category of sales promotions. The award-winning film was also produced for the MWM Modular Power Plant. In all versions, animated 3D graphics and professional film material illustrate the configuration and installation of a Modular Power Plant.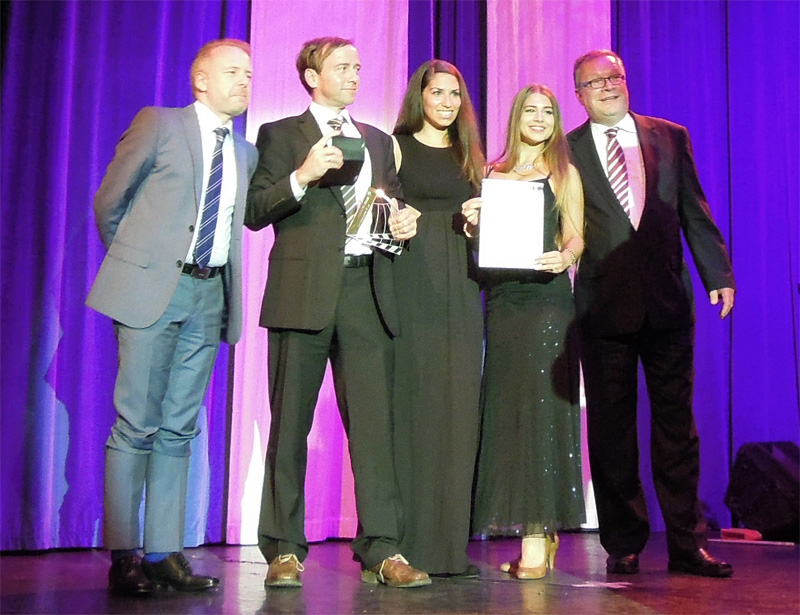 The film team at the awards ceremony: Thoralf Lemke, Marcus Seip and Frank Fuhrmann (from left to right)
MPP gas-fired power plant installed in 12 days
Thanks to the modular configuration of the power plant elements, the MWM Modular Power Plant can be set up and installed within twelve days per unit.
The second world media award for product films
The films were produced by Caterpillar Energy Solutions in cooperation with Motionplan. The event and film agency from Mannheim is an expert in the field of corporate film production and was also involved in the creation of the documentary film "60MW Around the World" (World Media Award 2010 Silver) from MWM.
A high-performance proprietary development with MWM gas engines
The nearly three and one-half minute film shows that the compact MPP gas-fired power plants can be built in nearly any part of the world, thus making electricity and heat quickly available even in lesser-developed regions. The modular system power stations are a proprietary development, allowing installation using prefabricated components without elaborate construction measures within just twelve days. A Modular Power Plant comprises a series of up to six power plant elements, each equipped with a high-performance MWM TCG 2032 gas genset.
World Media Festival Award
The World Media Festival Award recognizes excellence in film, television, web, print and web-TV on the international level. It is regarded as a symbol of the highest production standards in modern communication and considered one of the most important awards worldwide. "More than 700 films from 35 countries were entered for this year's international competition for communications experts from around the globe, that is why it was a huge honor for our team to win the award," explains Frank Fuhrmann, producer and New Media consultant at Caterpillar Energy Solutions.
The jury, made up of experienced experts from around the world in the field of film and video production, praised above all the interplay of 3D graphics and real images. Marcus Seip, managing director of Motionplan, also appreciates this combination: "The professional film sequences lend the computer-animated models credibility and authenticity. This is very important, especially from a sales standpoint."
Contact Media
Aljoscha Kertesz
Manager Communications
T +49 6 21/3 84 – 87 48
E press@mwm.net
Frank Fuhrmann
Online Editor
Member of DPV / German Press Association
T +49 6 21/3 84 – 86 33
E press@mwm.net