Jan Mattheis makes an impressive showing at the "Jugend forscht" young researchers competition
Mannheim, March 21, 2014
Up-and-coming mechatronics technicians at MWM and Heidelberg Druck qualify for 2014 state finals with their project, "The energy-efficient engine cooling system".
Numerous young researchers from the region of Brandenburg presented their projects as part of "Jugend forscht – Pupils experiment". In the field of Technology, the three mechatronics trainees Jan Mattheis (in his second year of training at Caterpillar Energy Solutions – MWM) as well as Philip Bullerdieck and Philip Kopplow (both with Heidelberger Druckmaschinen) qualified for the state finals in Brandenburg. They convinced the jury with their innovative engine cooling system. The idea: Using electricity, the coolant is first heated in order to bring the engine up to operating temperature more quickly. This reduces wear and fuel consumption. Once the engine is warm, electricity is generated, in order to assist the generator, for example, or to charge the battery. Thus the system of combined heat and power is applied here directly in the engine.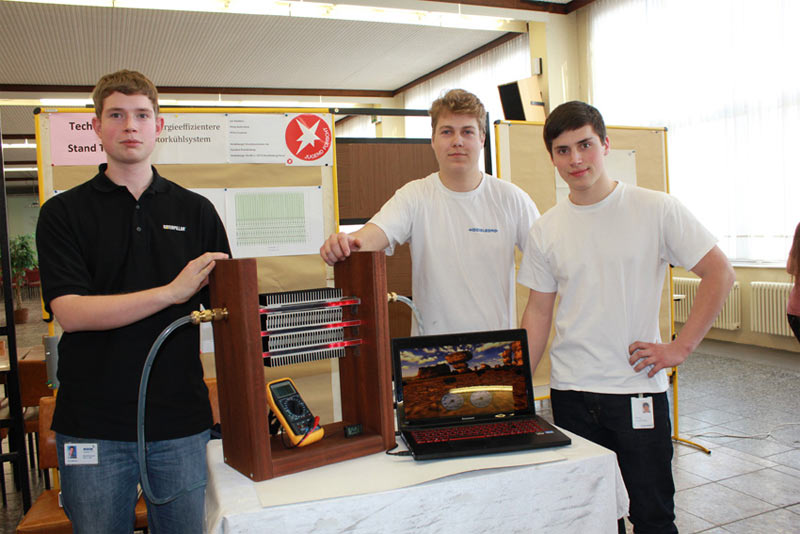 Jan Mattheis (Caterpillar Energy Solutions), Philip Bullerdieck and Philip Kopplow (both from Heidelberger Druckmaschinen) standing in front of the engine cooling system they invented (shown from left to right).
Heidelberger Druckmaschinen AG (HDM) and ZF Friedrichshafen AG are organizing the regional competition. Willy Schumacher, Managing Director of Caterpillar Energy Solutions GmbH, extended his congratulations to the winning team. "I congratulate the winners not only for their success, which they achieved through great commitment. I find it all the more noteworthy that these trainees have dedicated themselves to their project on a voluntary basis and in their own spare time. That is exemplary and should not be taken for granted", Willy Schumacher added.
In the running were a total of 36 projects from 77 young inventors in the fields of workplace design, biology, chemistry, geoscience and space sciences, mathematics and computer science, physics and technology. On March 7, the participants faced the questions of the jury. At the Brandenburg Center for Technology and Entrepreneurial Development, Germany's Minister of Education, Dr. Martina Münch, announced the winners who have qualified for the 2014 state competition. They will present their innovations at the state finals in Schwarzheide on April 10 and 11.
Further information
Contact Media
Aljoscha Kertesz
Manager Communications
T +49 6 21/3 84 – 87 48
E press@mwm.net
Frank Fuhrmann
Online Editor
Member of DPV / German Press Association
T +49 6 21/3 84 – 86 33
E press@mwm.net