MWM CHP Plants at the GreenTech Exhibition in Amsterdam
Mannheim, July 21, 2016
Within the framework of the cross-brand CES/MWM greenhouse strategy, MWM Benelux participated in the GreenTech exhibition in Amsterdam. From June 12 to 14, some 415 exhibitors from more than 30 countries came together in the Dutch capital in order to discuss the latest technologies from the horticulture and greenhouse sector, present new products and projects, and establish international business relationships.
Focus on MWM Greenhouse Applications
As the GreenTech exhibition is considered to be one of the world's leading events in the field of horticulture and greenhouse and has always attracted a lot of international attention, the MWM colleagues from Austria, Moscow, and the CES sales team responsible for North America actively supported MWM Benelux in the preparation for the exhibition. The MWM exhibition focused on highly efficient energy solutions for greenhouses, which enables nurseries and horticulturists to autonomously generate power and heat energy for their own needs and to utilize the combustion products. For example, the exhaust fumes generated by the CHP plant can be used to stimulate plant growth.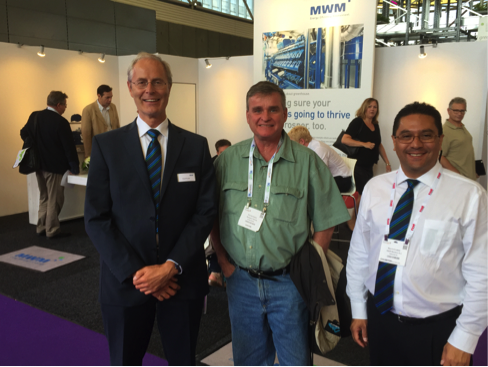 The internationally staffed MWM team at the GreenTech exhibition in Amsterdam; Roelf Koster (MWM Benelux) (left) and Mauricio Lopez (CES Sales Development North America) (right) talking to a customer
Positive Trend in the Field of Eco-Friendly Greenhouse Applications
For MWM, the participation in the GreenTech 2016 was an all-out success. The internationally staffed MWM team was able to have some intensive professional conversations about potential projects with more than 30 prospective customers from different countries (especially CIS, Eastern Europe, North America, Australia, France, and Belgium). "We regard the great interest shown as another indicator for the positive trend in the field of eco-friendly energy solutions for greenhouses", says Roelf Koster, MWM Benelux.
Contact Media
Aljoscha Kertesz
Manager Communications
T +49 6 21/3 84 – 87 48
E press@mwm.net
Frank Fuhrmann
Online Editor
Member of DPV / German Press Association
T +49 6 21/3 84 – 86 33
E press@mwm.net