MWM Asia Pacific Pte Ltd and Acros Dynamic Pte Ltd conclude Distribution Agreement for Asian-Pacific Economic Region
Mannheim, April 28, 2014
MWM Asia Pacific Pte Ltd, a subsidiary of Caterpillar Energy Solutions GmbH, has entered into a strategic partnership with ACROS DYNAMIC Pte Ltd for rapid provision of power generation plants. In the future, MWM gas engines and cogeneration power plants will be marketed by Acros Dynamic from Singapore.
"Singapore, as a springboard for our strategic initiatives, has always been a first-class starting point. The same is true for our partnership with ACROS DYNAMIC," explains Dr. Lattermann, President and CEO of MWM Asia Pacific Pte Ltd. Reliability, safety, efficiency and long service life are but a few of the compelling features of MWM's solutions and the products and services from ACROS DYNAMIC. Their range of supply and high quality standards make Caterpillar and ACROS DYNAMIC a perfect fit. The concluded agreement allows Caterpillar Energy Solutions GmbH to tap into this future-oriented business field in the rapidly-growing economic region of Asia Pacific.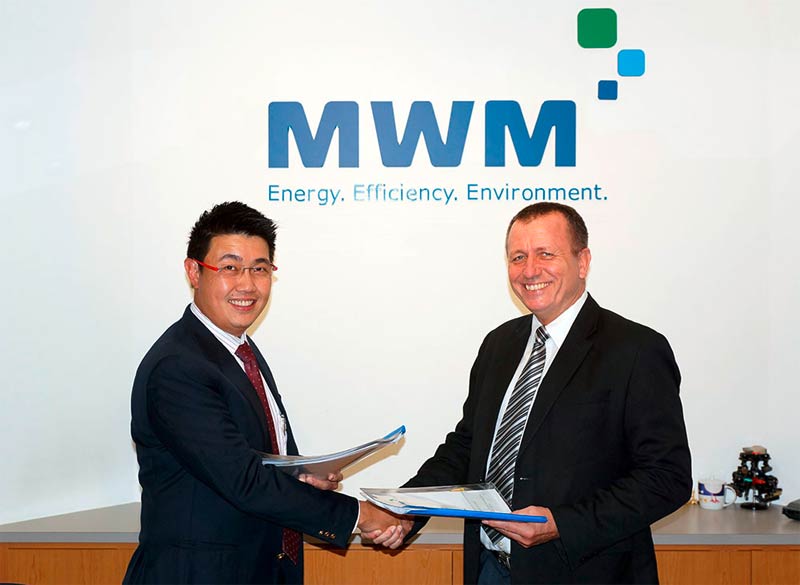 Mr. Chris Chua, Managing Director of Acros Dynamic Pte Ltd and Dr. Ruprecht Lattermann, President and CEO of MWM Asia Pacific Pte Ltd
Since the implementation of this strategic initiative in 2013, the company has already received orders, in particular for MWM TCG 2020 V16K, TCG 2020 V20 and TCG 2032 V16 gas engines, with a total capacity of more than 50 MWel.
The MWM Asia Pacific Pte Ltd office is equipped with all the necessary resources and offers the complete gamut of after-sales support and service activities. "Dependable support for our location is provided by our plant in Mannheim, Germany," Dr. Ruprecht Lattermann added. 
ACROS DYNAMIC offers temporary power solutions for companies and local energy utilities. As one of the region's leading rental companies for decentralized electric power systems, ACROS offers its customers a variety of mobile solutions, such as container cogeneration power plants or other combined heat and power units as well as economical and reliable systems for short- or long-term power production.
Further information
Contact Media
Aljoscha Kertesz
Manager Communications
T +49 6 21/3 84 – 87 48
E press@mwm.net
Frank Fuhrmann
Online Editor
Member of DPV / German Press Association
T +49 6 21/3 84 – 86 33
E press@mwm.net