Energy provider EWE modernises state-of-the-art cogeneration power plant on Rügen
Mannheim, September 08, 2014
The Northern German energy provider EWE AG is building a new cogeneration power plant (CHP) for even more efficient electricity and heat supply in the Sellin Baltic Sea Spa. The main thrust of the project is the engine replacement of roughly 14 year-old TBG 616 V12K electric power systems. At the beginning of August 2014, the new MWM TCG 2016 V08C gas engine was delivered and installed by the plant engineering company EAN Energieanlagen Nord GmbH.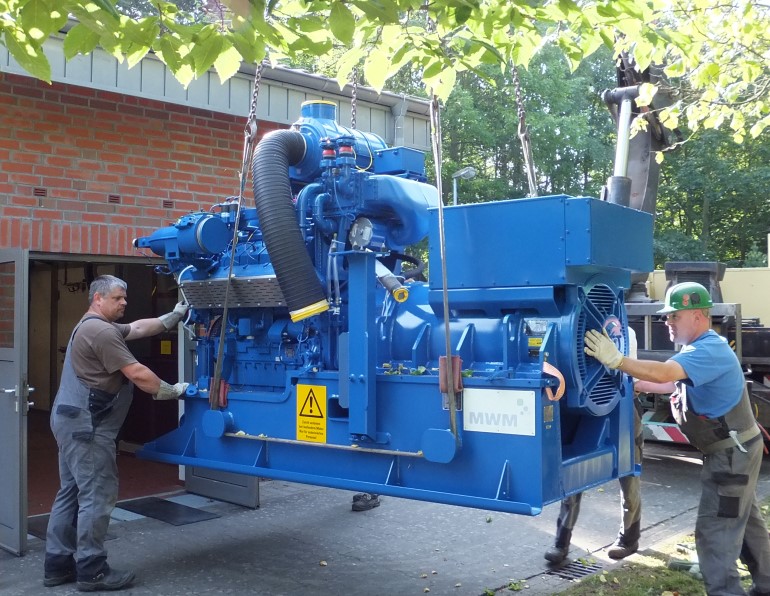 The TCG 2016 gas engine, the centrepiece of the CHP in Sellin, is delivered to the boiler house of the Baltic Sea Spa.
The CHP plant in Sellin works according to the principle of cogeneration and simultaneously produces electricity and heat from natural gas. Via the existing district heating system, heat energy is transported to some 700 homes and public institutions in Sellin. The electricity generated during heat production is fed into the public grid.
Cogeneration is one of the most efficient ways of generating electric power. Thanks to this method of electricity production, this plant, located in a Baltic Sea Spa on Rügen, saves some 60 percent of CO² compared to the German electricity mix. EWE Vertrieb GmbH, based in Oldenburg, opted for this method of electric power generation in order to make an active contribution towards climate protection. 
The MWM TCG 2016 gas engine is primarily designed for use in smaller cogeneration systems such as the one in use on Rügen and excels in its low operating costs and its high efficiency. Thanks to its small dimensions and the compact design of the gas engine, its required footprint is 50% smaller compared to similar gensets, which translates into lower investment costs. EWE invested a total of roughly 400,000 euros in this overhaul.
It will still be several weeks before the cogeneration power plant can produce heat and electricity. The technical procedures will be completed by mid-October. A trial operation of several days will be performed as soon as the plant is connected to the natural gas, heat and power grid. The general overhaul of the some 14 year-old cogeneration power plant became necessary as the wear limit of 10 to 15 years (standard running time) was reached on the existing system. The annual operating capacity of the system was around 7,500 to 8,000 hours. In addition to the plant in Sellin, the energy provider EWE also operates two other cogeneration power plants in Bergen and Binz on Rügen.
Source: EWE Vertrieb GmbH, Press Department Business Region of Brandenburg/Rügen
Further information
Contact Media
Aljoscha Kertesz
Manager Communications
T +49 6 21/3 84 – 87 48
E press@mwm.net
Frank Fuhrmann
Online Editor
Member of DPV / German Press Association
T +49 6 21/3 84 – 86 33
E press@mwm.net