MWM Partner Edina Wins its Second Queen's Award for Enterprise
Mannheim, November 07, 2018
First awarded in 2014, Edina is the only company within the power generation sector to win its second Queen's Award for Enterprise. The leading supplier, installer and maintenance provider for combined heat and power (CHP), gas and diesel power generation solutions in the UK and Ireland, received the innovation award for its full turnkey solution and innovations made to the remote telemetry and oil management software to ensure continuous operation of power plant output in achieving over 95 percent availability.
Awards for largest CHP installation in UK Ice Cream factory and Implementation of CHP Plant for UK District Energy System
Back in October 2017 Edina additionally had been awarded with the ADE award for the largest CHP installation in a UK ice cream factory, powered by MWM gas engines. The production plant of R&R Ice Cream in Northallerton, North Yorkshire, currently runs two MWM TCG 2020 V20 gas engines installed by Edina. R&R Ice Cream's CHP plant is the largest of its kind in UK. With a combined electrical output of 4 MW, the two MWM TCG 2020 gas engines improve the energy security at the site by achieving maximum independence from the public supply grid. The natural gas-fired power gensets are used both for low-temperature hot water (LTHW) and for producing steam.
In 2017 MWM partner Edina also received an ADE award for the implementation of a CHP plant for the UK district energy system in March 2017. The MWM 4-MW cogeneration power plant, which enables a unique combination of battery and heat storage, was delivered and installed by Edina. The heat produced by the CHP plant is supplied to customers from the domestic, commercial, and public sector via a two-mile pipeline. The energy center and the network are designed in such a way that they can cover the entire energy demand of future developments in downtown Gateshead. Two additional decentralized energy systems of this type are planned for the future.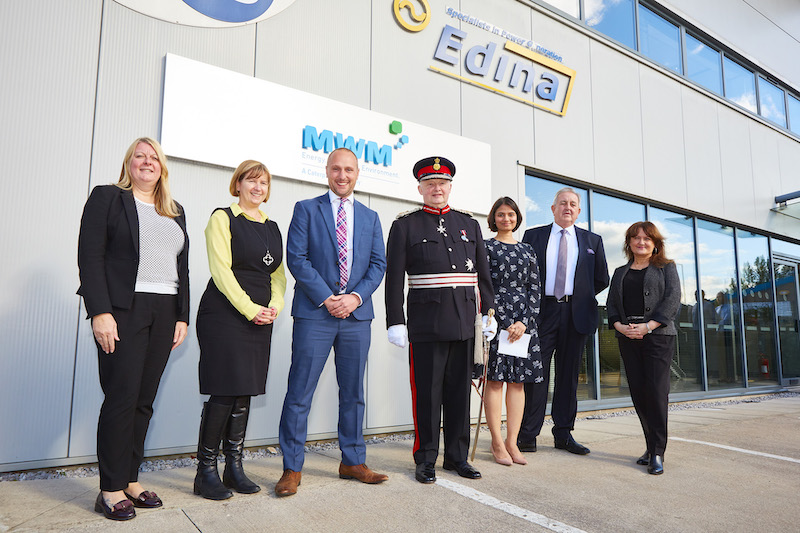 Donna Meredith (MIDAS Account Manager), Pam Smith (Stockport County Council Chief Executive), Philip Pollock (Former Edina Joint Managing Director), Warren Smith (Lord-Lieutenant of Greater Manchester), Neelima Jain (Edina Director of Commercial and BD), Tony Fenton (Former Joint Managing Director), Councillor Kate Smith (Cabinet Member for Economy & Regeneration) and Edina staff members celebrate the company's second Queen's award.
About Edina
Edina is the official UK and Ireland distributor for MWM gas engine technology and has successfully delivered power generation solutions for E.ON, Gateshead Council, the NHS Trust, MediaCityUK, Arla Foods and Thames Water, to name but a few, helping reduce energy cost, carbon emissions, whilst maintaining security of power supply and improving business competitiveness.
Further informations:
Press Release: MWM Partner Edina Again Receives ADE Award for Innovative Energy Projects for Distributed Energy Generation with Cogeneration Plants
Contact Media
Aljoscha Kertesz
Manager Communications
T +49 6 21/3 84 – 87 48
E press@mwm.net
Frank Fuhrmann
Online Editor
Member of DPV / German Press Association
T +49 6 21/3 84 – 86 33
E press@mwm.net