MWM Partner Edina Wins Renowned Award in the Field of Decentralized Energy Supply (ADE Award) with MWM CHP Plant
Mannheim, February 23, 2016
For the second time in a row, Edina, the leading dealer of MWM gas engines and combined heat and power plants in the UK and Ireland, has received the renowned Association of Decentralized Energy (ADE) award. The award ceremony on 25 November 2015 in the Grand Connaught Hotel in London, UK, was attended by over 250 representatives from the field of decentralized energy.
Jury Impressed by CHP Innovation
Edina impressed the jury with an innovative CHP project in the Industrial and Commercial Category. By order of the food manufacturer Arla Foods Ltd, the MWM partner rolled out the world's first milk production system with zero carbon emissions. Therefore Edina supplied two MWM TCG 2020 V20 gas engines capable of generating an output of 2 MWel each and 1.9 MWth at the milk-manufacturing plant in Aylesbury. The generated power as well as the produced heat is largely used directly at the site. Thus the factory benefits from the power on the one hand and from the heat, which is supplied as hot water to the fa ctory as well as to steam generators at the site, on the other hand. The jury especially praised Edina's capability as a developer and installer of innovative natural gas and biogas-fuelled CHP plants.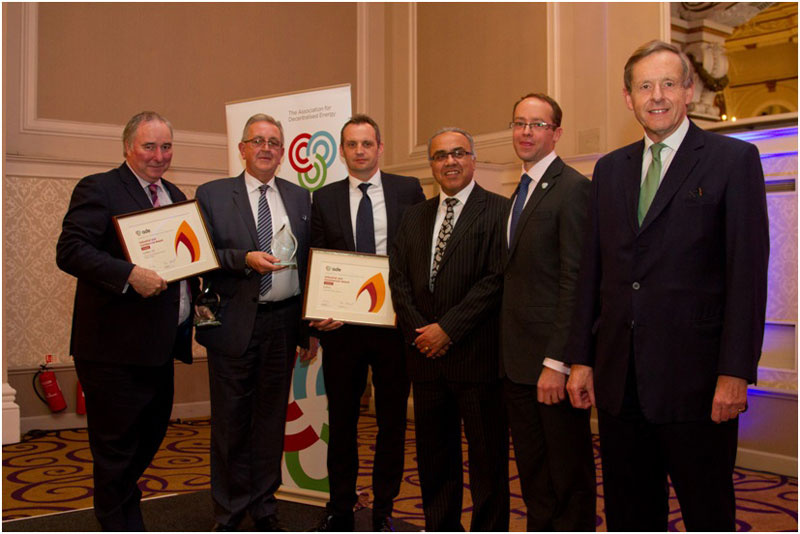 Tim Rotheray, ADE Director (second from right) and Lord Risby, ADE President (first from right) presented the ADE Award to the Edina representatives Tony Fenton, Joint Managing Director (second from left) and Adam Bloom, Sales Manager (third from left).
The Association of Decentralised Energy (ADE) is the best-known advocate of decentralized energy generation in the UK. The main goal of ADE is to establish an inexpensive, efficient and user-oriented energy system.
Powerful gas/biogas integration system
The MWM gas engines are either fuelled by natural gas only or with the inclusion of a proportion of biogas, produced from the anaerobic digestion of some of the processes waste product. For the efficient natural gas/biogas integration Edina designed and supplied a powerful system, which enables a gas mix of around 90 percent natural gas with 10 percent biogas. The overall efficiency of the two MWM gas engines is 79 percent, based on 11 percent biogas and 89 percent natural gas.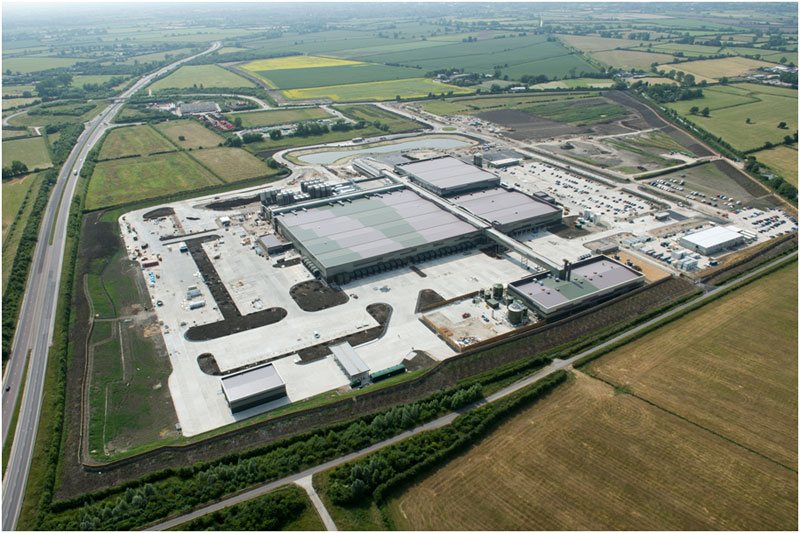 A designated energy centre has been built within the site, which is all surrounded by a 5m high bund with acoustic fencing and planted with approximately 65,000 trees.
Due to the innovative concept of the CHP plant and not at least to the installation of two MWM gas engines the site's overall energy consumption savings will be between 12 and 14 percent. Moreover the site will benefit from a 15 percent decrease in energy costs and reduce CO2 emissions by 5,200 tons per annum. In addition the new plant saw significant investment in Aylesbury, creating 700 new regional jobs.
Further information:
Contact Media
Aljoscha Kertesz
Manager Communications
T +49 6 21/3 84 – 87 48
E press@mwm.net
Frank Fuhrmann
Online Editor
Member of DPV / German Press Association
T +49 6 21/3 84 – 86 33
E press@mwm.net