MWM Presents High-Performance Power Plant Solutions at E-world energy & water 2016
Mannheim, February 5, 2016
This year, the leading European trade fair of the energy and water industries will be held from February 16 to 18 in Essen, Germany. The trade fair will focus on the subjects of energy generation, energy efficiency, smart energy, and green technologies. As one of the leading brands in the energy industry with its highly efficient and eco-friendly cogeneration plants for decentralized energy generation (combined heat and power (CHP) plants), MWM will of course also be present at the E-world.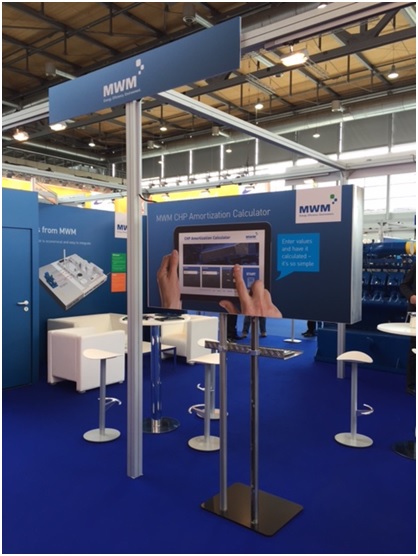 TCG 2032 Gas Engine and MWM Container CHP Plant
The range of products that will be showcased on an exhibition area of 48 m2 (hall 2, stand 100) includes the TCG 2032 gas engine and the MWM container, a mobile CHP plant. "The energy transition depends on technologies for the more efficient generation and use of energy. MWM is a pioneer in the field of innovative, efficient power plant solutions for decentralized energy supply", says Christian Wurst, Director Sales Region Germany. Along with other MWM experts, he and Heribert Schäfer, Manager Power Plants Sales, will take care of the stand, answering questions and providing information on CHP plant solutions.  
The Central Meeting Point of the Energy Industry
Besides MWM, more than 600 other national and international exhibitors from 80 countries will present their products and services in the fields of generation, efficiency, trading, transport, storage, smart energy, and green technologies at the E-world energy & water. The exhibition will be accompanied by a three-day congress in the exhibition halls. Apart from the exhibitors, numerous politicians and businesspeople are expected. Thus, the E-world serves as a platform for information exchange, relationship management, and the establishment of new contacts. Moreover, it will help to jointly push ahead sustainable and efficient energy solutions and provide opportunities for discussing the future of the European energy industry.
E-world Opening Hours
The fair will be open to visitors on Tuesday and Wednesday, February 16 and 17, from 9 a.m. to 6 p.m. and on Thursday, February 18, from 9 a.m. to 5 p.m. 
Appointments
To make an appointment, please send an e-mail to sales@mwm.net. We will contact your shortly.
Further Information
•    MWM gas engines
•    MWM TCG 2032 gas engine
•    MWM combined heat and power plants
•    MWM container CHP plant
•    E-world website
Contact Media
Aljoscha Kertesz
Manager Communications
T +49 6 21/3 84 – 87 48
E press@mwm.net
Frank Fuhrmann
Online Editor
Member of DPV / German Press Association
T +49 6 21/3 84 – 86 33
E press@mwm.net