MWM Presents New Genset TCG 2020 K
Mannheim, April 20, 2010
Following the successful introduction of several efficiency enhancement packages for all three gas genset series, the Mannheim-based company MWM has now introduced the new TCG 2020 K. The natural gas-powered engine is highly robust, suitable for isolated operation, and features the same output values along with increased inlet air temperatures and setup heights as for ISO conditions, which is especially valuable for deployment in Asia and tropical countries.
The engine, which is designed for operation with natural gas, supersedes its predecessor of the same designation and the previous model TCG 2020 OLS and will also be built in a V12 and a V16 version. The development has resulted in a 10% performance increase and improved efficiency. The company states the electrical output at 1,125 kW for the V12 variant and 1,500 kW for the V16. With a 400 V generator, the electrical efficiency for both cylinder types is 41.0%.
"Among other things, a newly developed turbo charger and an optimized combustion chamber contributed to the increase in performance and efficiency, while retaining the load response and isolated operation capabilities of the predecessor model", explains Armin Roeseler, Head of Product Management at MWM. Furthermore, the inlet and the spark plugs have been optimized.
The new TCG 2020 K represents another product innovation of MWM GmbH that complements the model range of gas gensets. See www.mwm.net for further information.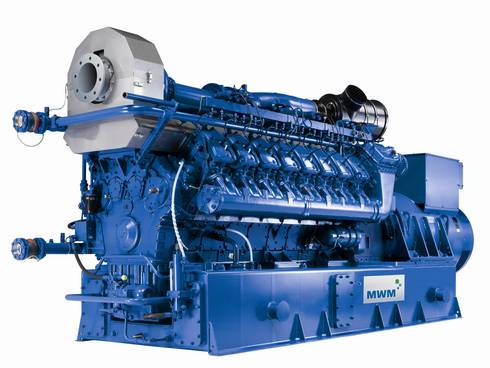 About MWM
The long-established company MWM in Mannheim, Germany, is one of the world's leading system providers of highly efficient and eco-friendly complete plants for decentralized power supply with gas and diesel engines. For more than 135 years, the company has been standing for the reliable, uninterrupted provision of electricity, heat, and cooling at all times and at any location. MWM has 1,170 employees around the globe.
Contact Media
Aljoscha Kertesz
Manager Communications
T +49 6 21/3 84 – 87 48
E press@mwm.net
Frank Fuhrmann
Online Editor
Member of DPV / German Press Association
T +49 6 21/3 84 – 86 33
E press@mwm.net