MWM TCG 2020 Gas Engines for Schleswiger Stadtwerke Raise Cogeneration Power Plant Efficiency to More Than 90 Percent
Mannheim, February 06, 2019
In 2017, Schleswiger Stadtwerke rolled out a major project for the replacement of engines of the municipal cogeneration power plant in cooperation with the plant building company Kraftanlagen Hamburg GmbH. After 26 years, the old cogeneration plant next to the Fjordarium indoor swimming pool and sauna facilities was replaced with a newly built CHP (combined heat and power) plant with four MWM TCG 2020 V12 gas engine gensets. The plant overhaul was conducted by Kraftanlagen Hamburg GmbH. Consumers, inhabitants, and the municipal utility provider alike benefit from the state-of-the-art technology of the cogeneration power plant.
Cogeneration Power Plant Efficiency up to More Than 90 Percent
The main advantage of the newly installed CHP plant is the improved overall efficiency, which has gone up from 60 to over 90 percent. The combustion of natural gas only involves marginal power and heat loss. The plant is largely automated, and the MWM engines only need to be serviced after 4,000 hours of operation. All key data can be monitored from the municipal utility provider's control center. Under a maintenance agreement, the MWM service team is responsible for the due maintenance and troubleshooting, thereby ensuring the smooth operation of the CHP plant and thus a high level of availability.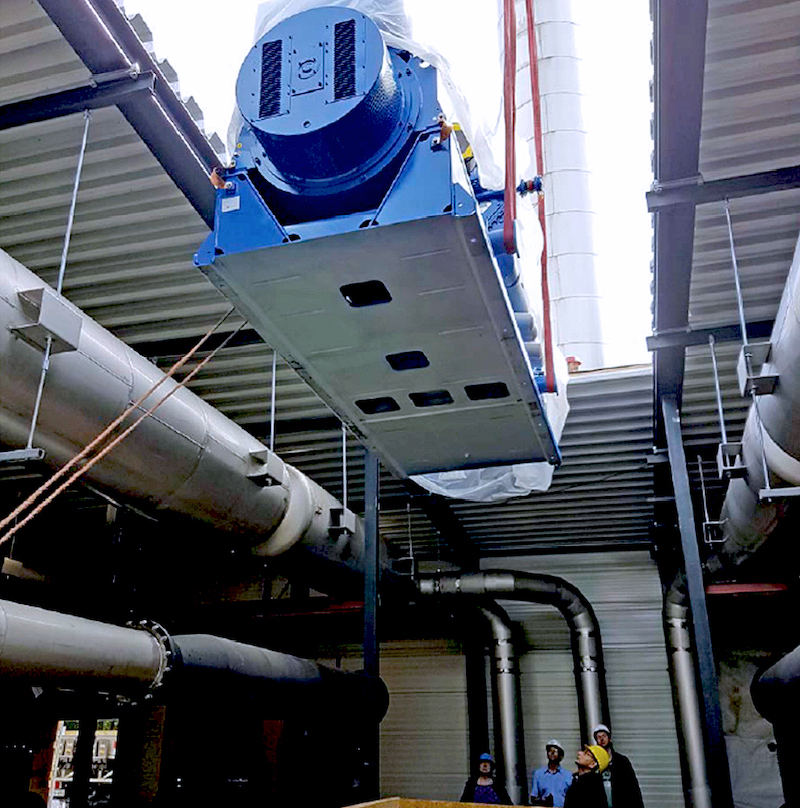 One of the TCG 2020 V12 gas engine gensets (height 4.8 m, length 2 m) installed in the engine room
Carbon Emissions Reduced by 6,000 t
Another key benefit is that the new CHP plant reduces carbon emissions by 6,000 t/year. Moreover, the new engines have significantly lowered the noise emissions of the CHP plant. In line with the planning requirements, the power plant now runs on four gensets instead of five as previously. Thanks to the improved noise insulation, the engines have gone very silent compared to the old plant. This is beneficial especially for the adjacent Fjordarium swimming pool facilities and the nearby HELIOS clinic. 
MWM TCG 2020 Series: Outstanding Example of Ecology and Economy
The MWM gensets of the TCG 2020 series are deployed around the globe especially for natural gas and biogas-fired CHP plants. The series features models with an output range from 1,000 to 2.000 kWel that are custom-tailored to the challenges of a dynamic market setting. Apart from its eco-compatibility, reliability, and flexibility, the TCG 2020 stands for low lifecycle costs and high profitability.
Further information
Contact Media
Aljoscha Kertesz
Manager Communications
T +49 6 21/3 84 – 87 48
E press@mwm.net
Frank Fuhrmann
Online Editor
Member of DPV / German Press Association
T +49 6 21/3 84 – 86 33
E press@mwm.net