New container test facility put into operation
Mannheim, July 15, 2013
MWM recently put a new container test facility into operation for an investment of some € 1.5 million. It consists of a CHP container with a TCG 2016 V16 gas engine genset and a medium-voltage container that feeds the generated electrical output into the factory electrical system via a transformer. With this electrical output and the factory's own CHP plant, MWM is capable of producing electricity for the factory's own needs and even feeding electricity into the public grid of MVV, the local energy utility. The generated heat output is utilized in MWM's heating network.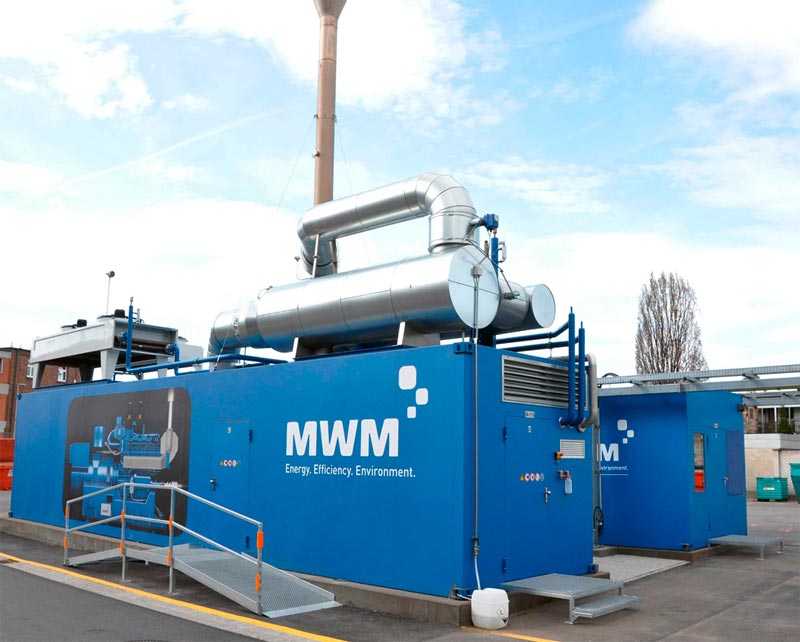 Das neue Containerprüffeld
But in fact, the aim of this investment is, firstly, to operate a series product such as the standard container in continuous mode and, on the basis of the anticipated results, to optimize the container configuration and the individual system control loops, such as the heating and mixed cooling circuit, along with the ventilation concept, according to customer specifications.
Testing the feed-in guidelines under real-life conditions
Secondly, thanks to this test facility, the requirements from the latest feed-in guidelines for the public electrical grid can be tested under real-life conditions and proof for certification of these units can be provided.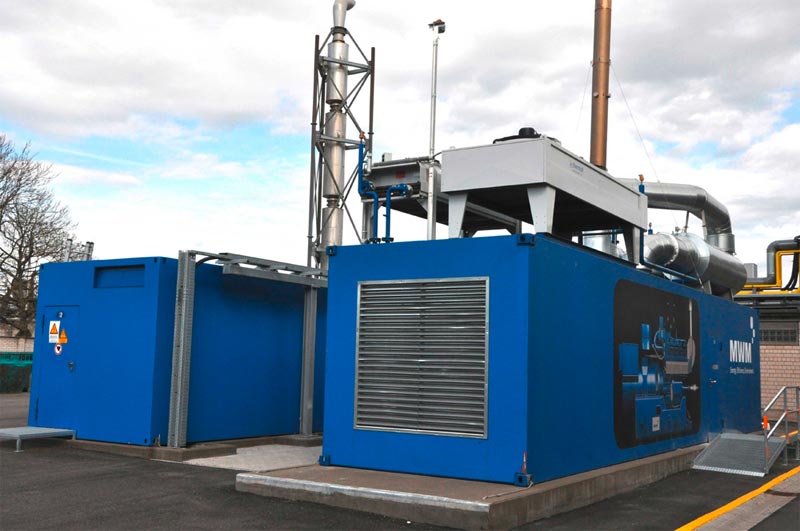 CHP container with a TCG 2016 V16 gas engine genset and medium-voltage container
MWM CHPs an integral part of customer training programs
There are also plans to make the new container test facility an integral part of customer training programs, in order to illustrate the systems engineering of MWM CHPs as a supplement to the engine and genset courses. In addition to learning about the interaction of the various control loops, for example, the participants can perform their own settings and see how the adjustments they have made will affect the overall system. This provides the course participants with solid training prior to their first assignment on their own system or in a customer's plant.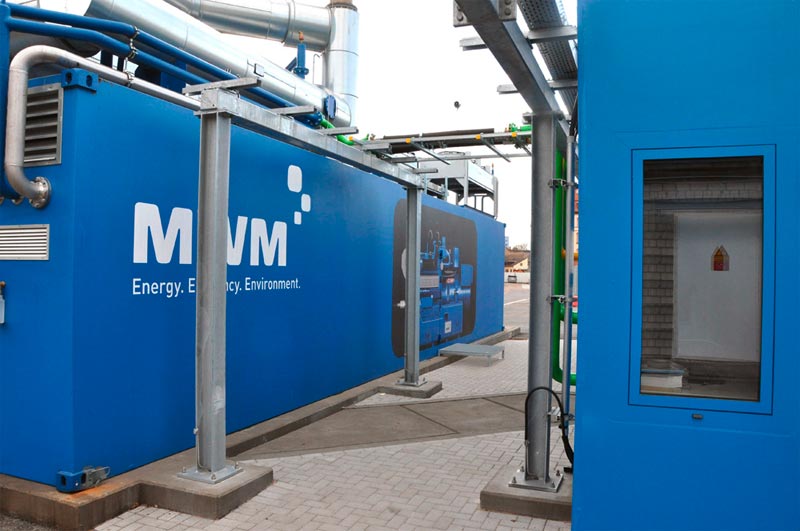 Cogenereation container plant with medium-voltage container
Test facility for different MWM gas engines
Overall, the test facility is configured to allow the running of various container sizes with electrical outputs between 400 kW to 2500 kW at different electrical voltages. That is why the sizing of the concrete foundation was chosen for the largest deployable container with the TCG 2020 V20 gas engine genset. With the standardized connections for the heating system and gas supply, swapping containers is an easy and quick procedure.
Power supply with MWM's own CHP plants
The unit test bench with its container CHP dovetails perfectly with the factory's existing CHPs in operation and concentrates the power supply at the Mannheim site within a central place in the north of the factory premises.
This important investment is a significant cornerstone towards continuing to streamline the future development of reliable, highly-efficient energy systems in this field as well, thus providing solutions that go above and beyond the demands of the market.
Contact Media
Aljoscha Kertesz
Manager Communications
T +49 6 21/3 84 – 87 48
E press@mwm.net
Frank Fuhrmann
Online Editor
Member of DPV / German Press Association
T +49 6 21/3 84 – 86 33
E press@mwm.net