New Management Assumes Responsibility of Product Brand MWM as of October 1, 2019
Mannheim, 10.10.2019
As of October 1, 2019, Caterpillar Energy Solutions GmbH, headquartered in Mannheim, Germany, will be headed by Johan Masse as General Manager Order to Delivery, Uwe Sternstein as General Manager Service & Parts, and Peter Körner as General Manager HR. The company represents the MWM and Cat brands. The new management team in Germany comprises three experienced managers with long-standing expertise in the business segments Large Power Systems Division and Electric Power Division.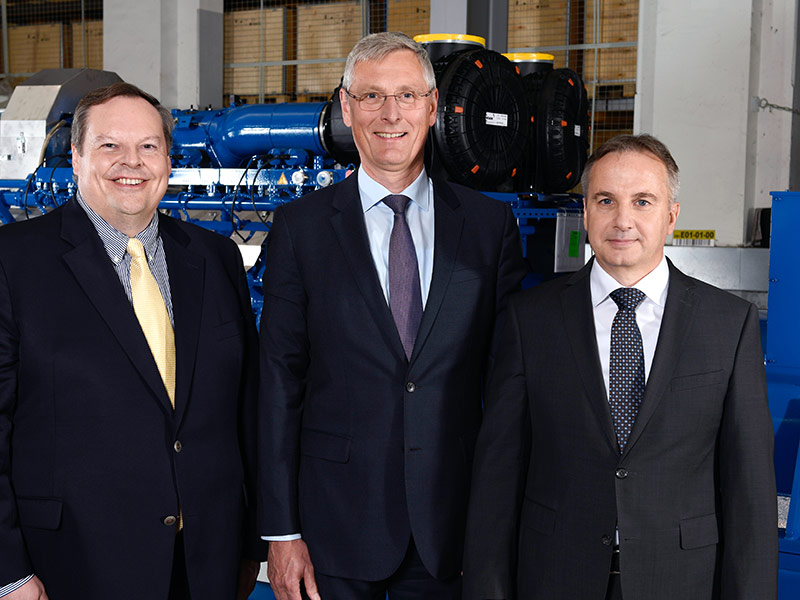 The new management team of Caterpillar Energy Solutions GmbH in Germany: Johan Masse (General Manager Order to Delivery), Uwe Sternstein (General Manager Service & Parts), and Peter Körner (General Manager HR)
Upon handover of the management of Caterpillar Energy Solutions, Dan G. Sundell will assume new duties within the Caterpillar Large Power Systems Division in Peoria, Illinois. In this function, he will continue to cooperate closely with the Order to Delivery area and the Mannheim site.
MWM Brand Mission: Energy. Efficiency. Environment.
In Mannheim, Germany, the company develops trend-setting, powerful products, services, and technologies for decentralized energy supply with gas engines. For almost 150 years, MWM has been a reliable partner in the development and production of customer-specific energy solutions, accompanied by extensive consulting and supervision services during the entire product lifecycle. This makes MWM a market leader in the field of highly efficient gas engines and power generators.
MWM gas engines and solutions for decentralized energy solutions (combined heat and power plants or CHP plants) meet the highest quality requirements in all areas of the value chain. This makes our products globally successful and MWM a leading provider of highly efficient, ecologically advanced, decentralized energy solutions.
The MWM quality policy is based on the brand mission "Energy. Efficiency. Environment." and focuses on meeting customers' needs.
Further Information:
Contact Media
Aljoscha Kertesz
Manager Communications
T +49 6 21/3 84 – 87 48
E press@mwm.net
Frank Fuhrmann
Online Editor
Member of DPV / German Press Association
T +49 6 21/3 84 – 86 33
E press@mwm.net