New Service on MWM Energy Blog: Energy News Board with the Latest Media Analyses, Trends, and Global News about Flexible Distributed Energy Generation with Gas Engines
Mannheim, May 25, 2022
To deliver even more value to blog readers, MWM has implemented the Energy News Board as an additional service on the Energy Blog. The Energy News Board is an extension to the RSS feed on the blog and shows the latest media analyses as well as articles and posts related to flexible distributed energy generation with gas engines. The infoboard provides plant operators and professionals with a compact, up-to-date overview of publications about relevant energy policy topics, decisions, and legislation.
Media Information and Charts about the Six Subject Fields of the Blog
The Energy News Board is divided into the six subject fields of the MWM Energy Blog: Innovation, Digitization, Energy Transition, Economy, Distributed Energy Systems, and Ecology. When scrolling through a map, the user can see how many posts have been published on the selected topic in the respective country during the last 60 days and what their reach was. The names of the publication media and the media categories are also displayed on the Energy News Board. The hashtags associated with the subject field are displayed in the "Hashtags" box, also sorted by reach.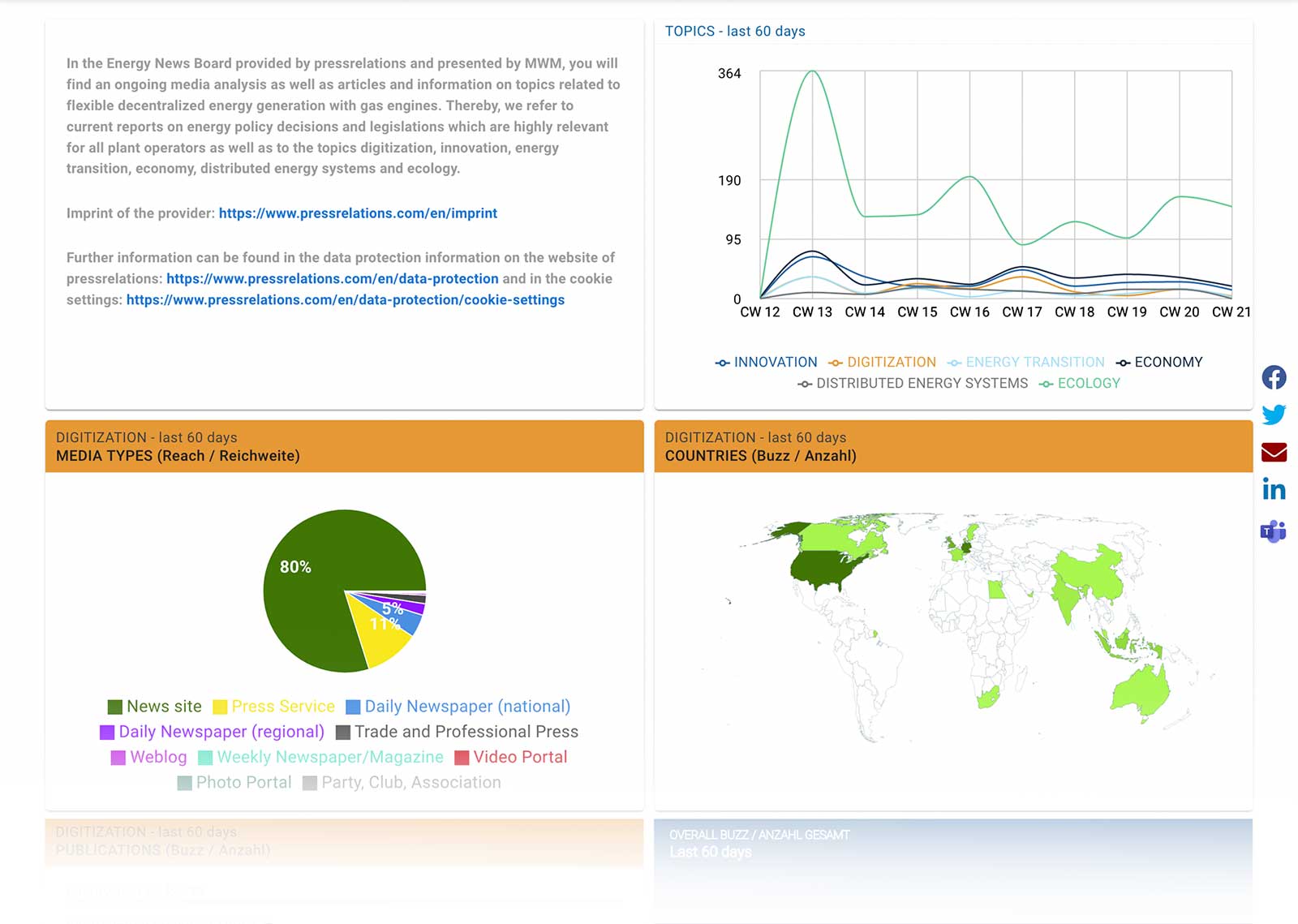 Compact, Well-Structured News and Analyses
In the Energy News Board, the graphical presentation of the media analyses from the NewsRadar has been adapted for easy readability and comprehensibility. The subject fields with the associated data and charts are highlighted in color in order to make it as easy as possible for the user to recognize them. Moreover, the subject fields are divided into separate blocks for improved transparency.
Go to Energy News Board on MWM Energy Blog.

Further information:
Contact Media
Aljoscha Kertesz
Manager Communications
T +49 6 21/3 84 – 87 48
E press@mwm.net
Frank Fuhrmann
Online Editor
Member of DPV / German Press Association
T +49 6 21/3 84 – 86 33
E press@mwm.net