Relaunch of the MWM Website
Mannheim, 22.12.2014
At the turn of the year, the MWM brand is presenting itself in a new look and feel with the relaunch of its website. The company's innovative website focuses on target group specific information on all aspects of gas engines, cogeneration power plants and gas applications presented in a clear design with enhanced user functionality.
Since 2011, the Mannheim-based company Caterpillar Energy Solutions has been marketing the renowned MWM brand together with the recognized Cat brand. The MWM brand stands for highly-efficient and eco-friendly combined heat and power (CHP) plants for distributed power generation. And the new website represents the brand's "digital business card."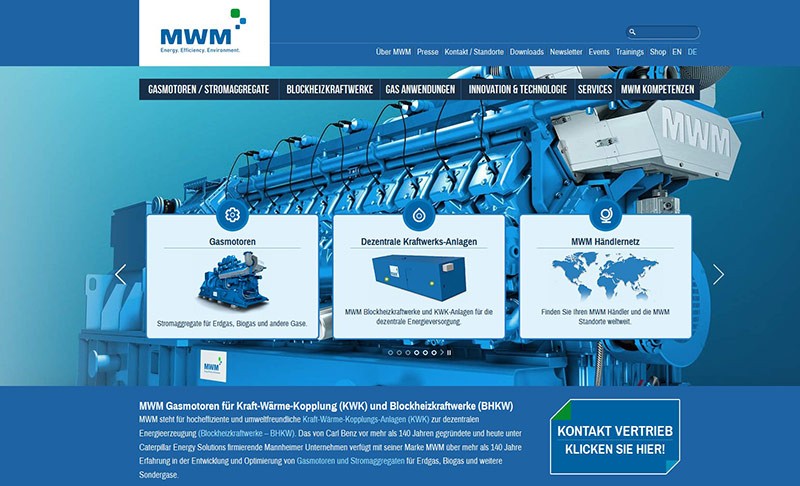 Home page of the MWM brand website
Usability and accessibility to the target group
From a technical perspective, key priority was placed on web usability considerations and optimization for mobile devices (responsive web design) and search engines (SEO) for the new design. On the content level, the objective was to make the MWM brand more accessible to specific target groups. The graphic configuration of the website has been aligned to the requirements of the most common devices, such as desktops, laptops, tablets or mobile phones, used to access the website.
The new design offers a fresh and modern page layout. Clearly structured areas provide for an intuitive user interface, elegantly combining functionality with design.
The content of the existing MWM website has been enhanced to make it more user-friendly, and the presentation of the MWM product portfolio has undergone a facelift. The new design puts a greater focus on the products and services, and the layout of the website offers the user direct contact to the sales department. Emotional photo worlds and videos present product and brand themes. In many areas, product and target group-specific information has been supplemented and further download options have been added.
View of the gas engines page
Contact and social media
Moreover, additional options have been implemented in several places for contacting the company. Along with the fast-track option to contact persons in special departments, there is also greater emphasis on MWM's social media channels. The improved integration of Web 2.0 elements reflects the brand's service-minded online approach.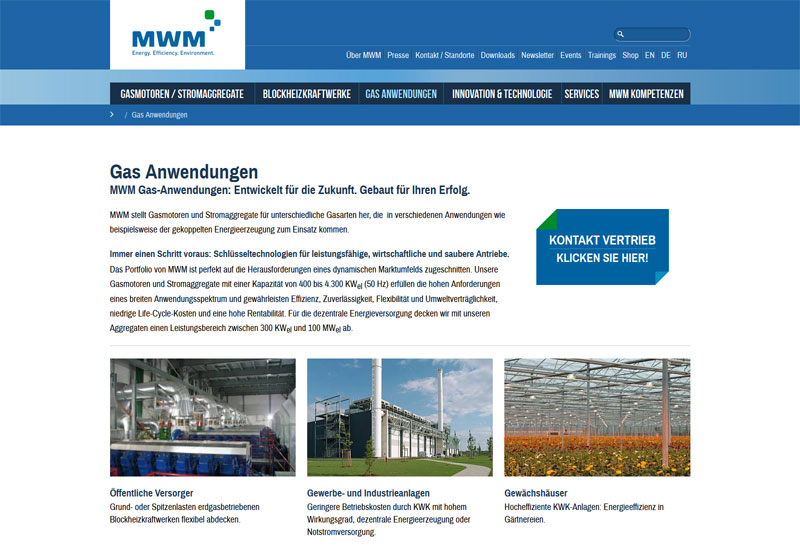 View of the gas applications page
Language versions
The relaunch of the website was initially completed in German and English. Further language versions will follow.
Contact Media
Aljoscha Kertesz
Manager Communications
T +49 6 21/3 84 – 87 48
E press@mwm.net
Frank Fuhrmann
Online Editor
Member of DPV / German Press Association
T +49 6 21/3 84 – 86 33
E press@mwm.net