MWM on the E-world Topic "Smart City & Climate Solutions": Revolutionize the Energy Market with Distributed Energy Generation and Digitized Control Technology
Mannheim, December 18, 2019
In the coming spring, the E-world energy & Water 2020, Europe's largest event in the energy industry, will again focus on the future-oriented subject area "Smart City & Climate Solutions". The event and the participating exhibitors will focus especially on sustainable technologies and design concepts to protect the climate.
Combined Heat and Power (CHP) Generation for the Distributed Energy Supply of Tomorrow
To step up the sustainability of the energy market, distributed energy generation is a must. Highly efficient, eco-friendly combined heat and power (CHP) plants enable a very economic and distributed way of generating energy, as the power can be produced right where it is needed. CHP plants are suitable for various purposes, e.g. for the continuous, reliable energy supply of hospitals, schools, or offices.
In the MWM cogeneration power plants, the generated energy is transformed into electrical energy, and the exhaust heat into useful heat. The generated power can be used internally or be fed into the public grid.
The Digital Revolution: Energy Generation Plants with TPEM Control Technology
The plant efficiency can be further boosted with TPEM (Total Plant & Energy Management), the digital control technology developed by MWM. This technology unifies all power plant data in a single system, eliminating the need for additional controls in many application scenarios. The solution consolidates key functions such as synchronization, generator and network power switches, and remote access. Apart from a higher level of efficiency, the optimized control also greatly increases the reliability of the respective power plant, helping to avoid energy supply interruptions.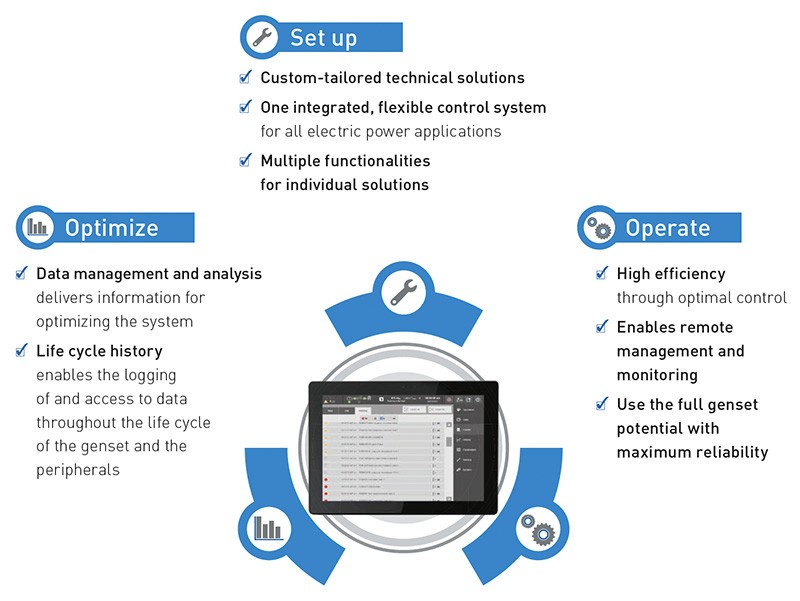 Further information:
Contact Media
Aljoscha Kertesz
Manager Communications
T +49 6 21/3 84 – 87 48
E press@mwm.net
Frank Fuhrmann
Online Editor
Member of DPV / German Press Association
T +49 6 21/3 84 – 86 33
E press@mwm.net