Subsidies through the Carbon and Energy Fund for MWM cogeneration systems in the British healthcare sector
Mannheim, October 28, 2015
The Carbon and Energy Fund (CEF) is a support fund of the British healthcare sector (NHS – National Health Service), which through an overall fund of 300 million euros assists hospitals in the installation of eco-friendly energy solutions. With the CEF as a successor model of the Energy and Sustainability Fund, in 2011 there was a noticeably large demand for cogeneration systems in hospitals. As a result, the British MWM partner Edina has supplied and installed 20 gas engines with a total output of 21 MW for combined heat and power projects in hospitals. This allows more than 25,000 hospital beds to be supplied continuously with electric power. More than half the installed MWM gas engines involve the TCG 2020 and TCG 2032 gas engine series. The versatility of the plants, the efficiency of the gas engines and the use of sustainable fuels provide for significant CO2 savings and thus create an optimal solution concept for winning over the Carbon and Energy Fund's team of experts.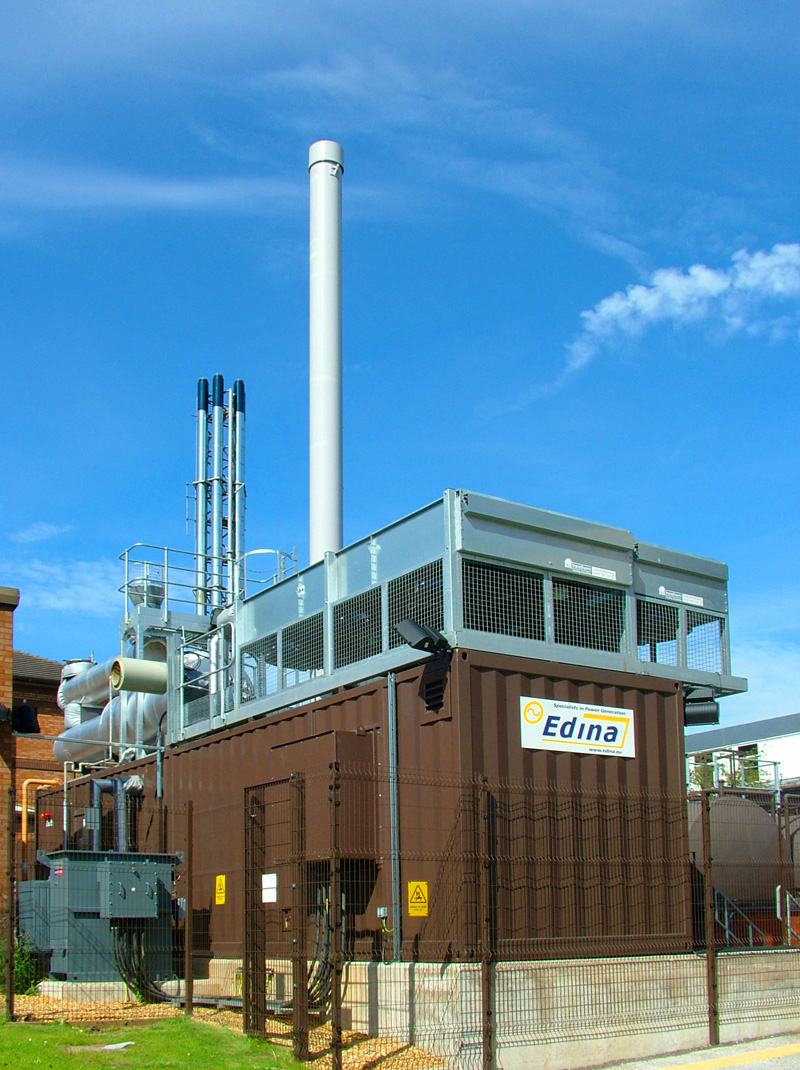 CHP plant in Chorley and South Ribble District Hospital (Photo: Edina)
Gas engines are optimally suited for the use in hospitals
Thus far, roughly 50 hospitals have successfully applied for a share of the subsidy funds. In addition to having a sustainable concept and long-term impact, it is important to the representatives of the foundation to work with a contractor they know they can trust. In addition, great value is placed on a qualified specialist who first sources the cogeneration systems, then installs them. The MWM partner Edina has been involved in the provision of distributed power in the healthcare sector for more than 30 years. It began with the installation and commissioning of the energy center at St. James Hospital in Dublin.
In order to further reduce CO2 emissions at St. James Hospital, the old system was recently replaced by the MWM TCG 2020 V12K gas engine. The CHP plant now has an output of 1 MWel, achieving extremely high steam output. What's more, it is used for heating of buildings and sterilization. In addition to the system in Dublin, two MWM TCG 2032 V12 gas engines were put into operation in the Royal Liverpool and Broadgreen University Clinic. Two gas gensets, each having an output of 2.65 MWel, reduce CO2 emissions and, with overall efficiency of 95 percent, simultaneously provide for greater performance and use of resources. Thanks to the system, the reliability of the power supply has been increased.
Cogeneration systems of the future
In the future, the donors of the Carbon Energy Fund are planning to support additional projects with MWM gas engines. For instance, three TCG 2020 V12 gensets with combined 3.6 MW electrical and 3.6 thermal output are being installed in the New South Glasgow Hospital. This cogeneration system is intended to save over 100 million pounds in energy costs per year and reduce the hospital's CO2 emissions by roughly one-fifth.
Further information
Contact Media
Aljoscha Kertesz
Manager Communications
T +49 6 21/3 84 – 87 48
E press@mwm.net
Frank Fuhrmann
Online Editor
Member of DPV / German Press Association
T +49 6 21/3 84 – 86 33
E press@mwm.net