Sustainable Waste Utilization: Cogeneration Power Plant with Three MWM TCG 3016 V12 Gas Engines Supplies Plant Building and Facilities with Power and Heat from Landfill Gas
Mannheim, April 1, 2021
For many decades, AGR Abfallentsorgungs-Gesellschaft Ruhrgebiet mbH (AGR) with its five business segments Recycling and Logistics, Thermal Processing, Landfill Management, Environmental Services, and Secondary Products has been active in various areas that concern disposal security, energy efficiency, and climate protection in the Ruhr valley. With its activities, AGR saves about 400,000 t of CO2 equivalents a year.
Eco-Friendly Use of Landfill Gas as Fuel for Gas Engines
The emission of greenhouse gases is avoided especially by means of a long-standing landfill management procedure of the AGR subsidiary LAMBDA: the collection and utilization of climate-damaging methane from former domestic waste landfills. Landfill gas mainly consists of methane that originates from the decomposition of organic material that used to be disposed of on landfills until 2005. Methane (CH4) impacts the climate much more severely than carbon dioxide (CO2). In fact, some experts believe that methane is up to 28 times more harmful than carbon dioxide. For this reason, it needs to be neutralized, e.g. by filtering or burning it. Thus, using landfill gas as fuel for gas engines is a good solution not only from the economic perspective, but especially also with a view to protecting the environment. In 2019, AGR produced about 16 GWh of power from landfill gas, an amount that corresponds to the annual consumption of 4,000 households.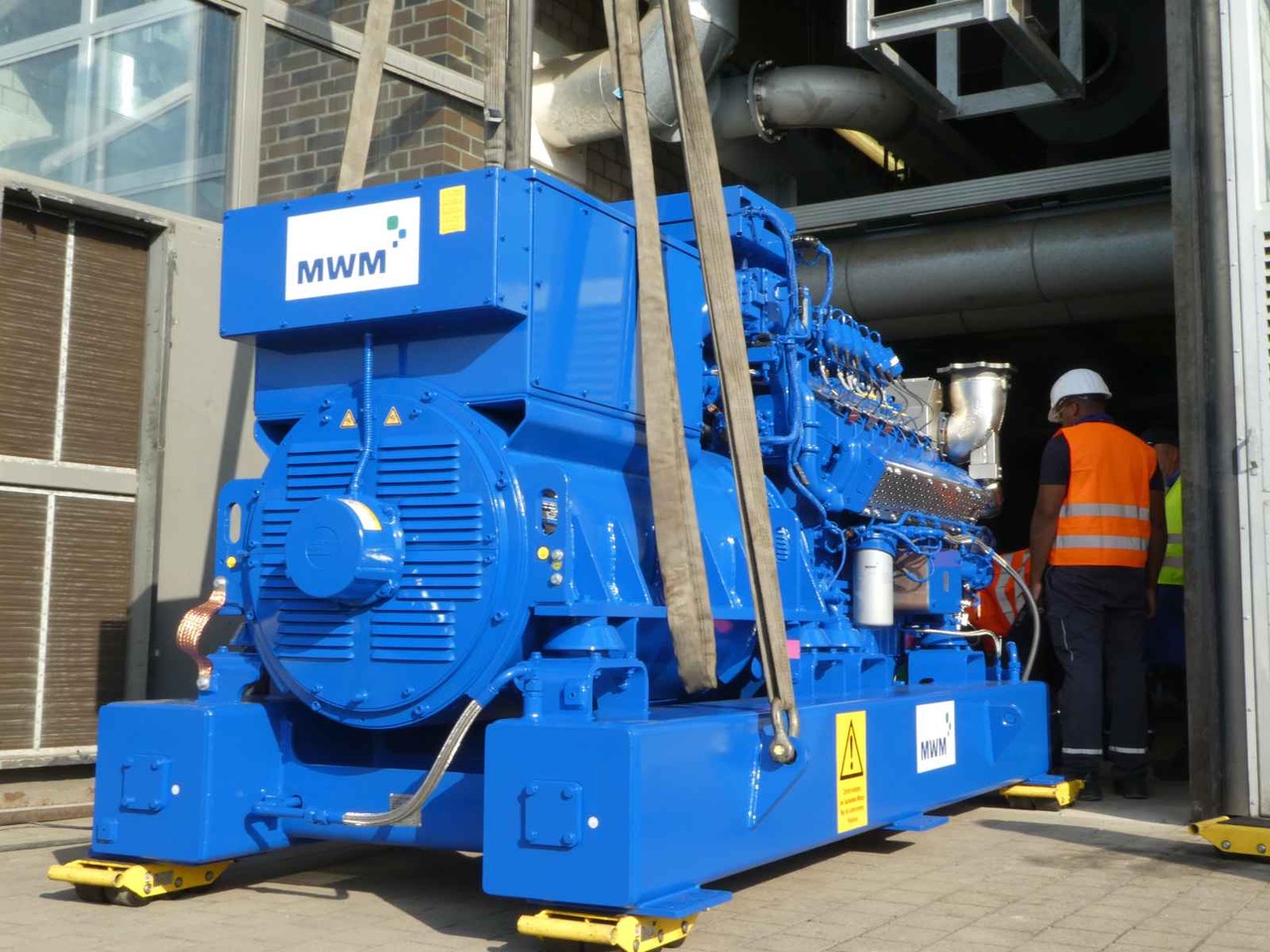 Cogeneration Power Plants with MWM TCG 3016 V12 Gas Engines Generate Heat and Power for Central Landfill in Rhine-Ruhr Metropolitan Region
At the Emscherbruch landfill in Gelsenkirchen, a total of four cogeneration power plant units transform landfill gas into heat and power. The Central Landfill Emscherbruch (ZDE) in Gelsenkirchen was Germany's first sorted landfill and is considered a milestone in progressive landfill technology. Since 1968, it has served as a central element of the security of disposal in the Ruhr valley. In the course of a project launched last year for the modernization of the cogeneration power plant, MWM partner Henkelhausen GmbH & Co. KG equipped three of the units with powerful MWM TCG 3016 V12 engines, each of which delivers an output of 500 kWel and an efficiency of 43.5 percent. Before the landfill gas reaches the engines, it is scrubbed in order to prevent excessive engine wear and tear, deposits and congestion, damage to the catalytic converter, and premature aging of the engine oil. The methane is transformed into power that is used for the plant buildings and facilities, e.g. for the seepage water treatment. Moreover, a large portion of the generated power is fed into the public grid. Additionally, by means of cooling water and thermal oil heat exchangers, heat and hot water are produced for the buildings on the premises and for the scrubbing of the landfill gas.
The MWM TCG 3016 gas engines cover an output range of 400 kWel to 1,000 kWel and stand out with high efficiency, reliability, flexibility, and environmental compatibility. Their durable design and very low lubricant consumption (up to 66 percent less than competitor models) increase their useful life and help operators save costs.
Thanks to the highly efficient MWM gas engines, the Central Landfill Emscherbruch generates energy for its own needs, reduces its carbon emissions, and prevents diffuse landfill emissions. What a fine example of active and sustainable climate protection in line with the principle of intergenerational equity!
Further information:
Contact Media
Aljoscha Kertesz
Manager Communications
T +49 6 21/3 84 – 87 48
E press@mwm.net
Frank Fuhrmann
Online Editor
Member of DPV / German Press Association
T +49 6 21/3 84 – 86 33
E press@mwm.net