TCG 2032B V16: Enhanced Performance and Lower TCO thanks to Improved Efficiency and Fuel Savings
Mannheim, January 12, 2016
Better performance parameters, higher efficiency, and significant fuel savings are the compelling results of the enhanced MWM TCG 2032B V16 gas engine, which has been available since November. This engine delivers 4.5 MWel (50 Hz) and 4.05 MWel (60 Hz), leverages additional efficiency potential, impresses with its tried-and-tested, durable MWM technology, lower total cost of ownership (TCO) per kWel, and offers maximum availability.
"We have improved our TCG 2032B engine in so many details that we now have a highly reliable, robust, and efficient machine. Calculations show that thanks to the increased electrical efficiency, the upgrade of the MWM engine enables savings of up to €30,000 per year for fuel alone. Further savings are possible if the genset makes use of the heat", says Daniel Bach, Product Line Manager for the MWM brand.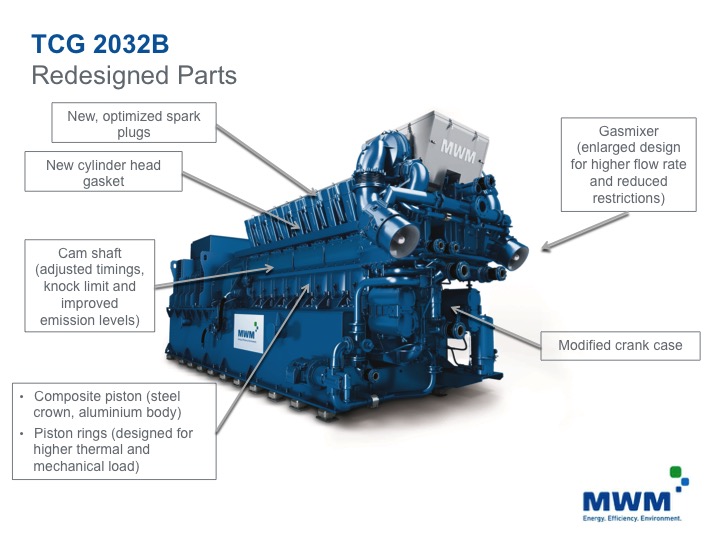 Optimized Gas Engine for Maximum Efficiency and Reliability
Most of the components of the gas engine have been improved in terms of their effects on the performance, efficiency, and reliability. The increased electrical efficiency is mainly based on a modified combustion chamber (piston, spark plug, cylinder head), an optimized gas mixer and wastegate system, an improved crankcase ventilation system, and a new camshaft with adapted knock limit and lower emission values. The new technologies are already being tested live at five customer sites. For example, Can Enerji in Turkey is the first pilot customer to test the new TCG 2032B V16 – an upgrade from 4.3 to 4.5 MW with numerous improvements – under real conditions. The electrical efficiency has been increased to 44.6 percent, and the overall performance and quality have been improved. Can Enerji has the competence and reputation that MWM depends on for the first field test of this engine.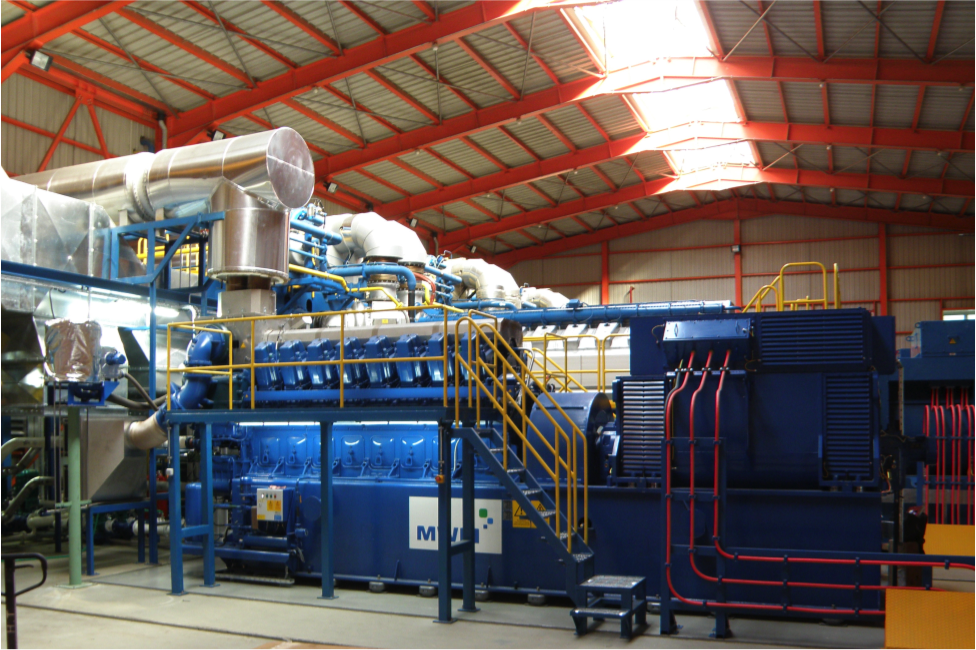 Test under real conditions: TCG 2032B V16 gas engine at Can Enerji, Turkey
Proven Gas Engine Now Even Better
TCG 2032B is also prepared for changes in the fuel quality and site conditions. Owing to the improved turbo charger, wastegate, and TEM control, the gas engine responds quickly to changed parameters. The small size and hundreds of installed gas engines of the predecessor TCG 2032 V16 demonstrate the suitability of the genset for various installation types – no matter how demanding the project is. The gas engine is especially suitable for deployment in performance-oriented power plants or IPP.
All previous and current MWM gas engines of the largest series TCG 2032 are perfectly tuned to the challenges of a dynamic market setting. The models in the output range from 3,000 to 4,500 kWel fulfill the elevated requirements of a broad application spectrum and ensure efficiency, reliability, flexibility, environmental compatibility, low TCO, and high profitability.
Overview of the improvements of the new TCG 2032 gas engine:
More technical product enhancements for improved quality, higher security, and more stable operation
No need for high gas pressure, easy maintenance thanks to straightforward technology concept
Improved electrical efficiency of 44.6 percent
Improved performance and lower TCO to leverage valuable efficiency potential
Further information
Contact Media
Aljoscha Kertesz
Manager Communications
T +49 6 21/3 84 – 87 48
E press@mwm.net
Frank Fuhrmann
Online Editor
Member of DPV / German Press Association
T +49 6 21/3 84 – 86 33
E press@mwm.net