The New MWM TCG 3020 V20 Gas Engine: The All-Round Talent
Mannheim, January 16, 2019
Though its dimensions are almost the same as those of its predecessor, the compact MWM TCG 3020 V20 gas engine boasts an output of 2,300 kWel, a performance increase of up to 15 percent. Apart from a greatly reduced oil consumption of merely 0.15 g/kWhel and high efficiency values, the new model offers lower maintenance and installation costs.  The flexible TCG 3020 V20 is suitable for natural gas, biogas, landfill gas, and propane gas applications. The new MWM power genset enables an outstanding electrical efficiency of 45 percent for natural gas and 43.6 percent for biogas. Owing to its high profitability and reliability, the MWM gas engine is ready for the challenges of Industry 4.0.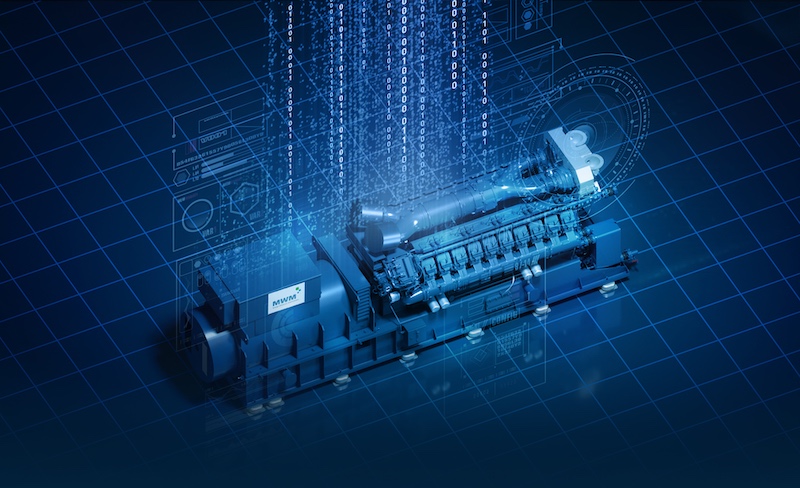 Maximum Availability and Usability Thanks to Digital Plant Control TPEM
The digital control system TPEM (Total Plant & Energy Management) consolidates all genset and plant control data in a single system. TPEM facilitates the control and monitoring, not only of the power genset, but also of the entire distributed energy generation plant. In most application scenarios, this eliminates the need for additional control systems. Thanks to the digitized power plant control, the TCG 3020 V20 yields high performance, maximum capacity, and optimum plant availability. 
Improved Economic Efficiency, Higher Output, Secure Control
Besides the reduced installation and operating costs as well as the secure, smart plant control, the TCG 3020 V20 features improved cost-efficiency. Provided high-quality gas is used, maintenance intervals of up to 80,000 operating hours are possible until the next general overhaul. 
Additionally, the TCG 3020 V20 excels with a total efficiency of more than 87 percent (for natural gas). Compared to its predecessor, the TCG 3020 V20 excels in almost the same dimensions with higher performance, which, combined with its matchless efficiency, reliability and performance, makes it an all-round talent among gas engines.
Further information
Contact Media
Aljoscha Kertesz
Manager Communications
T +49 6 21/3 84 – 87 48
E press@mwm.net
Frank Fuhrmann
Online Editor
Member of DPV / German Press Association
T +49 6 21/3 84 – 86 33
E press@mwm.net