University Medical Center Göttingen Adopts Efficient Energy Policy: Natural Gas CHP Plant with MWM Gas Engine for Distributed Energy Generation
Mannheim, November 22, 2017
As a comprehensive care hospital, the University Medical Center Göttingen (UMG) consumes 57,000 MWh of power and 100,000 MWh of heat a year, an amount that corresponds to the annual energy consumption of approximately 33,000 private households. For the modernization of its energy supply, UMG is setting up a state-of-the-art cogeneration power plant. An MWM TCG 2032 V16 forms the core of this plant. The combined heat and power (CHP) plant will be able to cover 50 percent of the power needs as well as the heat base load of the Göttingen university hospital. The state of Lower Saxony will fund the costs of about €4.7 million for the implementation of the new energy policy.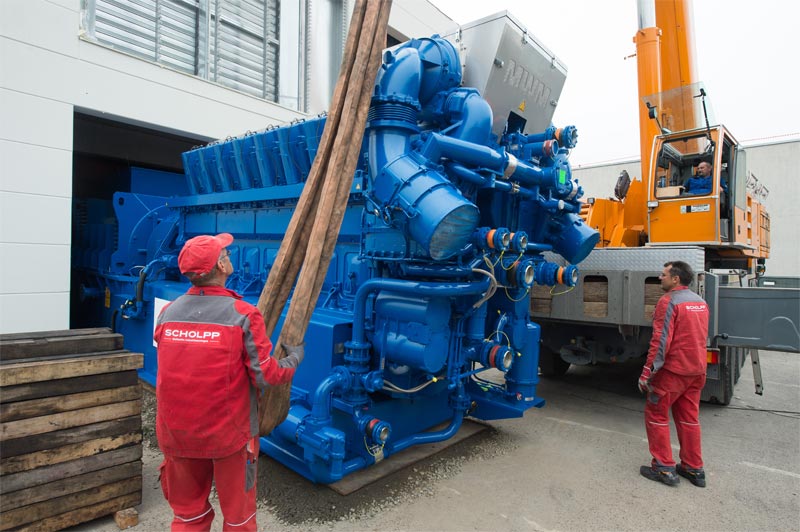 Transporting the MWM TCG 2032 natural gas engine to the newly established energy center on the premises of the University Medical Center Göttingen with the help of a heavy-duty crane (Photo: umg/spförtner)
Highly Efficient Natural Gas CHP Plant Delivers Total Energy Efficiency of 90 Percent
In late September, the 53-t power genset for the new cogeneration power plant was delivered and lifted into the hospital's state-of-the-art energy center with the help of a heavy-duty crane. System provider and partner for the realization of this ambitious project is MWM partner ETW Energietechnik GmbH, Moers.
The new cogeneration power plant's heat output amounts to 4.75 MW. The plant will run especially ecologically and economically when constantly emitting heat, enabling a total energy efficiency of about 90 percent.
The CHP plant setup is to be completed by the end of 2017. From January 2018, it is to produce about half of the power required by the Göttingen university hospital and cover its heat base load. The heat is largely needed for heating the drinking water and for heating the central hospital building. Additionally, UMG also uses the power and heat energy to produce cooling energy for the hospital.
New Direction in Energy Management Reduces Cost of Energy Generation and Environmental Impact
According to Otto Wilhelm Holzigel, head of the "Energy Management" unit of UMG's Building Management department, the energy-efficient cogeneration plant technology will reduce carbon emissions by 6,500 t/year.
The establishment of the CHP plant is a central part of the joint project of UMG and the University of Göttingen to produce distributed energy in an effective, eco-friendly, and cost-efficient way, with a special focus on minimizing transmission losses. "Our joint energy supply concept provides for supplementing the previous central energy supply in the university's combined heat and power plant on Rudolf-Diesel-Strasse with distributed energy generation sources", explains Dipl.-Ing. Rainer Bolli, head of the university's Building Management department, outlining the further procedure.
Further Information
Contact Media
Aljoscha Kertesz
Manager Communications
T +49 6 21/3 84 – 87 48
E press@mwm.net
Frank Fuhrmann
Online Editor
Member of DPV / German Press Association
T +49 6 21/3 84 – 86 33
E press@mwm.net