150 Years of MWM: "Diesel & Gas Turbine Worldwide" Interview with Tim Scott, Director of MWM
Mannheim, May 3, 2021
The new spring issue of "Diesel & Gas Turbine Worldwide" magazine zooms in on MWM's major anniversary year of 2021. In an interview, Tim Scott, Director of MWM, relates how automaker and company founder Carl Benz has continued to impact the MWM brand down to this very day and which innovative developments and solutions MWM has already integrated in its engines, products, and services in line with the digital transformation and in order to downsize the ecological footprint.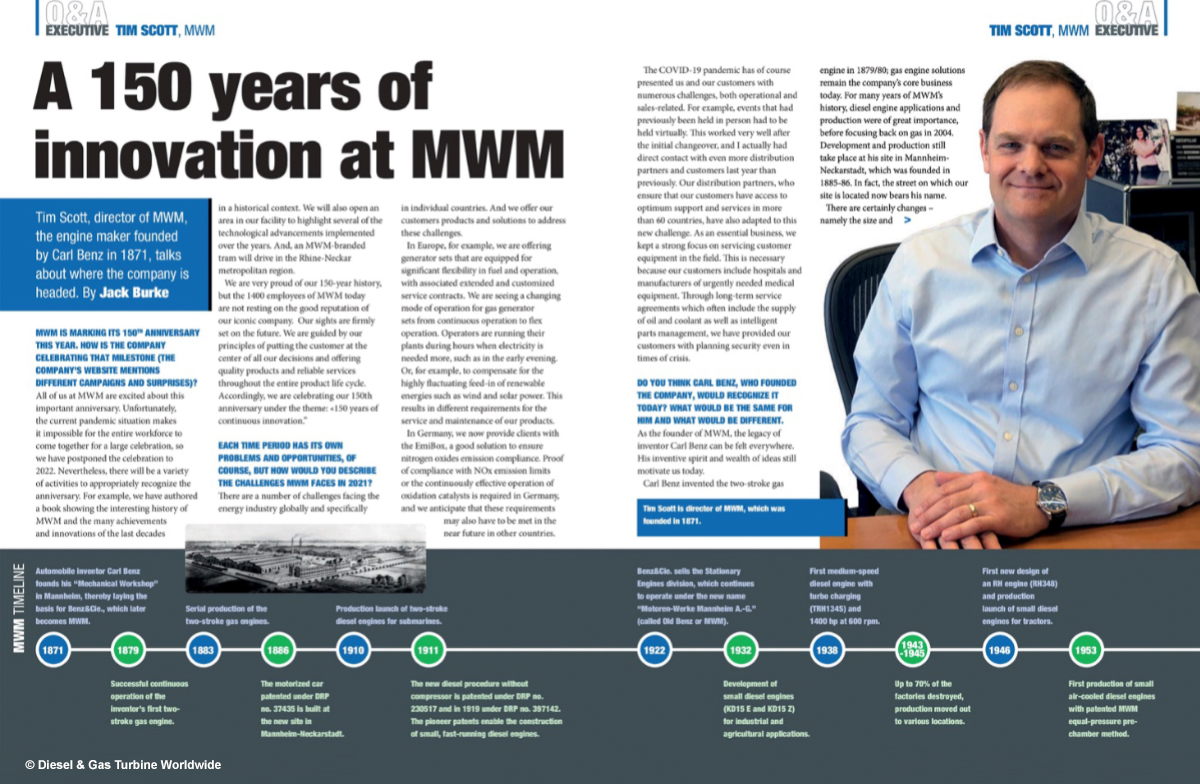 150 Years of MWM: A Blend of Tradition and Future Orientation
Some 150 years have passed since the founding of MWM in Mannheim back in 1871—a good opportunity to reminisce about the brand's history and ongoing development. In the interview with "Diesel & Gas Rubine Worldwide" magazine, Tim Scott, Director of MWM, looks back at the company's historical roots and development milestones. He says: "The legacy of investor Carl Benz can be felt everywhere. His inventive spirit and wealth of ideas still motivate us today." Over the past 150 years, the MWM brand has steadily delivered a wide spectrum of innovative products and developments. "For many years of MWM's history, diesel engine applications and production were of great importance, before focusing back on gas in 2004. … There are certainly changes—namely the size and performance of modern, high-technology gas engines today as well as the variety of applications."
MWM Gas Engines and Cogeneration Power Plants: Well Prepared for the Energy Reform with Digitization and Innovative Technology
Rather than becoming complacent about its tried-and-tested innovations, MWM is riding the tide without letup, actively responding to changed framework conditions and the requirements of the energy market. Thus, MWM has continued to further develop its engines, products, and digital plant systems. Apart from the digitization trend, the sustainability aspect, which aims at reducing the ecological footprint, also plays a key role. Commenting on the significance that MWM attaches to digitization and sustainable energy generation, Scott explains how MWM was quick to identify the potential of digital plant monitoring and continues to develop in this area: "In mid-February of this year, we launched MWM Remote Asset Monitoring (RAM). Through the new digital MWM online status monitoring system, the operation of gas generator sets and entire CHP plants can be monitored in real time, digitally and securely." The further development of digital systems and digital products for the benefit of plant operators will continue to represent a key element of the MWM brand.
The full interview with Tim Scott, Director of MWM, in "Diesel & Turbine Worldwide" magazine is available here:
https://digimag.dieselgasturbine.com/magazine/reader/214580
Further information:
Contact Media
Aljoscha Kertesz
Manager Communications
T +49 6 21/3 84 – 87 48
E press@mwm.net
Frank Fuhrmann
Online Editor
Member of DPV / German Press Association
T +49 6 21/3 84 – 86 33
E press@mwm.net