E-world 2018: MWM Showcases Digital Innovation in the Field of Distributed Energy Generation at Europe's Leading Energy Trade Fair
E-world 2018: MWM Showcases Digital Innovation in the Field of Distributed Energy Generation at Europe's Leading Energy Trade Fair
Mannheim, April 4, 2018
Digitization, flexibilization, and decentralization were they key topics at the E-world energy & water 2018. As you would expect, MWM—a leading provider of distributed energy systems—was also present with a booth at Europe's largest trade show of the energy and water industry in order to inform and answer the questions of 25,000+ visitors from 73 countries. 
E-world Trade Fair Features Platform for International Expert Interchange on Hot Energy Topics
This year's E-world, which is jointly organized by con|energy and Messe Essen, took place on February 6 to 8. The show is regarded as the energy industry's most important and trend-setting platform, where professional visitors and decision-makers from the world over have the opportunity to examine innovative ideas and concepts of the energy industry and both obtain and exchange information. This year, a total of 750 exhibitors from 26 countries showcased their solutions for the future of energy supply to a professional audience from more than 70 countries. Dr. Niels Ellwanger, member of the Management Board of con'energy ag feels that the expert forum that the E-world offers sends important signals to the energy industry and beyond: "With their presence, their discussions, and their expertise, exhibitors and professional visitors made the trade fair Europe's energy capital for three days."
Energy Systems of Tomorrow: Digital, Distributed, and Smartly Networked
Prof. Dr. Andreas Pinkwart, Minister of Economic Affairs and Digitization of North Rhine-Westphalia, opened the E-word with a statement that draws attention to digitization as the key to the success of the energy reform: "The energy system of the future is decentralized, digital, and smart. Even now, more and more decentralized generation plants are bundled, controlled, and networked with the help of IT solutions."
In this vein, MWM's booth featured smart solutions for decentralized energy generation and supply. Since the last E-world fair, the Mannheim-based gas engine manufacturer has released the TCG 3016, an entirely newly developed power genset. Along with the TCG 3016 gas engine series, MWM has also launched the digital plant control TPEM (Total Plant & Energy Management).  With this fully integrated digital plant control for CHP plant, MWM delivered evidence of its innovative drive, attracting numerous visitors at this year's energy fair.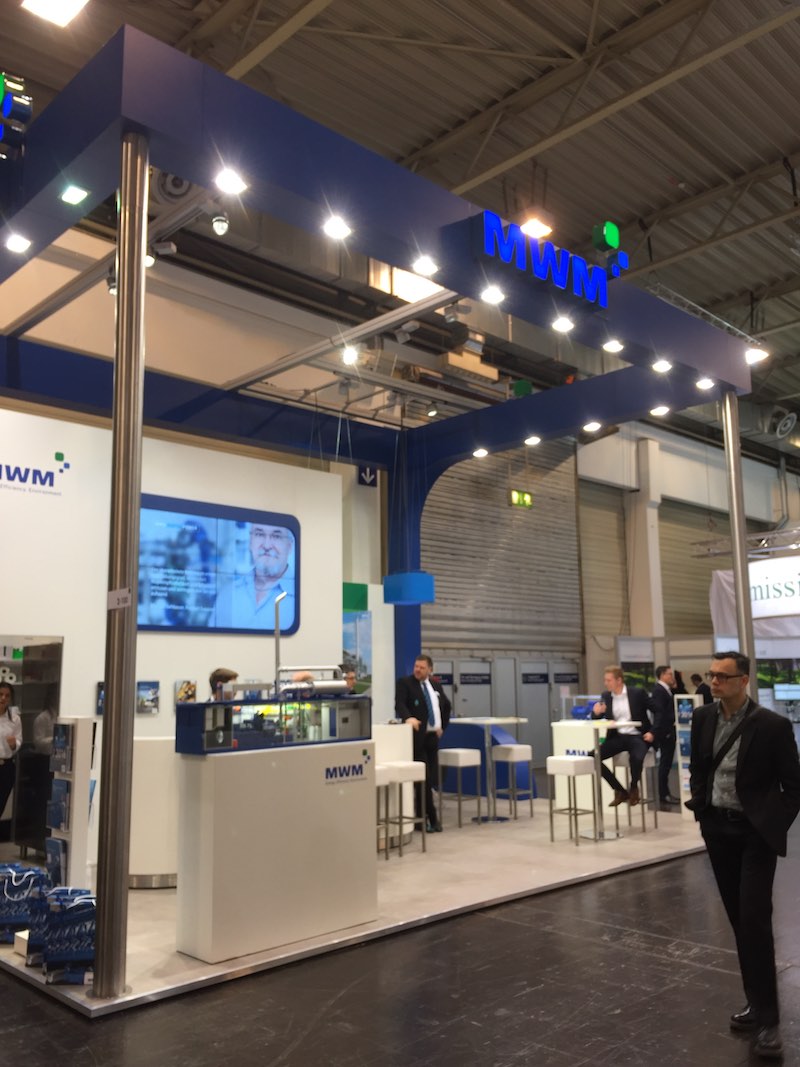 At the E-world 2018, MWM presented the newly developed TCG 3016 gas engine and the fully integrated digital plant control TPEM (Total Plant & Energy Management) for CHP plants.
Smart City: THE Subject at the E-world 2018
The other exhibitors also presented innovative solutions. Various forums and an extensive supporting program enabled visitors to examine these solutions, e.g. grids for heat exchange between various buildings, smart charging concepts for e-cards, solar roof tiles for power and heat generation, smart meters, storage solutions, network management of distributed energy systems, and big data in the energy industry. At this year's E-world, "smart city" was the main buzzword. Especially energy suppliers, service providers, industrial enterprises, and municipal utility providers were greatly interested in the future-oriented concepts for the digital, decentralized, and smart energy supply of cities of today and tomorrow. 
The E-world is held every year in Essen, Germany. Apart from international participants, honorary guests, press representatives, influencers, municipal representatives, and sponsors visited the extensive supporting program. Professionals accounted for 97.9 percent of the visitors.
Further Information
Contact Media
Aljoscha Kertesz
Manager Communications
T +49 6 21/3 84 – 87 48
E press@mwm.net
Frank Fuhrmann
Online Editor
Member of DPV / German Press Association
T +49 6 21/3 84 – 86 33
E press@mwm.net