MWM and German Biomass Research Center (DBFZ) Jointly Test New Materials and Components of MWM Gas Engines at Löberitz Biogas Plant
Mannheim, November 14, 2016
Five years ago, the agricultural cooperative in Löberitz and its partners invested in a biogas plant with container cogeneration plant and silo. Since its installation, the cogeneration plant ‒ which is powered by an MWM TCG 2016 V12C gas engine ‒ has been serviced and maintained by the MWM Service Center Erfurt. The cooperation functions smoothly, and the plant operator Uwe Hesse, who is constantly on site, has a good relationship with the Service Center.
Since 2011: Biogas Plant Serves as Test Bench for MWM Gas Engines
Thomas Külz, Managing Director of the Löberitz biogas plant, is convinced that this friendly relationship between the manufacturer and the customer has been instrumental in enabling the biogas form to continually feed in a high amount of power into the public grid. For example, the feed-in in 2015 amounted to 5 million kWh.

Since it went live in 2011, the biogas plant has also served as a plant technology test bench for MWM gas engines. In collaboration with the German Biomass Research Center (DBFZ), the specialists from Mannheim test new materials and components and perform measurements directly on site. This also benefits the biogas plant, as can be seen from the fact that the installed and tested catalyst has already been operating without any problems for four years – a significant advantage, as catalysts normally need to be replaced every two or three years.
Gas Engine with High Availability
The biogas plant has an electrical capacity of 600 kW and runs on liquid manure, dung, and biomass in the form of silage maize. The CHP plants boasts a very high availability of about 8,200 operating hours/year.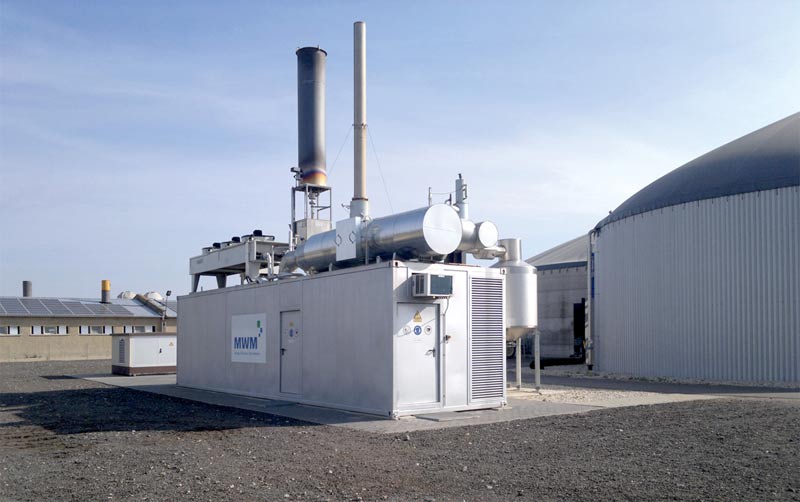 Since its installation, the biogas plant in Löberitz has also been used as a test bench for MWM plant technology. Here, components can be tested and measurements can be made under real conditions. Photo: M. Dürrschmidt
Biogasfarm Löberitz is a subsidiary of the Löberitz agricultural cooperative, which cultivates about 2,700 ha of agricultural area in the district of Anhalt-Bitterfeld. Additionally, the cooperative breeds cattle and 4,000 pigs. The CHP plant blends in perfectly in the broadly positioned agricultural enterprise. Apart from making an important contribution to climate and environmental protection and benefiting financially from the distributed power generation, the farmers can use the exhaust heat of the cogeneration plant to heat the pig fattening facilities and dry grain.
All languages on issuu:
DE
|
EN
Download PDF:
DE
|
EN
Further information:
Contact Media
Aljoscha Kertesz
Manager Communications
T +49 6 21/3 84 – 87 48
E press@mwm.net
Frank Fuhrmann
Online Editor
Member of DPV / German Press Association
T +49 6 21/3 84 – 86 33
E press@mwm.net