MWM Distributor Edina Delivers MWM TCG 2020 Gas Engines for Award-Winning Gateshead Energy Centre
Mannheim, November 18, 2020
Multiple award-winning MWM distributor Edina has installed two MWM TCG 2020 V20 gas engines for the Gateshead Energy Company in the UK. Since the go-live in 2017, the power gensets with a total output of 2 MW have been producing heat and power for private, communal, and commercial buildings in downtown Gateshead. Together, the gas engines are capable of producing enough power to supply some 5,000 households.
The Gateshead project received the Visionary Award from the Association for Decentralised Energy (ADE). This award honors distributed energy generation projects that have a visionary, sustainable positive impact on the energy industry. "We are proud that our MWM TCG gas engines are employed in such trend-setting energy projects that bring down the energy costs for communities and businesses and significantly reduce their carbon footprint", says Lars Brzeski, Sales Manager of Caterpillar Energy Solutions.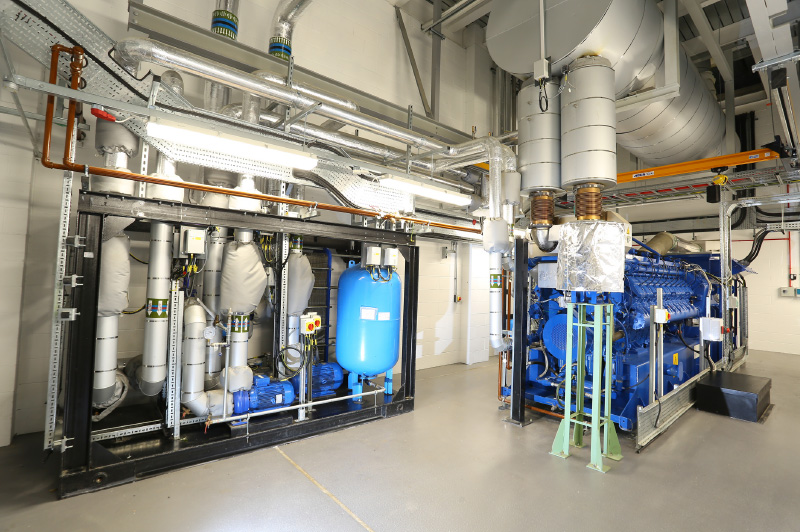 One of the two MWM TCG 2020 V20 gas engines at the Gateshead Energy Company in the northeast of England optimizing the security of supply of the residents and businesses with heat and power. (Photo: Edina UK Ltd)
CHP System Uses Exhaust Heat for Heating Buildings
In 2018, the Gateshead Energy Company became the UK's first small power producer to be included in the Balancing Mechanism of the national grid. This system makes sure that the UK supply system has enough power to cover short-term demand peaks. Whenever necessary, the MWM gas engines of the Gateshead Energy Company are able to supply the grid with additional energy on short notice, thereby ensuring supply security.
Unlike conventional power plants, the combined heat and power (CHP) plant in Gateshead is able to recover the exhaust heat from the power generation and use it for heating the buildings via a subterranean grid. The heat and power are distributed to businesses and residents throughout Gateshead via a 3-km network of heat pipes and high-voltage cables.
In the award-winning Gateshead Energy Company, two MWM gas engines supplied by Edina generate inexpensive, low-emission heat and power for Gateshead. (Photograph: Edina UK Ltd)
Innovative District Energy Scheme Reduces Energy Costs and Carbon Emissions
The Gateshead Energy Company's District Energy Scheme combines generation, distribution, energy storage, and demand-side management to reduce energy costs and carbon emissions. The council passes these financial savings on to homes and organizations in the area, with discounted rates on heat and power. "Our District Energy Centre is twice as efficient as a conventional power station and far greener, and we can pass on some of those cost efficiencies to local people and businesses in the form of cheaper heat and power", says Gateshead Council leader Martin Gannon. "We are also helping to substantially reduce Gateshead's carbon footprint."
MWM Cogeneration Power Plants for Optimum Energy Management
Through the distributed electricity feed-in with a dedicated cogeneration power plant, the MWM gas engines provide major relief for the power grids and contribute to the reduction of carbon emissions. The internal energy management enables optimum economic control of power, heat, and gas. Cogeneration facilitates the distributed generation of heat and power right where they are needed. In turn, the heat can be fed into a local or district heating network or be used for generating steam. MWM provides competent advice and service for the development of integrated cogeneration power plants and power plant concepts in order to make effective use of the entire value chain of distributed energy generation.
About Edina
The long-standing MWM distributor Edina is responsible for the United Kingdom and Ireland. Edina has successfully implemented energy generation and power supply solutions for numerous high profile organizations including E.ON, NHS Trust, MediaCityUK, Arla Foods, BAE Systems, Thames Water, and Bausch + Lomb. Many of the distributed energy generation projects that Edina rolled out with MWM gas engines have received attractive awards, such as the Queen's Awards for Enterprise and numerous industry awards from the Association for Decentralised Energy (ADE) for project innovation and energy efficiency.
Video ADE Award for the Gateshead project on YouTube: *
https://www.youtube.com/watch?v=5xJ5PId-XHQ
* You can use the link above to leave the MWM website and reach the external website of another provider (Google Ireland Limited). The data protection regulations of this provider apply there and cookies may be set by this provider. This is beyond our control. Further information can be found in our data protection declaration and in the data protection information on YouTube: https://www.google.de/intl/de/policies/privacy
Further information:
Contact Media
Aljoscha Kertesz
Manager Communications
T +49 6 21/3 84 – 87 48
E press@mwm.net
Frank Fuhrmann
Online Editor
Member of DPV / German Press Association
T +49 6 21/3 84 – 86 33
E press@mwm.net