New Cogeneration Power Plant for Energy Provider Avacon Natur GmbH in Lüneburg: MWM TCG 2032B V16 Gas Engine Produces Energy in Listed Building
Mannheim, January 17, 2022
Henceforth, the regional energy provider Avacon Natur GmbH in Lüneburg, Germany, will be backed by a cogeneration power plant driven by an MWM genset. The TCG 2032B V16 gas engine was installed by the plant builder 2G Energy AG from Heek, Germany. The new cogeneration power plant boasts a total efficiency of 87.8 percent.
Multi-Purpose Gas Engine MWM TCG 2032B V16
Avacon Natur GmbH offers regional energy solutions in the fields of gas, power, water, heat and cold, mobility, optical fiber, and lighting. Last year, a new cogeneration power plant with an MWM TCG 2032B V16 gas engine was installed in order to expand the energy supply. The project was rolled out by the plant builder 2G Energy. For this, the 55-t cogeneration power plant had to be installed in Avacon Natur's listed building. To prevent damage to the building, the installation team made use of a four-point lifting device with a maximum capacity of 125 t. For further information on the delivery and installation of the gas engine, watch the video of the transport and installation service provider Vollmert on YouTube (in German): https://www.youtube.com/watch?v=uSN_1wFCLc4 *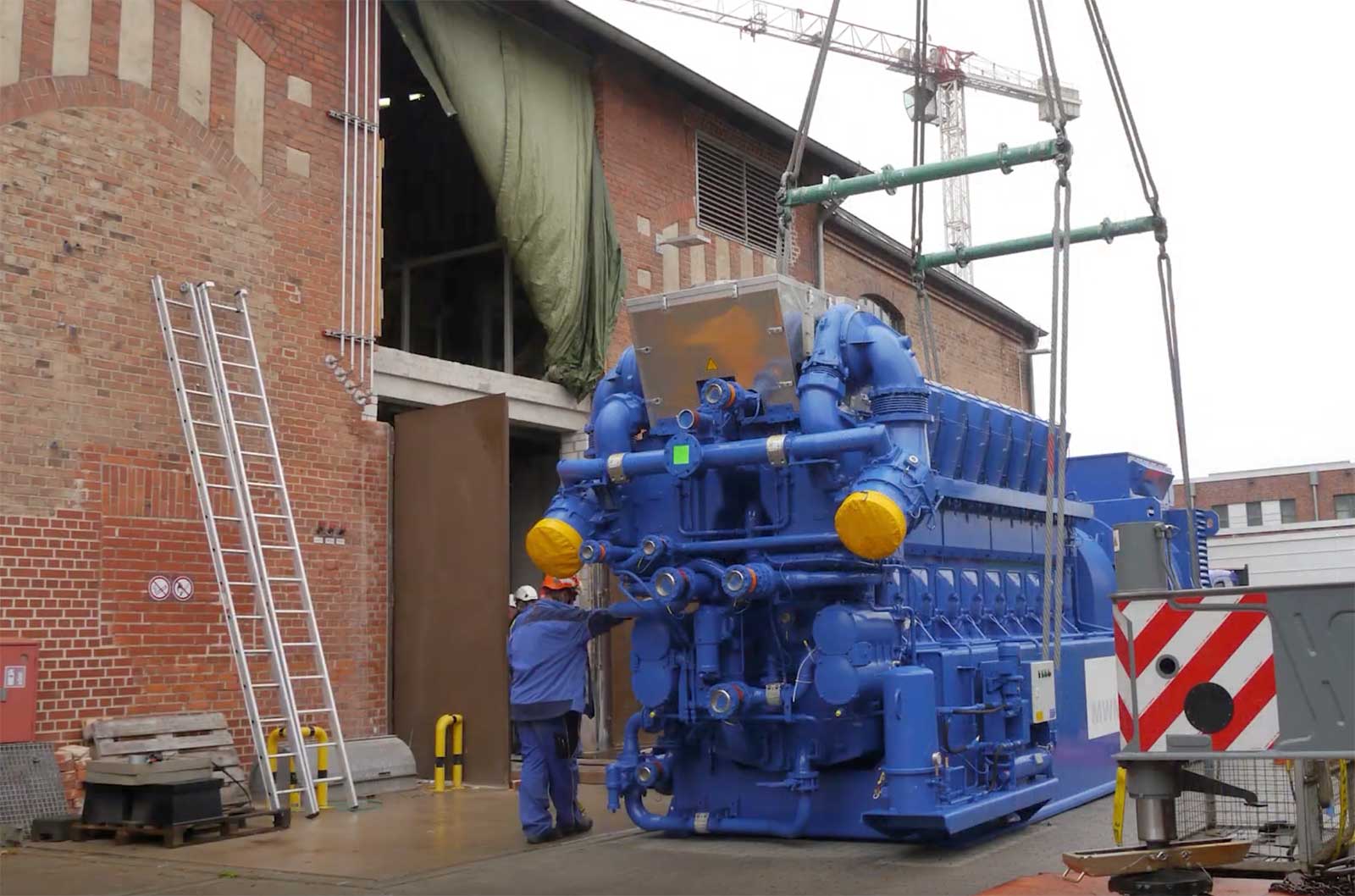 The MWM TCG 2032B V16 gas engine has an electrical output of 4,500 kW and a thermal output of 4,417 kW. The electrical efficiency is 44.3 percent, and the thermal efficiency 43.5 percent. Due to its compact dimensions, the TCG 2032B V16 gas engine is suitable for the special needs of various locations and projects. Moreover, thanks to its high electrical efficiency, this unit enables substantial fuel savings.
Flexible, Sustainable Energy Production with MWM Gas Engines
MWM gas engines have already been deployed in numerous projects that focus on efficient, eco-friendly energy generation. In the UK, for example, the new gas power plant of the energy provider Conrad Energy, which is driven by 10 MWM TCG 2020 V20 gas engines, ensures power supply in the event of fluctuations in the national grid. In Poland, the CHP plant of the energy company PGNiG TERMIKA Energetyka przemysłowa S.A., which is equipped with two MWM TCG 2032 V16 engines, generates heat and power from methane provided by a coal mine. In an engine replacement project rolled out by Energieversorgung Nordhausen GmbH in Nordhausen, Germany, four modern MWM TCG 2020 V20 gas engines with a total output of 8,000 kW have been installed to ensure stable power supply.
MWM's product portfolio comprises gas engines and gensets in the output range from 400 to 4,500 kWel. Power plants with an output of 100,000 kWel and more can thus be implemented. The gas engines can be operated with various types of gas, such as natural gas, shale gas, mine gas, biogas, landfill gas, sewage gas, and syngas. The units are designed for maximum electrical and thermal efficiency, low operating and service costs, and high reliability and availability. Thus, efficiency levels of more than 90 percent can be reached.
Further information:
* By clicking the link specified above, you will leave the MWM website and access the external website of another provider (Google Ireland Limited). On this website, this provider's privacy policy applies, and cookies may be set by this provider. We do not have any influence on this. Further information is available in our privacy policy and in the privacy policy of YouTube: https://policies.google.com/privacy?hl=en&gl=en
Contact Media
Aljoscha Kertesz
Manager Communications
T +49 6 21/3 84 – 87 48
E press@mwm.net
Frank Fuhrmann
Online Editor
Member of DPV / German Press Association
T +49 6 21/3 84 – 86 33
E press@mwm.net