E-world energy & water 2023 in Retrospect: Constructive Discussions Around the Topic "Hydrogen Solutions" with MWM Gas Engines
Mannhein, May 30, 2023
From May 23 to 25, 2023, numerous experts from the European energy industry came together at the E-world energy & water 2023. At the trade fair in Essen, Germany, a total of 820 exhibitors from 27 nations presented technologies and products for a successful energy transition. Caterpillar Energy Solutions welcomed visitors to its stand with the MWM brand and showcased hydrogen solutions with MWM gas engines.
MWM Experts Answer Questions of Professional Audience
In May 2023, more than 20,000 visitors from 68 nations attended the event to find out about the latest market developments and efficient energy solutions of tomorrow. The E-world 2023 focused on reliable, clean energy supply in the context of the energy transition and the transformation to renewable energies.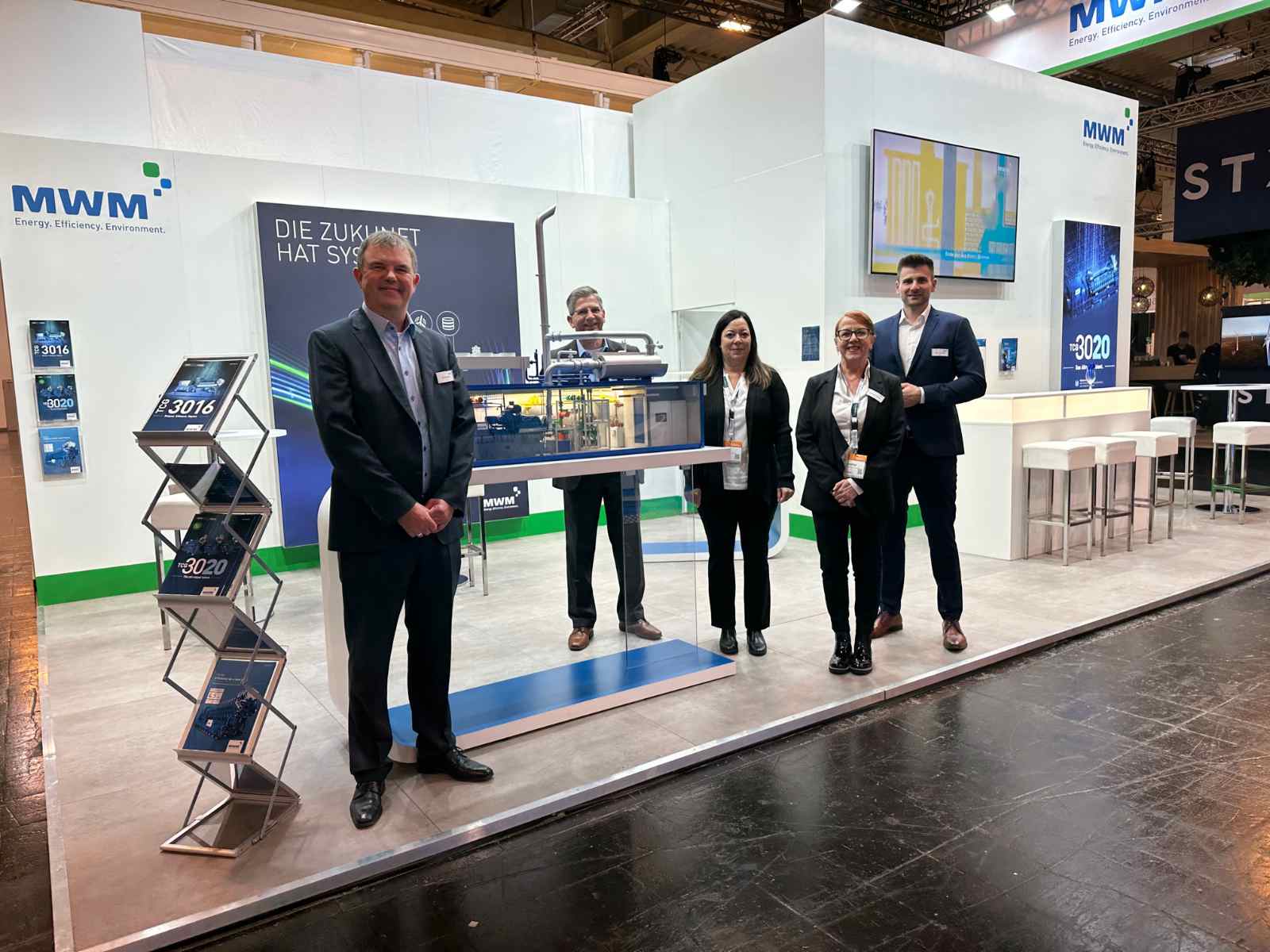 This year, for the first time, a separate exhibition zone was dedicated to the subject area "Hydrogen Solutions", where more than 30 companies presented their hydrogen solutions. Caterpillar Energy Solutions was present at stand 2-203 in the exhibition zone "Hydrogen Solutions". There, MWM experts presented efficient energy solutions with MWM gas engines in the fields of hydrogen, green heat, decarbonization, power to heat, renewable energies, flexible energy generation, and combined heat and power generation. MWM gas engines can already be operated with a hydrogen admixture of up to 10 percent without any technical modifications.
MWM Energy Solutions Attract Great Interest
During the three days of the fair, the MWM team was pleased to see the keen interest in MWM energy solutions and CHP applications. The discussions at the stand especially focused on the use of hydrogen for the operation of MWM gas engines as well as plant projects for decentralized energy generation. Concepts for the decarbonization of existing locations were addressed in discussions with plant operators. Other major discussion topics included industrial steam generation in chemistry parks and district heating supply. Another highlight of the three days of the event was the visit of the operator staff Stadtwerke Duisburg, who reported on the successful acceptance run of the first seven of a total of nine MWM TCG 2032B V16 gas engines.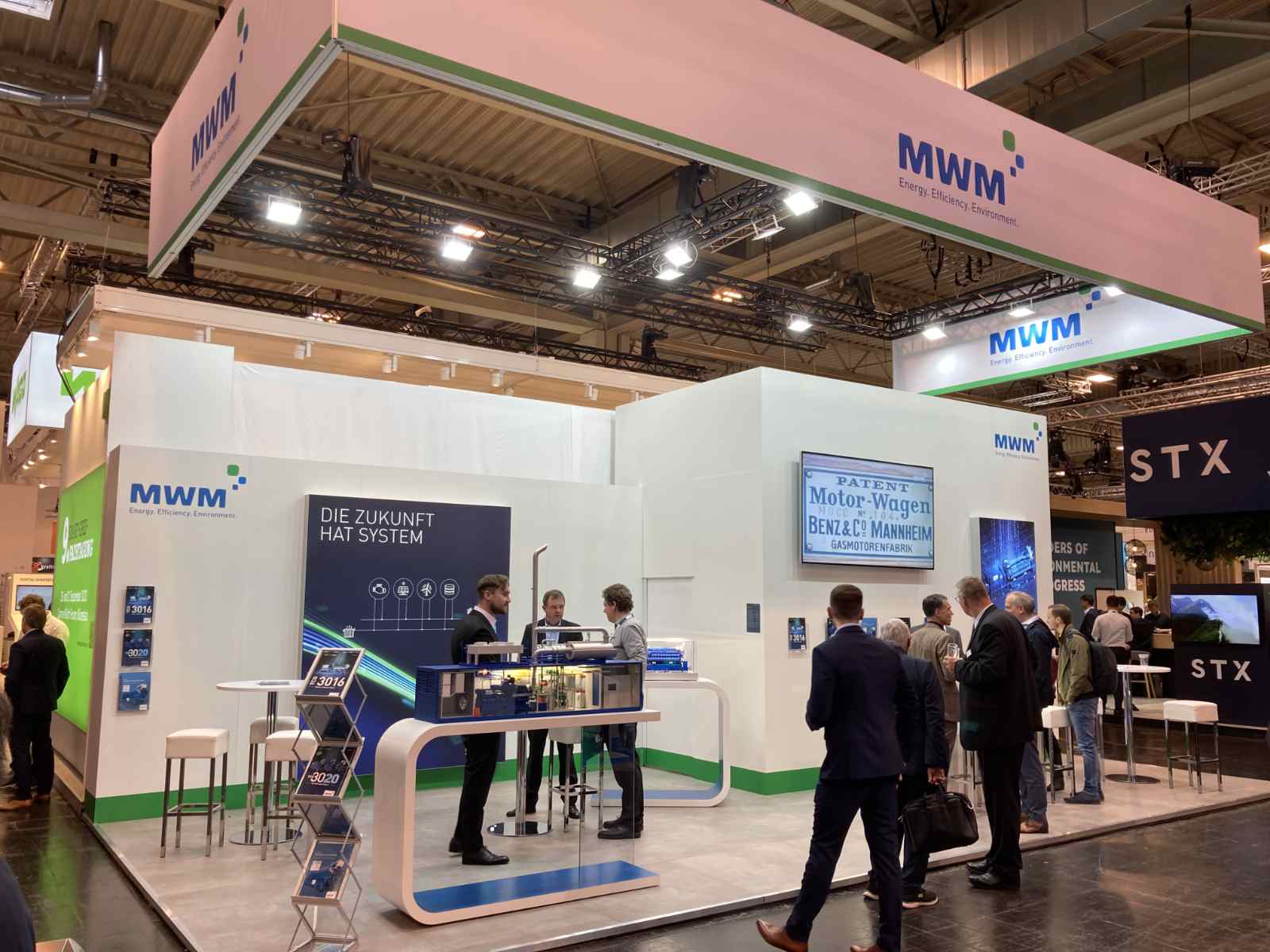 The MWM team would like to express its appreciation for the many interesting and inspiring discussions at the E-world energy & water 2023 as well as for the exciting exchange with the companies and representatives of the energy industry who jointly work on innovative, climate-friendly energy solutions!
Further information:
Contact Media
Aljoscha Kertesz
Manager Communications
T +49 6 21/3 84 – 87 48
E press@mwm.net
Frank Fuhrmann
Online Editor
Member of DPV / German Press Association
T +49 6 21/3 84 – 86 33
E press@mwm.net